Garage Sale
pilipino association of Workers and immigrants
————————————–
To all our friends and family
please come and join us and bring items to
sell for our community garage sale
———————————
all proceeds will go to nafcon
www.nafconusa.org
typhoon relief effort
#haiyanrelief
————————–
Saturday & Sunday
November 23-24
8am – 4pm
———————————————–
1426 Morril Ave
san jose ca 95132
On Saturday, November 23, 2013, Pacific Island Blood, a coalition of Bay Area Motorcycle Clubs will be hosting a donation drive at James Logan High School (1800 H. Street, Union City, CA 94587). The "rally" will be from 11am – 4pm. There will be food, merch tables, a raffle, as well as performances and martial arts demonstrations. PIB will be hosting a box drive, for which they will be accepting in-kind donations. Blankets, towels, canned foods, water, matches, candles, baby formula, powdered milk, and baby bottles are among the items requested for donation.
JLHS Filipino Heritage Studies and KAISAHAN will also be present to take monetary donations, 100% of which will be donated to NAFCON.
Bay Area activists and talent come together for this pop-up talent showcase to benefit survivors of the typhoon in the hardest hit areas of the Philippines.
Featuring music performances by Native Elements and End The Suffering. Stand-up comic Kevin Camia. Special guest Freska Griarte of 99.7 NOW and Allan Manalo of Bindlestiff Studios.
And more!
Saturday November 23, 2013
1:00pm until 4:00pm
1600 Holloway Ave., San Francisco State University

Sponsored by Chi Ro Omicron, Pilipino Bayanihan Resource Center of San Mateo County, LBC, ABS-CBN and others.
Special thanks to Oscar Gonzales, Cindy Sacramento-Enriquez, Mary Nite, Andy V Galeon, Jeremy Jocson, Johnathan Ezekiel Winston Siu, Allan S. Manalo, Kevin Camia, Native Elements, Lorenzo BigLarr Santiago, Augustus Tagaro, and YOU!
110% of fund proceeds will be donated to NAFCON and material donations will be shipped via direct distribution to affected areas. $10 only!
Boba and the arts for a cause…
"Hope For Haiyan"
An Open Mic Fundraiser for Typhoon Haiyan Victims
1946 N. Lakewood Blvd.

,

Long Beach, California 90815
Wednesday – 7:30pm

until

9:30pm

Hosted at Hiccups Tea House with Anakbayan Los Angeles, CSULB Pilipino American Coalition, Filipino Migrant Center and NAFCON (National Alliance for Filipino Concerns) folks!
10% of all purchases (food and drinks) will go straight to relief efforts aiding Typhoon Haiyan victims in the affected areas in the Philippines!
Come through! 7:30-9:30PM
ALL AGES
If you can't make it out, please make a donation to www.nafconusa.org to directly support relief efforts in the Philippines.
P.E.A.C.E. (Pilipinos for Education, Arts, Culture, & Empowerment) + NAFCON (National Alliance for Filipino Concerns) presents…
"REBUILD PHILIPPINES"
Next Saturday, November 23, 2013 | 12-5pm
City College of San Francisco: Student Union
50 Phelan Avenue
San Francisco, CA 94112
This event hopes to bring the community together to build stronger bonds, empower our youth/young ones, inform ourselves a midst a media whirlwind and take care of our families across the ocean.
100% of the proceeds from this event will go directly to relief efforts on the ground to the affected communities in the Philippines.
GUEST SPEAKERS x LIVE PERFORMANCES by local hip-hop, r&b and spoken word artists. Local DJs, as well.
(Roster will announced on monday)
We're encouraging everyone to bring some food to share-POTLUCK Style
This is a family friendly event. Activities for children 10 yrs and under during the event.
ENCOURAGE YOUR LOVED ONES TO COME & SUPPORT.
Artist Collective for Haiyan Relief
7:30pm in EST December 18
La MaMa Experimental Theatre Club
74A East 4th Street, New York, New York 10003
La Mama e.t.c and Kinding Sindaw present Haiyan Relief
Featuring performances and Artwork auction to benefit the victims of Haiyan/Yolanda.
PERFORMERS:
Kinding Sindaw Melayu Heritage
Maria Elena Anaya (Flamenco)
Saung Budaya Indonesian Dance group
Kilusan Bautista
10tecomai Yosakoi Dance project
(We will be updating the performers list constantly) Please keep checking.
Tickets $20.00
All proceeds will go to NAFCONUSA #HaiyanRelief fund# nafconusa.org
for more info: info@kindingsindaw.org
We are all devastated by the news of the damage done by the typhoon in the Philippines. We will be donating 100% of sales from Red Horse and San Miguel Beers, our Calamansi Cosmo, and Ube Cheesecake from Blackbeard's Dulceria. We will also be auctioning off a gift certificate for a 9 inch Ube Cheesecake.
Funds will be donated to http://nafconusa.org/programs/
"In this state of calamity, there is an urgent call for support and assistance. In an effort to have a united and
concerted response, we encourage all supporters to coordinate with respective NAFCON chapters throughout the
United States to ensure that our actions are effective, sustainable and empowering of the local communities,
especially those that are the hardest hit, poorest and underserved.
At this time, NAFCON will assist in the direct transfer of MONETARY donations. Your donation will be sent
directly to Bayanihan Alay sa Sambayanan or BALSA (People's Cooperation for the People), a national grassroots
relief and rehabilitation organization composed of broad church-based organizations, schools, disaster response
NGOs, and individuals, working with victims of disasters in the Philippines."
5:00pm until 1:00am in EST
140 Newark Ave, Jersey City, New Jersey 07302
A fundraising event for the victims of typhoon Yolanda (Haiyan) in the Philippines. All proceeds will go to NAFCON who directly helps severe calamity victims.
Location: WPU, Student Center Cafe
7:00pm until 10:00pm in EST
300 Pompton Road

,

Wayne, New Jersey 07474
This is a benefit show for the Typhoon Haiyan relief effort. Come show your support for the Filipino People ♥
100% of all proceeds will go to BALSA and Lingap GABRIELA, Philippines-based coalitions comprised of volunteer-led church organizations, schools, and disaster relief organizations that work with victims & survivors of calamity in the hardest hit areas by Typhoon Haiyan.
Bands:
+ Ava Luna – http://avaluna.bandcamp.com/
+ Rebel Diaz – http://rebeldiaz.bandcamp.com/
+ Celestial Shore – http://celestialshore.bandcamp.com/
+ Eartheater – http://eartheater.org/
DJs:
+ Caroline from Chairlift
+ DJ Juan Farrakhan
When: Wednesday, November 20th at 8PM
Where: 285 Kent Ave
Brooklyn, NY 11211
$7 in advance, $10 at the door
Hello everyone,
I would like to personally invite you to a Fundraising Event I am organizing

this Sunday

for the Philippine relief efforts for the victims of typhoon Haiyan at the East Bay Asian Youth Center (EBAYC) in Oakland from

11:00AM to 4:00PM

. 
We will be selling traditional filipino food as the main source of income for the charity. We will also be holding raffles with multiple prizes and selling merchandise as well. EBAYC will also be serving as a donation station for a specific list of supplies that the relief effort has an immediate need for. 
Please come out and support this event, all proceeds go directly to the relief efforts. 
"Come out and eat good food, with good people for a good cause."
Attached is a flyer with all the details included. Please spread the word.
Philippine Relief Fundraiser 
Sunday November 17th, 2013
Located @
East Bay Asian Youth Center
2025 East 12th St. 
Oakland, CA 94606
Details for donation items are below 
S
end SPECIFIC items to the Philippines for FREE:
LBCexpress is a Philippine shipping company that has partnered with the Red Cross and will send specific items for FREE!
•

                
Toothbrush
•

                
Toothpaste
•

                
Towels (all sizes)
•

                
Blanket (thin cotton)
•

                
Medicine adult and children (aspirin, ibuprofen, cold medicine, Tylenol) Please be mindful and make sure they are not expired or will expire soon!
•

                
Mosquito nets
•

                
Juices- again please make sure they do not expire soon
•

                
Sleeping bags
•

                
Detergent
•

                
Canned goods they can eat right away without cooking (check expiration dates)
a. Do not wrap any items in plastic-use towels or blankets instead
c. You must box them no bigger than 24X18X18 or smaller
d. Deliver items to the nearest LBC warehouse- in our case it's in Hayward:
(Call in the morning; they don't seem to answer in the afternoon)
New York University's International Filipino Association presents Mr. Philippines 2013!
**PROCEEDS from Mr. Philippines 2013 will benefit NAFCON USA's Bayanihan Relief & Rehabilitation program. Learn more here: http://nafconusa.org/programs/**
This year, our theme is "Legacy" and we are looking for the timeless Filipino-American man who bridges his cultural roots with having a meaningful influence on the next generation of Filipino-Americans. Contestants are challenged to think about the dichotomy of the two identities and ask themselves: "What is my legacy?"

SUMPA NG KAWAYAN (THE BAMBOO CURSE) — Filipino poem (with translation) for the survivors of Yolanda
November 13, 2013 at 2:51pm
SUMPA NG KAWAYAN[1]
Joi Barrios-Leblanc, Bagong Alyansang Makabayan (BAYAN) Women's Desk
Matibay ang kawayan.
Iyan ang sumpa.
Hayaang ipaghampas-hampasan
ng unos,
lumangoy at magpaanod
sa baha.
Pigilin ang hininga
at baka malanghap
ang bangkay na naaagnas.
Tiisin ang gutom ng sikmura
na kahit sa papuri,
ay hungkag na hungkag.
Kalimutan natin ang kasakiman
na sa kabundukan
ay nagpapatag,
at nagbabago sa daloy
ng hangin at dagat.
Kalimutan ang pangulo
na mainit ang ulo
at sa sariling pulong
walang pakundangang lumalabas.
Kalimutan ang ayuda
na higit na bumabagal,
sa ating paghihintay.
Yumuyuko at umiindayog
sa hangin ang kawayan.
Ngunit kami ay tao, tao lamang,
Balat at dugo, luha at buto.
Ipagpaumanhin ang galit
at pusong nagpupuyos.
Naghahanap kami ng katarungan
sa gitna ng dalamhati't pagluluksa,
sa aming di matapos-tapos
na dalamhati't pagluluksa.
THE BAMBOO CURSE[2]
Resilience is the curse of the bamboo.
Suffer the storm,
swim through the floods.
Bear the stench of corpses
and the hunger
that does not go away
with praise.
Forgett he greed
that levels mountains
and changes wind and seas.
Forget the president
who walks out,
Forget the aid
that crawls slower
as we wait.
The bamboo bends and sways
with the wind.
We are human, only human,
All flesh and tears and bone and blood.
Forgive us our anger
as we seek for justice
in our grief,
in our inconsolable grief.
[1] Nakabatayang tula na ito sa tekstong "Resilience is a Dirty Word" na  sinulat ng dati kong estudyanteng si Soleil David.
[2] This poem was inspired by Soleil David's piece "Resilience is a Dirty Word."
Help Support Relief Efforts for Typhoon Haiyan
Please join the De Anza community in supporting the people of the Philippines who have been impacted by the devastation from Typhoon Haiyan (Yolanda), which hit and ravaged numerous provinces in the central Philippines on November 8. Haiyan's 195 mph winds and huge storm surges killed thousands, displaced nearly 600,000 and affected 9.5 million people across the Philippines, according to the United Nations.
Nearly 4 million of those affected are thought to be children, according to international aid organization Save the Children. Officially, confirmed deaths stood at 2,357 on Thursday morning, Nov. 14, according to the Filipino government.
Make a Monetary Donation through NAFCON
The National Alliance for Fillipino Concerns (NAFCON) has provided an easy way to make a monetary donation online. Donate today.
For information about how the money will be distributed, read the Letter of Appeal from NAFCON Bayanihan Relief & Rehabilitation Program.
NAFCON has a well-respected track record in supporting disaster relief efforts since the devastation of Typhoon Ondoy in 2009 and has been widely publicized as a top option for donations. NAFCON is a national multi-issue alliance of Filipino organizations and individuals in the United States serving to protect the rights and welfare of Filipinos by fighting for social, economic, and racial justice and equality. At present, NAFCON members are active in 23 cities in the United States. Read about the relief efforts in Northern California.
Volunteer Opportunities on Campus
Also please consider volunteering time for much needed assistance. There will be upcoming events on campus in support of relief efforts. For more information about how to get involved, contact Associate Vice President of Instruction Rowena Tomaneng, a former volunteer with NAFCON USA, at tomanengrowena@deanza.edu or 408.864.8510.
Donate Support through NAFCON
Check out the website at www.kyrapparel.com or click the image
ARTWORK by Elaine Villasper-Dizon
During the week of November 18 – 22, multiple school sites within the New Haven Unified School District, in Union City, will be holding a donation drive for the survivors of Typhoon Haiyan. Spearheaded by the students of the Filipino Heritage Studies class at James Logan High School, the drive, entitled PROJECT HAIYAN, will culminate with a benefit event held on Friday, November 22 at Alvarado Elementary School from 7pm – 9pm.
The event will feature performances by local youth and artists, Filipino and mixed martial arts demonstrations, and updates about Typhoon Haiyan relief efforts. Merchandise and food will be sold with proceeds going towards NAFCON's relief and rehabilitation efforts in the Philippines.
The event is free and open to all who wish to support the effort. Monetary donations will be accepted in exchange for admission. Filipino Advocates for Justice and PYC will be hosting a booth to take in-kind donations: non-perishable food, bottled water, towels, and blankets are among the list desired items.
Alvarado Elementary School is located at 31100 Fredi St., Union City, California 94587
For more info: https://www.facebook.com/events/173229059551816/
The community partners helping to host the event are KAISAHAN, PASE, and FAJ/PYC.
Please show your support and love for the victims of Typhoon Haiyan. Mix, mingle, and have a drink for a good cause!
Event: FBANC and NAFCON Typhoon Haiyan Relief Drive
Location: Drake Bar and Lounge, 508 4th St., San Francisco, CA 94107
Date: Tuesday, November 19, 2013
Time: 6-9PM pm
*FBANC has teamed up with the National Alliance for Filipino Concerns (NAFCON) (Terry Valen) to host a fundraiser for victims of Typhoon Haiyan. All donations will go to NAFCON, a volunteer-run Filipino-American alliance in 23 US cities. Since 2009, NAFCON's Bayanihan Relief and Rehabilitation program has responded to all major typhoons and other calamities that have hit the Philippines. 100% of the proceeds collected for relief go to those most affected and devastated, on the ground in the Philippines.
Well-known community leaders will be attending, including some as guest bartenders!
We look forward to seeing you there!
Queer and allies party to raise funds for the victims of Typhoon Haiyan. THIS Saturday, Nov 16th (10pm-2am).
WE LOVE THE PHILIPPINES AND WE KNOW YOU DO TOO. TOGETHER WE CAN LINK ARMS WITH THE SURVIVORS TO RE-BUILD, FIND HOPE AND EMPOWERMENT IN THE MIDST OF SEVERE DEVASTATION & GOVERNMENT NEGLECT. 100% OF OUR DONATIONS WILL REACH THE PEOPLE. #HaiyanRelief #TaskForceHaiyan #GABRIELAUSA
1924 Franklin Street (3rd Floor), Oakland
$5- 10+ Sliding Scale @ the door.
**PLEASE RSVP – Email or FB private message us if you are attending. You will need a special passcode to get into the building.**
www.gabusa.org
Mention GABRIELA USA when you donate online. Encourage others to do the same @ www.nafconusa.org
 Excelsion #2, 2008, ink & graphite on Claybord, 24″ x 24″
Please help me raise some much needed cash for victims of typhoon Haiyan 
that has devastated the Philippines.
1. Go to my personal fundraising page through Mercy Corps: 
    and donate as little as $15. 
3. Purchase any artwork from

my studio

through November 23 and I will donate 10% of all sales to
4. Donate $5000 through my fundraising page and I will give you the painting shown above just for being
    a generous person.

Juan Alonso-Rodriguez
Artwork, Photographs & Essays by Juan Alonso-Rodriguez, Seattle, WA – Contact: juanalonsostudio@gmail.com
Please join us. Everyone is welcome!
Where: Corner of Powell and Post (Union Square)
Volunteers from the National Alliance for Filipino Concerns (NAFCON), a member of the broad formation "Bay Area Task Force Haiyan" invites you to a candle light vigil to honor the lives of our brothers and sisters in the Philippines who fell victim to Typhoon Haiyan, also known as Yolanda in the Philippines. This week vigils have taken place throughout the bay area.

We are humbled by the overwhelming support and sympathy we've received from every day people such as yourself. We would like to take this opportunity to gather together, mourn, pay our respects, and most importantly share how we can continue the long journey ahead and rebuild the lives and areas affected.
10,000 are feared dead in Leyte, and 300 more in Samar. We are still waiting for information from other provinces. Many remain missing, and it is estimated that 4 million people have been affected. We need to provide immediate relief for the families and individuals who have survived.
100% proceeds of the donation will go to the victims. For more information about NAFCON, please visit www.nafconusa.org. We will be collecting donation during the vigil.
Here is a glimpse of NAFCON at work, as we launch Task Force Haiyan.
http://sanfrancisco.cbslocal.com/video/9526222-taskforce-haiyan-launched-quickly-get-bay-area-donations-to-typhoon-victims/#.UoRtz-LJ_nY.facebook
Check out the facebook event page here > https://www.facebook.com/events/565684516842903/?ref_dashboard_filter=upcoming
D.C. (area) – Taking the P*ss – Benefit for the Philippines
Marx Cafe has generously agreed to make this a benefit for the victims of Typhoon Haiyan. Proceeds of the bar will go to GABRIELA Washington, D.C., which has partnered with the National Alliance for Filipino Concerns (NAFCON) to accept online donations via nafconusa.org.
When: Friday, November 15, 2013
Time: 10:00 pm – 3:00 am
Where: Marx Cafe 3203 Mount Pleasant St NW, Washington, District of Columbia 20010-2103
Rise Up! UCD Fil Am Typhoon Relief Efforts On November 8, the Philippines experienced the strongest storm ever to make landfall in history. With an estimated death toll of 10,000+ (in one province alone) and 10 million people directly affected by its path, Super Typhoon Yolanda/Haiyan razed communities to the ground in Central Philippines, many of these towns, cities and provinces have yet to recover from a 7.2-magnitude earthquake last month. In solidarity with the Filipino people, the UC Davis Filipino American community (or the Filamily, as we fondly call it) is coordinating a joint effort to raise money for the relief and rehabilitation of those directly affected by this tragedy.
A dollar goes a long way in the Philippines. All monetary donations will be sent through the National Alliance for Filipino Concerns or NAFCON, an organization that works closely with grassroots community organizations in the Philippines. Their Bayanihan Relief and Rehabilitation Program ensures that monetary donations go directly to the communities in need.
Our goal is currently at $1500 but we will continue to raise it to reflect the amount of support we receive. We shall also be sending our donations in increments to address both immediate and long-term needs. Everything will be documented through photos/videos and social media (follow the hashtag #UCDRiseUpPh).
We will also have a series of fundraising events in collaboration with other groups, so please keep an eye out!
This is a crucial time for our communities to come together to raise awareness of these natural disasters and mobilize relief efforts.
Your generous donations are very much appreciated!
Every penny counts

–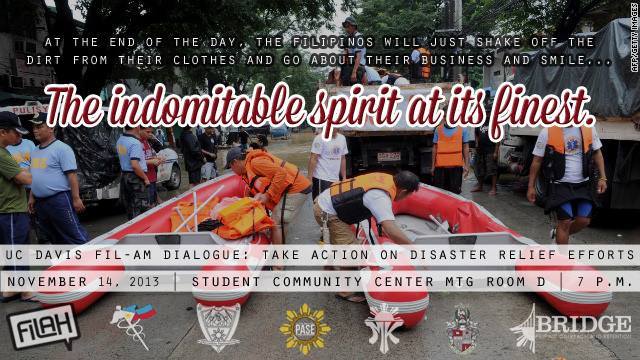 –
We are also accepting monetary and material donations at the Student Recruitment & Retention Center located in the Student Community Center.
Suggestions for material donations:
- Non-perishable food that DOES NOT require water, electricity or can openers.
- Basic medicine and first-aid kit supplies for surface wounds.- Bottled water. Currently, there is no drinkable water in affected areas.
- Candles and matches since there is no electricity. – Clothing
- Blankets.
- Any other items that may be useful.
*This will be an ongoing effort so we will continue updating this gofundme and our social media pages.*
*This is a collaboration between Project: Bulosan, BRIDGE, FAHC, FILAH, Mga Kapatid, PASE, KPE and XPO.
API club at Tennyson High School in Hayward. They did a fundraiser with the money going to Gabriela USA/NAFCON. It's actually via Jaynee Ruiz's instagram. She's from babae/Gabriela USA, and she's a teacher here at THS.
Hey Everyone,

PUSO (Pilipinos at UCSF student organization) and VSA (vietnamese student organization) will be hosting a fundraiser next THURSDAY 11/21/13 to raise money for relief efforts that have been going on for Typhoon Haiyan (please follow the link below to order). ALL PROFITS will go to NAFCON (National alliance for filipino concerns). For more information about how NAFCON is helping and about their organization please follow the link: http://nafconusa.org/

Typhoon Haiyan is considered to be the worst calamity and natural disaster that Philippines has ever faced with speeds as high as 195 mph and gust speed up to 235 mph with around 10,000 people are feared to be dead or displaced. Families affected by the storm are in drastic need of basic supplies, medical supplies, food, and clean water. Thus, Our goal is to provide support and relief.

So please come out and support our cause! Any donations are welcome and will definitely make a difference!

WAYS TO HELP:
1. Directly donate to NAFCON http://nafconusa.org/

2. Attend and donate at our fundraiser event on THURSDAY HSW Lobby 11/21/13 at :

BREAKFAST 8AM-9AM
Distributing biscotti, bagels, and tea. We are asking for recommend donations. (pre-order is not necessary)

LUNCH 12PM-1PM
Distributing BBQ pork skewers, vege lumpia, and meat lumpia.

**********PLACE YOUR ORDER HERE***********************
https://docs.google.com/forms/d/12pgvwn3hsawoFqkXvpADlUHQe0zpG7NGihapzQM6cog/viewform

WE ARE ACCEPTING ORDERS UNTIL MONDAY 11/18/13 at 9AM.

After filling out the survey, you can pick up your order for your BBQ pork skewer, vegetable lumpia, and/or meat lumpia and drop off your donation on Thursday 11/21/13.

We are asking for recommended donations but you are free to choose what ever you want to donate to the cause!

3. Donate supplies:
We are currently setting up a canned food, medical supplies, and bottled water drive. In the next few days we will have more information on how you can donate goods and where to donate the supplies to.

Thank you for your support and time. Your donations do make the difference to those out there in need.

#Support&Relief

Also if you have not heard about what is going currently in regards to the storm please follow the link: http://sanfrancisco.cbslocal.com/2013/11/11/bay-area-organizations-ramp-up-typhoon-haiyan-relief/#.UoG9aNsk4R0.facebook
In the last few months the world has seen the powerful and devastating destruction that earthquakes and typhoons caused much of the Philippines coastal areas. This effort is not just to only fundraise aid to the people of the P.I. but to also rally ourselves here in the Bay Area to causes abroad and at home. We must remember we are a part of a global community. Neither seperate or alone. But connected by life. Let us give art, support, and love to one another. Let's pass it around.- DandiggityShowcasi
ng words and songs from a variety of talent from all over the Bay Area.
Jason Bayani (Proletariat Bronze/The ReWrite)
Lorenz Dumuk (The ReWrite)
Kristen Sajonas (The ReWrite)
Astralogik
Amy DabalosHosted by: Dandiggity & Ruby VeridianoSounds by DJ Sig-O (Affinity Sounds)
$10 at the door All Ages
Thursday, November 21, 2013
Doors at 7:30pm. Show promptly at 8:30pm.
The Blackbird Tavern Annex
200 S. 1st St., San Jose, California 95112
100% of the proceeds go to nafconusa.org
BIOS
JASON BAYANI is a graduate of Saint Mary's MFA program in Creative Writing. He is a Kundiman fellow and a veteran of the National Poetry Slam scene whose work has been published in Fourteen Hills, Muzzle Magazine, Mascara Review, the National Poetry Slam anthology, Rattapallax, Write Bloody's classroom anthology–– Learn Then Burn, and other publications. As a member of 7 National Poetry Slam teams, he's been a National Poetry Slam finalist and represented Oakland at the International World Poetry Slam. He is also one of the founding members of the Filipino American Spoken Word troupe, Proletariat Bronze, and has been an organizer for the Asian and Pacific Islander Poetry and Spoken Word Summit. His first book, "Amulet" was published in 2013 through Write Bloody Press and has garnered acclaim in literary magazines such as Zyzzyva and Glint. www.jasonbayani.com
LORENZ DUMUK
KRISTEN SAJONAS
ASTRALOGIK
AMY DABALOS
DANDIGGITY
RUBY VERIDIANO is a glamour girl off to change the world. A writer, speaker, and media personality, she was born in Manila, Philippines, raised in Sacramento, and has spent time in Italy, France, Atlanta, Oakland, and New York City, shaping her global perspective as an advocate and voice for Asian American women. Ruby is passionate about creating media that bridges entertainment with messages of positive social change, and is the founder of a writing empowerment program called "The Glamourbaby Diaries".
Since 2002, Ruby has traveled throughout the United States, Europe, and Asia, presenting her writings, lectures, workshops, and media projects at hundreds of venues including Cornell University, Columbia University, Morehouse College, the United Nations, De La Salle University Manila, and the American University of Paris, France, inspiring tomorrow's leaders and visionaries. She has reached thousands of youth through her spoken word performance work with iLL-Literacy , an artist collective that she co-founded in 2002. Through her work with iLL-Literacy, she has shared the stage with the likes of Common, Mos Def, Goapele, and Saul Williams. Her movement to empower youth extends to her work with non-profit organizations such as Youthspeaks, Urban Word, LitWorld, and Book-In-A-Day. In 2008, she became a VJ for international music channel, MYX TV North America. In the same year, she published her first book, Miss Universe.
In 2010, she made it as a Top 3 Finalist for Alicia Keys' head blogger search for her women's empowerment website venture, "I Am A Superwoman" (IAAS.COM). During this time, Ruby was flown out to London to meet with Alicia Keys and attend the Black Ball, upon which she interviewed celebrities such as Christian Louboutin, Swizz Beatz, and Alicia Keys on the red carpet.
In 2011, she became the first LitCorps Ambassador for Global Literacy Organization LitWorld, where she spearheaded LitWorld's girls literacy empowerment program in her home country of the Philippines. During the same year, she founded Meeting of the Minds, an initiative to connect the global youth Filipino diaspora to galvanize social change.
Currently, Ruby travels the University circuit to tour her program, Glamourbaby Diaries, and serves as a TV Host/Correspondent for global Filipino channel ABS-CBN.
www.rubyveridiano.com
DJ SIG-O
Hello Northern San Mateo County community members,
Typhoon Haiyan/Yolanda, one of the strongest typhoons ever recorded, ravaged central Philippines this past weekend. More than 10,000 people in Leyte alone are estimated dead and thousands more elsewhere are missing. Countless are homeless and hungry throughout the archipelago and are in dire need of water, sanitation, food, and safe shelter.
On Wednesday, November 13th, Bay Area Taskforce Haiyan was launched by the National Alliance for Filipino Concerns (NAFCON) with different organizations to coordinate typhoon relief efforts in the Bay Area.
As part of this bigger network, we invite organizations and individuals to join the Northern San Mateo County Taskforce Haiyan with LAYA Migrant Youth for Change and Action, Migrante-San Mateo Organizing Committee, Westmoor High School, and NAFCON.
At this event we will discuss what Taskforce Haiyan is all about, how you or your organization can get involved in the relief efforts, and how we can further gather support from the larger community.
Event is open to all groups and individuals — teachers, youth, students, professionals, workers, church groups, unions, or any concerned resident of Northern San Mateo County, Filipino or Non-Filipino alike!
Hope to see you there!
Haiyan Relief Fundraiser
Friday, November 15, 2013
4:30 pm to 7:30 pm
Tapsilog Bistro, 819 W. Hamilton Ave., Campbell, CA 95008
*Light Appetizers hosted by the Jaurigue Law Group
Donations will be combined for the NAFCON Bayanihan Relief
JLG will donate an additional $10 for every donation received.
Filipinas for Rights and Empowerment (FiRE) is a mass-based women's organization serving New York City and its surrounding areas. We connect the Filipino diaspora to the women's struggle in the Philippines. We are women of Philippine descent, including those who are migrants, immigrants and US-born. We recognize Filipino women of mixed heritage and adoptees. FiRE is a LGBTIQ-(Lesbian, Gay, Bisexual, Transgender, Intersex and Queer/Questioning) friendly organization that is inclusive of transgender people of Philippine descent. For more information, please visit http://www.firenyc.org.
We are a proud member organization of GABRIELA-USA that is the first overseas chapter of GABRIELA Philippines. To learn more, please go to http://www.gabusa.org
FiRE is a member of BAYAN-USA, an alliance of progressive Filipino groups in the U.S. representing organizations of students, scholars, women, workers, and youth. To learn more about BAYAN, please visit http://bayanusa.org/
We, Portland Committee for Human Rights in the Philippines (PCHRP) & PSU Kaibigan Alumni Advisory Board, are keeping our hearts and minds with the Filipino people who are experiencing one of the world's strongest and most devastating typhoons this year. In times of disasters such as Typhoon Haiyan, Filipinos in Portland and all over the world are all thinking of our loved ones and the millions who will be displaced because of the calamity.
Currently, the Philippines is bracing itself for Typhoon Haiyan (locally known as Typhoon Yolanda), a category 5 super typhoon, which is expected to displace more than 25 million Filipinos. Families are packing up anything they can and are making their way to safety. The storm is expected to make landfall over Samar-Leyte area today (11/08/13) and continue until early tomorrow morning. It is expected to go through parts of the Philippines including Leyte, Northern Cebu, Capiz, and Semirara Island. Winds are expected to reach up to 195 mph, gusts of 235 mph and a diameter of 1,150 miles as it moves west over the country. This is one of the highest wind speeds ever recorded in a storm in world history.
This storm will not only affect the Philippines, but also Filipinos across the world as many OFWs (Overseas Filipino Workers) who still have families back home are watching from afar. Even right here in Portland, community members are still trying to contact family and friends back home to check on their safety.
In this state of calamity, there is an urgent call for your support and assistance. Our fellow Filipinos need your prayers and your monetary donations. In the past month, we have been working with grassroots organizations in the parts of the Philippines that will be most impacted. Your donation will be sent directly to the poor and underserved who need our donations the most through organizations such as Visayas Primary Health Care Services (VPHCS), our partner organization on the ground in the Visayan region. We hope that you can join us in supporting our kababayans back home as they go through one of the toughest storms to hit the Philippines. Donations can be made through National Alliance for Filipino Concern's (NAFCON) Paypal account at http://tinyurl.com/bayanihanreliefeffort or you can make checks payable to PCHRP and mail to PCHRP ℅ Rossella De Leon at 5250 SE 73rd Ave. Portland, OR 97206.
It is as simple as skipping your morning coffee – that same amount can feed a family of four for at least three days in the Philippines.
Please contact Rossella De Leon at portlandchrp@gmail.com or 503-915-7283 for any questions regarding this relief effort or ways to collaborate.
*** Please let us know by posting on this page if/once you make a donation through the link provided so that we can keep track of the total amount donated from Portland.
Join us as we raise funds for relief efforts in the Philippines in response to Typhoon Haiyan. All proceeds will to go to NAFCON USA where 100% of funds raised will go directly to relief to where it is needed most. NAFCON USA will assist in the direct transfer of monetary donations to Bayanihan Alay sa Sambayan or BALSA (People's Cooperation for the People), a national grassroots relief and rehabilitation organization composed of broad church-based organizations, schools, disaster response NGOs, and individuals, working with victims of disasters in the Philippines.
Come and share words and song on the mic. Share your thoughts, your grief, your anger, your inspiration, and your drive to rise up. In the midst of disaster, let's emerge together in solidarity.
For more information or to sign up on the open mic ahead of time, please contact Megumi Yoshida.
Pine United Methodist Church, San Francisco
426 33rd Ave

,

San Francisco, California 94121
Sunday, November 17, 2013
3-5pm
Kilusan Pilipino at University of the Pacific in Stockton, CA

If you are interested in donating to the Typhoon Haiyan relief fund, Kilusan Pilipino has a table outside of the DeRosa University Center. We will be here everyday from 11-2pm until December 5. Please stop by and show your support, we accept cash and card. every little bit counts! ❤️
Pictured below left to right Kevin Hernando, Rebecca Liu, Val Taylor, and Maurelle Bagus and photo credit goes to Leah Cruz

San Mateo Medical Center through Ms. Lorda Rumbaua of the Department of Resource Management  has endorsed NAFCON and Careway Health Institute to all its staff for all monetary donations.
Make sure to check out Sari Sari Underground inside Island Pacific in Union City, they are taking in monetary donations to give to NAFCON Bayanihan Relief Effort
Sari Sari Underground
4122 Dyer Street
Union City, Ca 94560
MEDIA ADVISORY
November 13, 2013
Contact: Terrence Valen, 415-203-0696
Bay Area Community and Civic Leaders Launch
TASKFORCE HAIYAN to Coordinate Urgent Disaster Relief
San Francisco Supervisors John Avalos and Jane Kim to Co-Chair Collaborative Grassroots Response
San Francisco — In response to the growing and urgent need to step up relief efforts for the victims of
Typhoon Haiyan in the Philippines, civic leaders, community organizations, businesses, and faith groups
from throughout the Bay Area launch Taskforce Haiyan, to coordinate people-to-people grassroots
response to what is being touted as one of the strongest typhoons in recorded history.  This local launch
is part of a US-wide effort led by the National Alliance for Filipino Concerns (NAFCON) to coordinate and
strengthen community-based relief efforts across the U.S.
WHO:     Supervisors John Avalos and Jane Kim
Bay Area Families of Typhoon Haiyan Victims
Filipino and Faith-based Civic Leaders
WHAT:  Launch of Bay Area Taskforce Haiyan
WHEN:  Wednesday, November 13
TIME:   10:00 am
WHERE: Bayanihan Community Center:  1010 Mission Street, San Francisco, CA 94103
BACKGROUND:
Typhoon Haiyan, slammed through the Philippines when it made landfall on November 7, 2013. The
destruction caused by the storm quickly claimed over 10,000 lives in one city alone- Tacloban City in
the province of Leyte, Eastern Visayas.  Many Bay Area families with families in affected areas are still
waiting to confirm whether their loved ones have survived.
NAFCON, a volunteer-run Filipino-American alliance in 23 US cities, calls on organizations, communities,
and residents of the Bay Area to join in the grassroots relief efforts.  Since 2009, NAFCON's Bayanihan
Relief and Rehabilitation program has responded to all major typhoons and other calamities that have hit
the Philippines. 100% of the proceeds collected for relief go to those most affected and devastated, on
the ground in the Philippines.
"These last few days have been very difficult for Filipino-Americans with loved ones back home. Haiyan is
the fourth major typhoon to hit the Philippines this year, and by far the most destructive. The devastation
of poverty-stricken communities is simply beyond our collective imagination," states Terry Valen,
NAFCON President. "There is a need to increase our efforts. That's why we are happy to join hands with
community, labor, business, and church groups across the Bay Area and the nation to form Taskforce
Haiyan, to increase and better coordinate the aid and relief to the most devastated areas in the country."
###
Anakbayan Seattle extends our deepest gratitude to everyone that supported us yesterday as we sang and played music in the heart of downtown Seattle's Westlake Center in effort to raise funds for victims of Typhoon Haiyan (Yolanda) in the Philippines. Without your help, we would not have been able to raise nearly *$500 for the National Alliance of Filipino Concerns' (NAFCON) Bayanihan Relief & Rehabilitation Program.
It was inspiring and uplifting to have been able to turn this idea around so quickly in less than 24 hours and mobilize the large group we had. A big thank you to the organizations of Filipino American Student Association of the University of Washington (UW FASA), the Pacific Islands Club of the University of Washington, and Pinay sa Seattle for joining the efforts.
Please stay tuned for  local upcoming relief effort events and opportunities in Seattle or donate now at NAFCON USA. To learn more you can visit the website Disaster by Design | How the Natural Disasters in the Philippines are Worsened.
Our Chairperson, Jenilee Policarpio, also recorded a small message to share with the community.
Please join Anakbayan Seattle in coming together as a community to send love and healing to typhoon Haiyan/Yolanda survivors in the Philippines.
***NOVEMBER 13, 2013 AT 6:00PM @ RED SQUARE***

If you are not able to physically be at the vigil, please continue to keep the Philippines in your hearts as this will be a continuous relief process.
***For more information about why these natural disasters occur/how the Philippine government contributes
to worsening the immense damage the Philippines
has to endure please visit —> http://relief.anakbayan.net/
***If you are interested in donating to fund disaster relief in the Philippines please visit: http://nafconusa.org/
***100% OF ALL FUNDS THAT ARE DONATED THROUGH NAFCON WILL GO TO DISASTER RELIEF***
Please share this event!
November 13th, 2013 is a call for International Solidarity with the victims of Super Typhoon Yolanda/Haiyan. Please join us in a candlelight vigil honoring the lives lost and the people struggling to survive in wake of Super Typhoon Yolanda/Haiyan.
Meet up at Malcolm X Plaza at 5:30pm. The vigil will being promptly at 5:45.
Folks will be collecting donations to send to NAFCON: www.nafconusa.org
Let us gather as a community in solidarity. ISULONG!
San Mateo – Careway Health Institute Taking in Monetary Donations for the NAFCON Bayanihan Relief effort
Please Contact Rico Foz
1528 South El Camino Real, Suite 308, San Mateo, CA 94402
(650) 627-4685 or info@carewayhealth.com
www.carewayhealth.com
Home Elements Supply & Consulting 200 Serra Way Ste #34 Milpitas, CA 95035
Jocelyn Deona de Leon
408-204-3840
monetary donations can be made now through 11/16 and continue from 12/3 to 12/14. call or visit for most current operating hours.
Proud to announce that proceeds of this event will go to NAFCON's Bayanihan Relief campaign to help victims of Philippine Calamities. See http://nafconusa.org/ for more info
You can check out their facebook event page here https://www.facebook.com/events/1379367855641676/?source=1
With the lack of government investment into Visayan livelihood, built environment and safety protocols, impoverished Filipino women have had to subsist at an atrocious level of poverty. Filipino women, at the helm of family structures, were not able to work and find the money to evacuate their families into safety or save up for emergencies such as these.
National Alliance for Filipino Concerns and Fellowship for Filipino Migrants had a fundraiser at Allegretti's Pizzaria. It was a successful event and we thank the owner (a family of ours) for opening their doors to have the venue at their restaurant. They also donated the food and drinks for the fundraising! Thanks to everyone who came and donated! And we are still accepting donations!
PLEASE SPREAD THE WORD
For folks in Chicago area who wants to donate:
Address cheques to: Fellowship for Filipino Migrants or FFM
Drop off cash/cheques at: Allegretti's Pizzeria, 933 E. Oakton St. Des Plaines
Mail your cheques to: 113 Washington Rd. Glenview, IL 60025
For material donations please contact:
Nerissa 2243816888
Lorena 2246781897
Monique 2246783562
For online donations go to: http://tinyurl.com/bayanihanreliefeffort
Tselogs in Daly City Supports NAFCON Relief Efforts
NAFCON thanks Tselogs for supporting our relief efforts for typhoon Haiyan victims in the Philippines!
The images of the aftermath of Typhoon Haiyan are heart wrenching.  They are the gaping wounds of a Philippines that has been beaten again and again by natural and not-so-natural disasters.  This time the world cannot turn away. It cannot deny the suffering of the Filipino people.  We are moved and compelled to open our hearts and give, but time and time again we are faced with the dilemma of which organizations or groups to support.
For me, the answer to that question is clear.  I will not give my money to giant NGOs with huge overhead costs, other foreign organizations, or militaries that swoop in on these communities for a week or a month or two and then leave.  When I look at images on my computer screen or my television, my eyes focus and linger on the faces of people who are hungry, homeless, and hurt because of these calamities.  I do not see the faces of transnational organizations or their CEOs.
My heart is with the people.  I would like my money to go there aswell.  This is why I will give my time, energy, and financial support to organizations like NAFCON (National Alliance for Filipino Concerns) in the US that donates to BALSA (Bayanihan Alay sa Sambayanan- Peoples Cooperation for the People) in the Philippines.  These relief efforts are led and conducted by all volunteer grass roots and community organizations–organizations that are committed not only to the immediate needsof the people for relief, but the much more difficult task of rebuilding,rehabilitating, and restoring these communities with dignity and compassion.  These are peoples organizations thatare built by the people in the communities in which they live.  They know the conditions, the struggles, and the aspirations of people in these communities because they are therewith them.
Participating in the International Solidarity Mission in Mindanao this summer, I was surprised to see so many people in communities devastated by Typhoon Pablo still living in tents or crumblingstructures with only a piece of tarpaulin to protect them from the elementseight months after the typhoon. It was shocking to see these tents and piecesof tarp emblazoned with the names of international relief organizations likethe Red Cross and UNICEF.  It washard to accept that with the millions of dollars donated by people all over theworld, that these organizations along with many other transnational NGOs wereonly able to erect tent cities and distribute plastic coverings for homes andcalled it "relief."  They are no longer there in these communities.  They have wiped their hands clean.  They believe they have done their jobs.  Hand in hand with the broken-ness of the Philippine government's ability to respond to the needs of the people, these organizations failed to serve the people ofthe Philippines.
Thankfully, I was able to witness peoples organizations in action.  I saw their rebuilding efforts in parts of Mindanao devastated by Typhoon Pablo.Their efforts were conducted quietly and humbly; they were ongoing eight months after the disaster.  They were there for the long haul.  One afternoon I was able to visit an evacuation center where people sought shelter because of militarization of their villages.  The center was buzzing with activity as volunteers from peoples organizations were hard at work. I did not have to stay long to see the comprehensiveness of their work–from the cooking crew to the medical team to the psychosocial team for the children.  The volunteers were tireless in their efforts to not only meet the immediate needs of the people,but to also find a way for them to return to their homes and live their lives peacefully once again.
These peoples organizations know that every child, woman, and man deserves to be fed, housed, and given medical care as soon as possible.  But the difference is that they also know that the relief work only feeds, houses, and treats a person for that day or a few weeks. Their work cannot and will not stop there.  They work for rehabilitation and rebuilding of communities.  They will take a hammer and nails and wood to create new homes, hospitals, and schools, but they will also work at building a better system–one that responds to the needs of the people, one that fights for environmental justice, one that brings hope and courage for people to fight for what they need and deserve in the face of injustice.
Our people deserve more than pieces of tarp emblazoned with the names of international relief organizations or tent cities that are supposed to replace sturdy, livable homes. They deserve more than spoiled rice after it was withheld from them by the Philippine military.  They deserve more than empty promises and poor governance.
And you–people from all over the globe with big hearts who donated for a whatever reason–maybe you have family members in Tacloban or you simply turned on the television and were moved by the images you saw, you deserve more than that, too. You deserve to know that the support you offer will be delivered to the people you so care for.  You deserve to know that you have not only given someone a chance to fill their bellies with a healthy meal and sleep under a roof, but in supporting peoples organizations, you have also given people a chance to participate in the (re)building of a better, brighter community and world and the hope that they may thrive again.
Donate to support Typhoon Haiyan victims at http://nafconusa.org and support peoples organizations working for typhoon relief!
Written by Theresa De Leon Jaranilla – Chairperson for Anakbayan Los Angeles
Anakbayan USA is helping to fundraise for NAFCON Bayanihan Relief Effort.
Link to donate http://tinyurl.com/bayanihanreliefeffort
Also check out their website, beautifully designed http://relief.anakbayan.net/
Come join Anakbayan Silicon Valley (ABSV) as we commemorate the victims of Typhoon Yolanda (international name Haiyan) this Wednesday, which has been designated as the International Day of Solidarity for Victims of Typhoon Yolanda. It was possibly the strongest storm to ever make landfall, and the estimated death count to date is over 12,000, with over 4 million families affected.
The event will take place in front of MLK Library on the corner of E San Fernando St. and 4th St. in downtown San Jose, right by City Hall and San Jose State University campus.
We will have speakers and cultural performances, and will be fundraising during the event as well. 100% of funds donated will course through the National Alliance for Filipino Concerns's Bayanihan Relief efforts. For more information, please visit http://nafconusa.org/. If you are unable to attend, but would still like to donate, please visit http://tinyurl.com/bayanihanreliefeffort.
—
ABSV is a comprehensive youth organization that seeks to unite all youth in the struggle for genuine social change and liberation of the Philippines. By educating, organizing, and mobilizing the youth in Silicon Valley, ABSV fights for the rights of Filipinos in America and advances the Philippine struggle for national democracy. ABSV is a member organization of NAFCON.
Anakbayan stands in solidarity with those affected by the typhoon. We also realize that our work does not stop with relief efforts alone. While natural disasters are inevitable for the Philippines, systemic corruption in Philippine politics has exacerbated the effects of natural disasters. We believe that in addition to raising much-needed funds for our kababayan back home, we must also link arms and fight against such injustice. For more information, please visit http://relief.anakbayan.net/.
Also check out their facebook page at https://www.facebook.com/events/219523028225100/?source=1
Taskforce Haiyan Northeast
Light a Candle with Us and Uphold the Bayanihan Spirit
When: Wednesday, November 13
Time: 6:00pm
Where: Bayanihan Community Center
40-21 69th Street
Woodside, NY 11377
NAFCON Southern California and the Filipino Migrant Center will be holding a Candlelight Vigil for Victims of Typhoon Haiyan on
Friday November 15, 2013
.  It will be held at at
7:45pm
in front of Grace United Methodist Church (2325 East 3rd St.) in Long Beach, CA.  Monetary donations will be collected for NAFCON's Bayanihan Disaster Relief campaign to aid disaster victims of the typhoon.
You can donate online at nafconusa.org (click Help Victims of Philippine Calamities Donate button), and also donate by cash or check. Please make check payable to "NAFCON" and write "5K Run for Relief" in the memo.
For any questions or comments, please email us: layayouth@gmail.com. Thank you so much for your support!
One of the biggest hip hop artists this year tweeted: "Over 10,000 people died as a result of the typhoon in the Philippians… If you want to help those affected go to nafconusa.org". He then added later, "*Philippines…Points finger at auto correct and 6th grade teacher."
Please support grassroots organizations doing work for the people. Visit http://www.nafconusa.org or make a donation at http://tinyurl.com/bayanihanreliefeffort.
NAFCON SoCal held a press conference for their fundraising efforts for the Typhoon Haiyan victims with major news stations – ABS-CBN, CBS, NBC, ABC, FOX, KCAL, KTLA, LA Times, and Press Telegram.
Please encourage your friends and family to donate to NAFCON's Bayanihan Relief at http://nafconusa.org/
Beautiful and kind hearted San Francisco tourists, visitors, employees and residents reaching out to the victims of Typhoon Yolanda and donated to Nafcon Us.
Tomorrow, Monday November 11, a group of us will be at Powell and Market 11:30am until 3pm.
We will be singing Filipino songs and sharing the current situation. If you or someone you know will be in the area please feel free to stop by and donate. A dollar goes a long way! www.nafconusa.org
PAWIS – Pilipino Association of Workers and Immigrants,  ABSV – Anakabyan Silicon Valley and PASU – Pilipino American Student Union posted up in front of the new Island Pacific in San Jose to outreach and raise funds for the NAFCON's Bayanihan Relief Effort.  We were able to take in cash donations and talk to people about the Bayanihan Relief Effort and how 100% of the donations will go to a trusted partner organizations in the Philippines.
PAWIS
PAWIS – Pilipino Association of Workers and Immigrants – http://www.pawissv.wordpress.com
ABSV – Anakbayan Silicon Valley – http://www.anakbayansv.com
PASU – Pilipino American Student Union – http://pasu.stanford.edu
Please donate to the NAFCON  Bayanihan Relief Effort at http://tinyurl.com/bayanihanreliefeffort
For Immediate Release
November 8, 2013
Contact: Terrence Valen, NAFCON President
415.333.6267, info@nafconusa.org
NAFCON Ramps Up Relief Campaign as Super Typhoon Yolanda Ravages Central Philippines
The National Alliance for Filipino Concerns (NAFCON) is appealing for increased donations for its Bayanihan Relief and Rehabilitation Campaign to assist communities in the Philippines  affected by super typhoon "Yolanda" (international name "Haiyan"). On November 8th, one of the strongest typhoons in recent history pounded over provinces in the central part of the Philippines resulting in massive devastation of crops and homes and loss of electricity and communication lines. Around 10 million people who live in the central Philippine islands were most at risk of a direct hit of the super typhoon. Yolanda also lashed communities in Cebu and Bohol, two cities that have yet to recover from a 7.2-magnitude earthquake last month.
"I was just in the Philippines this summer when another storm hit and caused a lot of damage and I'm really not sure if my family was prepared for something even stronger and more destructive. We are hoping that they are okay, but we haven't heard from them since electricity and phone posts were toppled by typhoon winds and powerful stormwater surges," says Julian Jaravata of Anakbayan Silicon Valley, member organization of NAFCON. Julian has relatives in Romblon, one of the islands in central Philippines hit by super typhoon Yolanda.
NAFCON is collecting monetary donations, ensuring the fastest way of getting aid to the Philippines for what is needed most. Donations can be made through NAFCON's Paypal account at http://tinyurl.com/bayanihanreliefeffort. Checks can be made payable to "St. George Fontana," and on the memo line, write: "NAFCON Bayanihan Relief" to clearly allocate it for this purpose.
NAFCON Bayanihan Disaster Relief Regional Coordinators can collect your donations or mail it to our local nonprofit partner, c/o Naida Castro at 17895 San Bernardino Avenue, Fontana, CA 92335-6155. Please, include your return address with your donation. For qualifying tax- deductible donations, please, email trea@nafconusa.org for the necessary documentation. "Every year, NAFCON stays alert and ready to respond, knowing that calamities frequently threaten the livelihood of our kababayans (countrymen). The alliance knows overseas community support is important to relief efforts due to the Philippine government's consistent inability to effectively assist victims and its culpability in contributing to the environmental injustices plaguing our country," said Terrence Valen, NAFCON President.
For more information on regional collection centers and fundraising activities in your area, please contact NAFCON Bayanihan Disaster Relief and Rehabilitation regional coordinators nearest you or go to our website at www.nafconusa.org.
Northwest: Freedom Siyam; nw@nafconusa.org; (206) 659–1896
Northeast: Michelle Saulon ne@nafconusa.org (650) 808-5043
Midwest: Nerissa Allegretti mw@nafconusa.org (224) 381-6888
Norcal: Ryan Leano nc@nafconusa.org (626) 534-4971
Socal: Alex Montances sc@nafconusa.org (253) 381-7444
FOR IMMEDIATE RELEASE
March 06, 2012
Contact: Terrence Valen, NAFCON President
415.333.6267, info@nafconusa.org
Typhoon Pablo Survivors Deserve Relief, Not Repression
Filipinos Demands Justice in response to recent killing of Cristina Morales Jose
The National Alliance for Filipino Concerns (NAFCON) demands for immediate investigation and subsequent prosecution of those responsible for the murder of Cristina Morales Jose, leader of a Typhoon Pablo survivors group Barug Katawhan, a councilor in her local town Baganga, and also a member of the progressive partylist Bayan Muna.
Jose was killed on March 4 in Davao Oriental, Philippines. According to human rights organization Karapatan in Southern Mindanao, she was killed by a motorcycle riding assassin as she was on her way home from a Barangay Council session.
According to Jose's text message to fellow Barug Katawhan leaders, military and other local state forces threatened residents who joined the barricade that they will not be rationed food. The typhoon survivors were subjected to threat and intimidation by members of the Philippine Army. Before she was killed, Jose intended to travel to Davao City to file a complaint about the blacklisting of those who joined the protest and barricade of typhoon survivors.
"The Philippine government and its military is again the prime suspect in the gross violation of human rights. Typhoon Pablo survivors deserve compassion and support as they rebuild their livelihood not repression," states NAFCON Midwest Coordinator Nerissa Allegretti, who visited Pablo-stricken communities early this year. "The demands of Barug Katawhan are legitimate. They have the right to food, shelter, and humanitarian aid. We condemn the repression of the typhoon survivors as they fight for these basic rights."
In January, Jose was among those who exposed the food blockade and militarization of relief efforts by members of the Philippine Army in her town. In February, she joined more than 4,000 typhoon survivors in a 3-day barricade of the regional office of the Department of Social Welfare and Development (DSWD) and demanded the release of 10,000 sacks of rice that was earlier promised to typhoon survivors. DSWD Secretary Dinky Soliman threatened to press legal charges against leaders of various organizations involved in the barricade.
Since Typhoon Pablo hit Mindanao in December last year, NAFCON has coordinated relief in the United States to support our fellow sisters and brothers in Pablo-ravaged areas, raising relief donations and educating our local communities.
"We are not only disgusted by the Philippine government's ineptness in preparing for these disasters and failure to distribute much-needed relief goods to affected communities. We are equally outraged that this spate of extra-judicial killings has intensified and directed not only towards the typhoon survivors but also progressive Party List members who exposed the government's criminal neglect of its own people," declares NAFCON President Terrence Valen.
"The hard-earned money we send back home must not be used for human rights violations, especially against those who are merely defending their basic right to land and life. We call on the Philippine government to immediately provide much-needed relief to typhoon survivors, pull out the military forces from the affected communities and stop large-scale mining by foreign and large corporations which aggravates the effects of environmental disasters," ends Valen.###
Rock The School Bells and the Northern San Mateo Taskforce Haiyan present L.O.V.E. for the Philippines!
RTSB is collaborating with All Tribes SF – Universal Zulu Nation and the Northern San Mateo County Taskforce Haiyan in a joint effort to raise funds for higher education and support of relief efforts for those directly affected by Typhoon Haiyan. Come through for good times and share your L.O.V.E. for the Philippines.
Friday, December 13, 2013

10:00pm until 1:30am

Mink Bar & Lounge

6192 Mission Street

,

Daly City, California 94014

Live performances by:
Astrologik
Ruby Ibarra
JOAL
Music provided by:
DJ OwlBoogie
DJ Don Mega
$10 cover
21+
L.O.V.E. stands for Learn, Organize, Volunteer and Endorse. Proceeds from this event will support both RTSB and the National Alliance for Filipino Concerns (NAFCON).
For more information about RTSB, please visit rocktheschoolbells.com
DECEMBER 22, 2013
There are some great Filipino Martial Artist as well as being great individuals,  that have agreed to teach and give knowledge. They will be giving to those who attend,  something special – knowledge and their passion and love for the art.  It does not get better then that.  There will be some of the top Grandmasters, Masters from the Bay Area: Robert Castro (Eskabo Daan), Darren Tibon (Angels Disciples), Jason Inay (Inayan System), Glenn Abrescy (Bahala Na Multi-Style Escrima Club), Cedric Concon (Latosa-Escrima), and Rene Latosa.
I can't say enough about these martial artists giving their time and knowledge for the cause. 
Link to website Fight On Philippines
SUPPORT THE HOPE AFTER HAIYAN SOLIDARITY AND HEALTH MISSION
The National Alliance for Filipino Concerns (NAFCON), in partnership with Council for Health Development (CHD), Alliance of Health Workers (AHW), and Bayanihan Alay sa Sambayanan (BALSA) is sending delegation in the Philippines for its relief and rehabilitation program through the Hope After Haiyan Solidariy and Health Mission.
As a community organizer, I volunteered to help as the NorCal regional co-coordinator and finance committee head. However, volunteers are asked to raise their own funds because donations to NAFCON are strictly for the victims of super typhoon Haiyan.
I already spent a considerable amount of my savings and will lose some wages during this time off work, but I really feel strongly about this decision because it is now time to extend all the organizing skills I've learned here in America to the Filipino people back home.
With that said, I am asking for your financial assistance. Every dollar I receive through this fund is greatly appreciated and will be officially recognized.
I will be launching a blog very soon to keep everyone updated with the work we are doing on the ground.
I will keep you posted…
<3 Josephine
Here's more information about the Typhoon Haiyan and Solidarity and Health Mission:
NATIONAL ALLIANCE FOR FILIPINO CONCERNS (NAFCON)
Hope After Haiyan
Solidarity and Health Mission in the Philippines
"NATURAL CALAMITIES CREATE TSUNAMIS, DESTROY BUILDINGS AND CAUSE DEATHS BUT IT CAN NEVER SHATTER THE PEOPLE'S WILL TO HELP THOSE IN NEED"
Since the aftermath of Typhoon Haiyan, thousands of victims have received little or no emergency and relief assistance. Many thousands more in remote villages of Samar and Leyte and other affected Provinces in the Visayas Islands who do not have the physical means to travel to major town centers where most of the relief operations are conducted are left to their own device to survive without food, water nor medical assistance from the government. Due to its inadequate disaster preparedness and emergency response system, despite the fact that the Philippines is located along the Pacific Rim of Fire and lies on a Typhoon Belt and historically had been clobbered at least 20 times a year with typhoons and earthquakes, the Philippine government has yet to come up with a realistic and practical disaster preparedness and emergency program that suit the needs of millions of its people that are geographically separated in islands. Typhoon Haiyan's devastation has left thousands of victims suffering from diarrhea and other water borne diseases, skin and wound infections and various forms of mental health (anxiety, nervousness, post traumatic stress syndrome) problems as a result of losing their loves ones, homes, economic activity and uncertainty of the future among others. There is a dire need for humanitarian assistance!
Objectives:
1. Mobilize health and human resources of people in the USA for the benefit of the victims of Typhoon Haiyan
2. Send health professionals and workers, as well as volunteers to augment efforts of NAFCON with partners in the Philippines doing relief, rescue and emergency work in Samar, Tacloban and other affected areas
3. Promote "serve the people"spirit
4. Gather technico-material-logistic and financial resources for the benefit of the victims of Typhoon Haiyan and victims of future calamities in the Philippines
5. Create Disaster Preparedness and Emergency Teams under the auspices of NAFCON that can be mobilized in future natural and man-made calamities in the Philippines
6. Share stories and first hand experiences to the USA public and Filipino community
7. Create long term partnerships with the health organizations in the Philippines doing grass roots work and support their endeavor for better health
8. Maximize the opportunity to show the concrete conditions and root causes of the problems in the Philippines including
Schedule of Solidarity and Health Mission in the Philippines:
December 5-9, 2013 – Ormoc and other affected areas in Leyte December 15-23, 2013 – Leyte
December 17-21 – "Paskuhan sa Eastern Samar" sites are Guiuan and Quinapondan towns
January 10-13, 2014, Leyte towns
February 7-10. 2014, Eastern Samar towns (possibly another one from Southern California/San Bernardino)
March 7-10, 2014, Leyte towns
Sponsoring Organizations:
National Alliance for Filipino Concerns (NAFCON) nafconusa.org
Partners in the Philippines:
Council for Health and Development (CHD) chdphilippines.org
Alliance of Health Workers (AHW) www.ahwphilippines.org
Bayanihan Alay sa Sambayanan (BALSA)
Link to Fundraising – Health Mission for Haiyan Victims
Children are suffering in the Philippines. Typhoon Haiyan—the year's most powerful tropical storm—is the latest natural disaster to strike a country already reeling from monsoon flooding and a massive earthquake. Approximately 10 million people were affected with 40 percent of those being children. These children need shelter, clean water, nutrition and vaccines.
Please join me in my effort to raise money and bring hope for those affected by Typhoon Haiyan by purchasing a limited edition t-shirt. 100% profit from the sale of these t-shirts will go towards Nafcon (National Alliance for Filipino Concerns) www.nafconusa.org. With the money we raise, this organization will be able to bring much needed lifesaving care and support.
Thank you! Maraming salamat po for your generosity!
Check out the website here: "Bring Hope" Campaign for Typhoon Haiyan

Link to PDF Solidarity & Health Mission Invitation Letter
To aid the typhoon ravaged Philippines, all proceeds will go to NAFCON to provide clean water, food, shelter, medical attention, and longterm massive infrastructure rebuilding. Works will be exhibited at The Lodge Gallery, 131 Chrystie Street NYC, Dec 6-10th, with online bidding Dec 2-13th. With this action of collective creative generosity, we celebrate the power of the creative spirit in times of disaster.
Link to Paddle 8
Link to The Lodge Gallery
Thanks to those of you who have asked about my family since Typhoon Haiyan (also referred to as Typhoon Yolanda) devastated the central and southern Philippines. My family lives in Luzon and I am grateful that they were out of harms' way. But many families of my friends are among the masses who have lost their homes, livelihoods and loved ones. As difficult as it is to fathom such trauma, I know we don't want to be paralyzed by it.
Would you please join me in taking action, in following our impulse to help and to extend hope?
Waiting for You: "Waiting for a Prince" Raffle
Eligibility: Anyone in the continental United States and Hawai'i may enter.
Each Entry is $10, but you can donate as much as you want, i.e. $20 is 2 entries, $30 is three entries.
Prize: One lucky winner will receive "Waiting for a Prince" (digital photograph, image size 8″x12″, matted 16″x20″). I will pay for shipping of this matted print.
Donation/Entry Process: Between Dec. 1 and Dec. 15, 2013*, please make a donation to the National Alliance for Filipino Concerns. Every $10 you give is an entry for this contest. You MUST forward your confirmation email from NAFCON to me (carina@cadelrosario.com) and please include your name and preferred contact information. I will reply with your entry number and contact you if you win!
I will take "donations" until midnight PST on Dec. 15. The winner will be picked via Random.org and I will post the results of the drawing on Dec. 16.
* I know many of you have already donated to different Typhoon Haiyan relief efforts. THANK YOU for your quick response! The survivors of this super typhoon have a very long and hard road to recovery, so there is still a need for monetary support for temporary shelter, food and other necessities as local people work to rebuild. This raffle is meant to spur new donations to help with the on-going need, so donations must be made between Dec. 1 and Dec. 15, 2013 in order to qualify as a raffle entry.
About Waiting for a Prince
In September 2011, I returned to my birthplace. I was in Manila when Typhoon Pedring hit Luzon. It was nowhere near the force of Typhoon Haiyan, but it did break through the seawall. While I was waiting for the waters to recede, I saw strangers on this jeepney helping each other: Men would carry a passenger on their backs, deposit them onto higher ground, then go back for one or two more before moving on with their day. After Typhoon Haiyan, Filipinos continue to help each other. They aren't necessarily waiting for princes to come to the rescue, but they are relying on each other and the global community to provide whatever resources we can share so they can take charge of their recovery and rebuild on their own terms. Please join me in supporting their efforts.
Maraming salamat po.
Carina
We have seen the horrifying images of the devastation brought by the typhoon Haiyan (Yolanda) to the Philippines. Haiyan killed several thousand people and affected over 13 million people, including over 5 million children, many of whom face serious protection, health and safety risks. Millions of people were left without homes, are in need of food aid and will require substantial longer-term support.
Join us for a 90-minute Zumba and U-Jam Fitness Event to help raise money to provide relief to the victims of this devastating storm. 100% of the proceeds will go to the victims through NAFCON (Natl. Alliance for Filipino Concerns) Bayanihan Relief Effort.
ADMISSION: $10 suggested donation (Cash at the door)
To donate or purchase online with credit card: http://www.eventbrite.com/e/dance-for-the-philippines-typhoon-relief-fundraising-event-tickets-9413117889
WHEN: Saturday, December 7, 2013
TIME: 2:00pm-4:00PM (Doors open at 2pm, Event starts 2:30PM)
WHERE: PCC Cascade Gym, 705 North Killingsworth Street, Portland, OR
What is U-Jam Fitness? http://www.ujamfitness.com/
What is Zumba Fitmess? http://www.zumba.com/en-US/about
12/5: Haiyan Relief Auction, hosted by Tether, a multidisciplinary creative studio
Thursday, 5 December 2013, 6pm, Tether Incorporated, 316 Occidental Avenue South, Seattle, Washington.  More Info: https://www.facebook.com/haiyanartauction/
The PNW Bayan USA Queer Caucus presents a dance party to raise funds for Typhoon Haiyan Relief. Proceeds collected will go directly to NAFCONUSA which are directly connected to grassroots organizations doing relief work in the Philippines. We also want to support relief efforts being conducted by the women's organizations in the Philippines with GABRIELA, their own relief program called Lingap Gabriela. All proceeds will go directly to these two relief efforts.
Please RSVP: http://bit.ly/17VgSyR
Friday Dec. 6, Doors 8pm, $10 Cover, 21+
Fred Wildlife Refuge 128 Belmont Ave. E, Seattle 98102, Capitol Hill
Proceeds Benefit Typhoon Haiyan Relief Efforts in the Philippines: Taskfore Haiyan and Lingap Gabriela (NAFCONUSA.org)
Music By: DJ Daps1 & DJ Mixxtres
Brought to you by the PNW Bayan Queer Caucus and Task Force Haiyan
Sponsors include:
Alay ng Kultura
Anakbayan Seattle
Pinay sa Seattle
Green BodiesCoalition
Anti Racist Whites
LGBTQ Lgbtq Allyship
Briq House entertainment
Uzuri Productions
Hidmo Seattle
Voices Rising
PNW BAYAN USA Queer Caucus
6:00pm
| | |
| --- | --- |
| | United Domestic Workers 4855 Seminole Drive, San Diego, CA 92115 |
The devastation of Typhoon Haiyan/Yolanda has not yet been fully realized. Approximately 4.4 million have been displaced—one million of whom are children. More than 26,000 have been injured, over 5,600 have lost their lives, and 1,759 are still missing. The numbers are staggering and continue to rise.
On Friday, December 6th at 6pm, United Domestic Workers of America (UDW)/American Federation of State, County, and Municipal Employees Local 3930 (AFSCME Local 3930) and the San Diego Chapter of the Asian Pacific American Labor Alliance (APALA) with thirteen other local and national organizations are holding a candlelight vigil at the headquarters of UDW on 4855 Seminole Drive, San Diego, CA 92115. There will be a prayer service and lighting of candles in remembrance of those affected. Monetary donations will also be accepted to benefit relief efforts.
The organizations united for this event include the Association of Filipinas, Feminists Fighting Imperialism, Re-feudalization, and Marginalization San Diego (AF3IRM-SD), Alliance San Diego, Anakbayan San Diego (AB-SD), City of San Diego Mayor's Office, Filipino American Educators Association of San Diego County (FILAMEDA), Filipino American Arts & Culture Festival (FilAmFest), Kabataang maka-Bayan San Diego (KmB-SD), Kuya Ate Mentorship Program (KAMP), National Asian Pacific American Women's Forum – San Diego Chapter (NAPAWF-SD), National Federation of Filipino American Associations Region 10 (NaFFAA Region 10), Samahan Philippine Dance Company, San Diego Community Leadership Development Institute (SDCLDI), and SEIU Local 221.
We invite you to participate in this evening and help rebuild the lives and areas of the Philippines ravaged by Typhoon Haiyan/Yolanda.
TYPHOON HAIYAN/YOLANDA CANDLELIGHT VIGIL
FRIDAY, DECEMBER 6th, 2013 @ 6PM
UDW HEADQUARTERS IN THE UNION HALL
4855 Seminole Drive, San Diego, CA 92115
(619) 263-7254
Monetary donations are welcome
THE LIST OF PROGRAMS WILL BE UPDATED SOON
Join us for a day of music, art, and community to raise funds for the victims of Typhoon Haiyan on the one month anniversary of the storm.
12:00pm until 4:00pm
Pacific Wind Arts Sculpture Garden 2095 Martin Luther King Ave. Long Beach, CA

Enjoy entertainment, art, plants, and food sales plus more fun fundraising activities!
100% of the donations will be given to victims of Typhoon Haiyan through the National Alliance for Filipino Concerns (NAFCON).
Sponors: Pacific Wind Arts Sculpture Garden, Taskforce Haiyan Southern California, NAFCON, BAYAN SOCAL, Long Beach Depot for Creative Reuse
..:::Come join us for some::..
-LIVE MUSIC by AstraLogik
-OPEN MIC performances
-PHOTO-ESQUE ambiance (great for photography!) for all performers and guests alike
-great ASIAN-FUSION FOOD!

Sunday, December 22, 2013

7:00pm until 10:00pm
Pa'ina Lounge & Restaurant
1865 Post Street

,

San Francisco, California 94115

…:::FREE ENTRANCE!!!!::…
Tip Jar will be available and will be donated to non-profit's doing great work in the Philippines.
…:::OPEN MIC SIGN-UPS:::…
Sign up earlier, And you will have a chance to do more than one piece on stage!
EMAIL/COMMENT us TO SIGN UP EARLY!
AstralogikMusic@gmail.com
..:::This event is to BENEFIT the PEOPLE of the PHILIPPINES::..
All proceeds will be donated to:
NAFCON – (immediate response to Typhoon Haiyan survivors through grassroots communities)
&
Soulciety Non-Profit Org.'s BRIDGE Program (long-term rebuilding and empowering of the communities within the Philippines)
SPECTRUM SUNDAYS • SPECTRUM Queer Media
presents BUSONG: A fundraising screening for victims of typhoon Haiyan/Yolanda relief. 100% of all direct donations and 50% of ticket sales will be gifted to the National Alliance for Filipino Concerns' typhoon haiyan relief efforts. For more information: nafconusa.org
FUNDRAISER COMMUNITY PARTNER: Cafe Gabriela
3:00pm
The New Parkway Theatre
474 -24th Street.

,

Oakland, California 94612

Busong – THE GRAND PRIZE winner of this year's National Geographic Society's All Roads Film Festival – is a reminder of indigenous peoples' struggles around world.
Busong, a film suggested to SPECTRUM SUNDAYS by Penny Bee (Cafe Gabriela), is set amid the lush landscape of the island-province of Palawan in the Philippines. It touches on vanishing tribes and cultures, environmental degradation, discrimination, and personal transformation.
Busong, which translates to "fate" in the Palawanon indigenous language, is relevant in a world where the first peoples in many countries are facing continuing threats against their traditional way of life.
"By focusing a lens on the vanishing tribes of Palawan, Busong by extension is a powerful reminder about the threats facing the existence and culture of other indigenous peoples across the world, including Canada," – Honorio "JR" Guerrero
TRAILER: http://youtu.be/xeASJt-DrQI
CoHo has teamed up with PASU to raise money for the victims of Typhoon Haiyan. CoHo will be donating 25% of the proceeds of all food purchased during 7:30pm-10:30PM to NAFCON (http://nafconusa.org/) to directly aid the victims of Typhoon Haiyan!
Featuring Music, Comedy, Poetry & Spoken Word!
**Each participant receives a 10$ CoHo gift card!
**WINNER receives a $50 Amazon Giftcard
SIGN UP IN COHO OR EMAIL COHO@STANFORD.EDU
Equipment Available:
3 Mics/3 Mic Stands
Ipod Cord
Piano

7:20pm until 10:30pm
Tresidder Union 459 Lagunita Dr., Stanford, California

(5 minute OR 10 minute slots)
10 minutes MAX per performance (INCLUDES any set-up time)
PERFORMANCES TIMES:
7:30pm – Llana Arbisser
7:40pm Ashia (10)
7:50pm Nathaniel Okun (10)
8pm – Good Enough (10)
8:10pm -Jake Ayala & Adorie Howard (10)
8:20pm
8:30pm – Mina Shah
8:40pm- PASU
8:50pm David Grunzweig (10)
9pm -Stephanie Hilliard (10)
9:10pm- Kathleen Estrella (10)
9:20pm – Alexander Kucy (10)
9:30pm – Eric & Camila Kofman (10)
9:40pm -Tyler Brooks (10)
9:50pm -
10pm- Pasu (10)
10:10pm – Ruslan Iskhakov
10:20pm -
Join us at El Norte in Seattle for an evening of entertainment, great food, and most of all, raising money for the victims of TYPHOON HAIYAN. Local Filipino Theater Artists will come together to perform for the community in honor of all those affected back home and the strength of the Filipino spirit!
Saturday – 6pm
13717 Lake City Way NE

,

Seattle, Washington 98125

21 and Over Only
$20 Suggested donation at door
Doors open at 6:00 PM
Performances begin at 7:00 PM
Dancing to follow!
Music by DJ Doughboy
More about El Norte: http://elnorteloungeseattle.com/
Proceeds raised at this event will be donated to The National Alliance for Filipino Concerns to help those affected by Typhoon Haiyan. Can't make it to the event but want to help? Donate and learn more here: http://nafconusa.org/
Featured artists for the evening:
Dan Arreola
Myron Canda
Eloisa Cardona
Manuel Cawaling
Christi Cruz
Mikey Dela Cruz
Manny Golez
Ben Gonio
Heather Gonio
Ulyber Mangune
Ray Tagavilla
PLEASE INVITE FRIENDS AND FAMILY TO THIS EVENT!
** Sign up on our mailing list **
Click the link below to be added to our mailing list to receive updates about the event and a follow-up after so you're in the know about how the event went and where the money raised is going.
Subscribe here: http://eepurl.com/JwDuv
Hope to see you all there!
Christi Cruz, Ben Gonio, & Heather Gonio
A dance-charity event for the Philippines from the Pacific Northwest of Seattle. Put on by Emerald Attire a local streetwear brand in seattle and a group of individuals passionate about a great cause.
Location & time of the event:
Harambee

Address
316 S 3rd St
Renton, WA 98057
Time: Begins 6pm-10pm
Doors open: 5pm
Date of the event: DECEMBER 13TH, FRIDAY
Admission fee: $2; $1 for contestants
(You can donate how much as you want for the Philippines!! Just minimum is $1-2 at least.)
There will be food & beverages, & Jamba Juice too! Butt it'll cost ya! Again, all the money will go directly to the fundraiser. This is a non-profit event.
CROWD-BASED JUDGE
2v2 Anystyle (bboys included)
SIGN UP IF YOU WANT TO COMPETE FOR EITHER OR BOTH ANYSTYLES/BBOY NOW BELOW!
Prizes: Winner for both categories gets 1 (any) product from BOTH Emerald Attire and PRC Clothing.
Performances by:
* Daniel Jerome
* Koncrete Movement
* Studio 3 Company
Sponsors and Vendors:
* Emerald Attire
* Peoples Republic of Clothing (PRC)
* Freshest Roots
* Jamba Juice
This is such a late notice for everybody, but please, HEAR US OUT.
As you all know, a super typhoon has hit the Philippines. More than 10,000 people were affect and the death toll is just going up every day due to the lack of shelter and food to survive.
We of friends and family, wanna reach out to everyone and anyone Seattle-bound and in the PNW, who is willing to help. The dance community brings everyone together–bond in support, love, and family. We would want this as well if possible.
We would like to put together this charity event, a dance battle event. All the money we raise and we make from this battle will all go the people of the Philippines of this tragedy.
Every little bit counts. We can't do this alone. Thousands of people there are doing what they can to be strong as they look upon their city that has been completely wiped out. We ask for your strength, your support, and your love. Come together as a community, and let's impact not only us among friends and family, but for those who really pray for what we have.
100% of all donations and funds raised will be sent to the National Alliance for Filipino Concerns to help relief efforts in the Philippines!
Fore more Info go to:
www.nfconusa.org
Anystyles:
1. Toyochi & Chris Delmundo
2. Drake Hates Math
3. Move Syndicrunk
4. Fluffy Unicorns that TURNUP from 9 to 5
5. Lazy Leos
6. Hungryhungrynippos
7. The Plastics
8. Austin & Pakeem the AP Students
9. Ghost & Duck
10. OutKasted
11. Twin Dragonz
12. Thing 1 & Thing 2
13. Emma and Pacmini
14. Ekco and Kevin Daugard
15. Asiatikz
16. Furgaan & Gi
17. Soul Society
18. The Beat Hippies
19. TheStarters
20. Choco-Taco
21. Pyro Show
22. Huibo Zhao and I
23. Prelude
24. Unashamed
25. Big Boiz
26. Get Wet Patrick Kim
27. Zoonation
28. Groove Clan
29. Mario's Allstar
30. SpaceBound Junkies
31. Local-Motionz (bboys)
32. Reminisce & Courage (bboys)
33. Bukakke Leviosa (bboys)
34. Origin Cats (bboys)
35. 10acious (bboys)
36. North City Rockers (bboys)
37. Street Marauders (bboys)
38. Mad Flow (bboys)
39. New Found Era (bboys)
40. Josh Gomez and Jungho Yi (bboys)
41. Dota-Cod
42. VTK
43. Lumpanada
44. Emmaniel
45. JoeTruVo
46. Clean Up
47. Ricer Force (bboys)
48. UTF
49. Catch Em All (bboys)
50. Break Animals (bboys)
51. No Roots (bboys)
52. Bump & Grind
53. Kiiru and Takumi
** 39 Anystyles
** 14 Bboys