Garage Sale
pilipino association of Workers and immigrants
————————————–
To all our friends and family
please come and join us and bring items to
sell for our community garage sale
———————————
all proceeds will go to nafcon
www.nafconusa.org
typhoon relief effort
#haiyanrelief
————————–
Saturday & Sunday
November 23-24
8am – 4pm
———————————————–
1426 Morril Ave
san jose ca 95132
On Saturday, November 23, 2013, Pacific Island Blood, a coalition of Bay Area Motorcycle Clubs will be hosting a donation drive at James Logan High School (1800 H. Street, Union City, CA 94587). The "rally" will be from 11am – 4pm. There will be food, merch tables, a raffle, as well as performances and martial arts demonstrations. PIB will be hosting a box drive, for which they will be accepting in-kind donations. Blankets, towels, canned foods, water, matches, candles, baby formula, powdered milk, and baby bottles are among the items requested for donation.
JLHS Filipino Heritage Studies and KAISAHAN will also be present to take monetary donations, 100% of which will be donated to NAFCON.
Bay Area activists and talent come together for this pop-up talent showcase to benefit survivors of the typhoon in the hardest hit areas of the Philippines.
Featuring music performances by Native Elements and End The Suffering. Stand-up comic Kevin Camia. Special guest Freska Griarte of 99.7 NOW and Allan Manalo of Bindlestiff Studios.
And more!
Saturday November 23, 2013
1:00pm until 4:00pm
1600 Holloway Ave., San Francisco State University

Sponsored by Chi Ro Omicron, Pilipino Bayanihan Resource Center of San Mateo County, LBC, ABS-CBN and others.
Special thanks to Oscar Gonzales, Cindy Sacramento-Enriquez, Mary Nite, Andy V Galeon, Jeremy Jocson, Johnathan Ezekiel Winston Siu, Allan S. Manalo, Kevin Camia, Native Elements, Lorenzo BigLarr Santiago, Augustus Tagaro, and YOU!
110% of fund proceeds will be donated to NAFCON and material donations will be shipped via direct distribution to affected areas. $10 only!
Boba and the arts for a cause…
"Hope For Haiyan"
An Open Mic Fundraiser for Typhoon Haiyan Victims
1946 N. Lakewood Blvd.

,

Long Beach, California 90815
Wednesday – 7:30pm

until

9:30pm

Hosted at Hiccups Tea House with Anakbayan Los Angeles, CSULB Pilipino American Coalition, Filipino Migrant Center and NAFCON (National Alliance for Filipino Concerns) folks!
10% of all purchases (food and drinks) will go straight to relief efforts aiding Typhoon Haiyan victims in the affected areas in the Philippines!
Come through! 7:30-9:30PM
ALL AGES
If you can't make it out, please make a donation to www.nafconusa.org to directly support relief efforts in the Philippines.
P.E.A.C.E. (Pilipinos for Education, Arts, Culture, & Empowerment) + NAFCON (National Alliance for Filipino Concerns) presents…
"REBUILD PHILIPPINES"
Next Saturday, November 23, 2013 | 12-5pm
City College of San Francisco: Student Union
50 Phelan Avenue
San Francisco, CA 94112
This event hopes to bring the community together to build stronger bonds, empower our youth/young ones, inform ourselves a midst a media whirlwind and take care of our families across the ocean.
100% of the proceeds from this event will go directly to relief efforts on the ground to the affected communities in the Philippines.
GUEST SPEAKERS x LIVE PERFORMANCES by local hip-hop, r&b and spoken word artists. Local DJs, as well.
(Roster will announced on monday)
We're encouraging everyone to bring some food to share-POTLUCK Style
This is a family friendly event. Activities for children 10 yrs and under during the event.
ENCOURAGE YOUR LOVED ONES TO COME & SUPPORT.
Artist Collective for Haiyan Relief
7:30pm in EST December 18
La MaMa Experimental Theatre Club
74A East 4th Street, New York, New York 10003
La Mama e.t.c and Kinding Sindaw present Haiyan Relief
Featuring performances and Artwork auction to benefit the victims of Haiyan/Yolanda.
PERFORMERS:
Kinding Sindaw Melayu Heritage
Maria Elena Anaya (Flamenco)
Saung Budaya Indonesian Dance group
Kilusan Bautista
10tecomai Yosakoi Dance project
(We will be updating the performers list constantly) Please keep checking.
Tickets $20.00
All proceeds will go to NAFCONUSA #HaiyanRelief fund# nafconusa.org
for more info: info@kindingsindaw.org
We are all devastated by the news of the damage done by the typhoon in the Philippines. We will be donating 100% of sales from Red Horse and San Miguel Beers, our Calamansi Cosmo, and Ube Cheesecake from Blackbeard's Dulceria. We will also be auctioning off a gift certificate for a 9 inch Ube Cheesecake.
Funds will be donated to http://nafconusa.org/programs/
"In this state of calamity, there is an urgent call for support and assistance. In an effort to have a united and
concerted response, we encourage all supporters to coordinate with respective NAFCON chapters throughout the
United States to ensure that our actions are effective, sustainable and empowering of the local communities,
especially those that are the hardest hit, poorest and underserved.
At this time, NAFCON will assist in the direct transfer of MONETARY donations. Your donation will be sent
directly to Bayanihan Alay sa Sambayanan or BALSA (People's Cooperation for the People), a national grassroots
relief and rehabilitation organization composed of broad church-based organizations, schools, disaster response
NGOs, and individuals, working with victims of disasters in the Philippines."
5:00pm until 1:00am in EST
140 Newark Ave, Jersey City, New Jersey 07302
A fundraising event for the victims of typhoon Yolanda (Haiyan) in the Philippines. All proceeds will go to NAFCON who directly helps severe calamity victims.
Location: WPU, Student Center Cafe
7:00pm until 10:00pm in EST
300 Pompton Road

,

Wayne, New Jersey 07474
This is a benefit show for the Typhoon Haiyan relief effort. Come show your support for the Filipino People ♥
100% of all proceeds will go to BALSA and Lingap GABRIELA, Philippines-based coalitions comprised of volunteer-led church organizations, schools, and disaster relief organizations that work with victims & survivors of calamity in the hardest hit areas by Typhoon Haiyan.
Bands:
+ Ava Luna – http://avaluna.bandcamp.com/
+ Rebel Diaz – http://rebeldiaz.bandcamp.com/
+ Celestial Shore – http://celestialshore.bandcamp.com/
+ Eartheater – http://eartheater.org/
DJs:
+ Caroline from Chairlift
+ DJ Juan Farrakhan
When: Wednesday, November 20th at 8PM
Where: 285 Kent Ave
Brooklyn, NY 11211
$7 in advance, $10 at the door
Hello everyone,
I would like to personally invite you to a Fundraising Event I am organizing

this Sunday

for the Philippine relief efforts for the victims of typhoon Haiyan at the East Bay Asian Youth Center (EBAYC) in Oakland from

11:00AM to 4:00PM

. 
We will be selling traditional filipino food as the main source of income for the charity. We will also be holding raffles with multiple prizes and selling merchandise as well. EBAYC will also be serving as a donation station for a specific list of supplies that the relief effort has an immediate need for. 
Please come out and support this event, all proceeds go directly to the relief efforts. 
"Come out and eat good food, with good people for a good cause."
Attached is a flyer with all the details included. Please spread the word.
Philippine Relief Fundraiser 
Sunday November 17th, 2013
Located @
East Bay Asian Youth Center
2025 East 12th St. 
Oakland, CA 94606
Details for donation items are below 
S
end SPECIFIC items to the Philippines for FREE:
LBCexpress is a Philippine shipping company that has partnered with the Red Cross and will send specific items for FREE!
•

                
Toothbrush
•

                
Toothpaste
•

                
Towels (all sizes)
•

                
Blanket (thin cotton)
•

                
Medicine adult and children (aspirin, ibuprofen, cold medicine, Tylenol) Please be mindful and make sure they are not expired or will expire soon!
•

                
Mosquito nets
•

                
Juices- again please make sure they do not expire soon
•

                
Sleeping bags
•

                
Detergent
•

                
Canned goods they can eat right away without cooking (check expiration dates)
a. Do not wrap any items in plastic-use towels or blankets instead
c. You must box them no bigger than 24X18X18 or smaller
d. Deliver items to the nearest LBC warehouse- in our case it's in Hayward:
(Call in the morning; they don't seem to answer in the afternoon)
New York University's International Filipino Association presents Mr. Philippines 2013!
**PROCEEDS from Mr. Philippines 2013 will benefit NAFCON USA's Bayanihan Relief & Rehabilitation program. Learn more here: http://nafconusa.org/programs/**
This year, our theme is "Legacy" and we are looking for the timeless Filipino-American man who bridges his cultural roots with having a meaningful influence on the next generation of Filipino-Americans. Contestants are challenged to think about the dichotomy of the two identities and ask themselves: "What is my legacy?"

SUMPA NG KAWAYAN (THE BAMBOO CURSE) — Filipino poem (with translation) for the survivors of Yolanda
November 13, 2013 at 2:51pm
SUMPA NG KAWAYAN[1]
Joi Barrios-Leblanc, Bagong Alyansang Makabayan (BAYAN) Women's Desk
Matibay ang kawayan.
Iyan ang sumpa.
Hayaang ipaghampas-hampasan
ng unos,
lumangoy at magpaanod
sa baha.
Pigilin ang hininga
at baka malanghap
ang bangkay na naaagnas.
Tiisin ang gutom ng sikmura
na kahit sa papuri,
ay hungkag na hungkag.
Kalimutan natin ang kasakiman
na sa kabundukan
ay nagpapatag,
at nagbabago sa daloy
ng hangin at dagat.
Kalimutan ang pangulo
na mainit ang ulo
at sa sariling pulong
walang pakundangang lumalabas.
Kalimutan ang ayuda
na higit na bumabagal,
sa ating paghihintay.
Yumuyuko at umiindayog
sa hangin ang kawayan.
Ngunit kami ay tao, tao lamang,
Balat at dugo, luha at buto.
Ipagpaumanhin ang galit
at pusong nagpupuyos.
Naghahanap kami ng katarungan
sa gitna ng dalamhati't pagluluksa,
sa aming di matapos-tapos
na dalamhati't pagluluksa.
THE BAMBOO CURSE[2]
Resilience is the curse of the bamboo.
Suffer the storm,
swim through the floods.
Bear the stench of corpses
and the hunger
that does not go away
with praise.
Forgett he greed
that levels mountains
and changes wind and seas.
Forget the president
who walks out,
Forget the aid
that crawls slower
as we wait.
The bamboo bends and sways
with the wind.
We are human, only human,
All flesh and tears and bone and blood.
Forgive us our anger
as we seek for justice
in our grief,
in our inconsolable grief.
[1] Nakabatayang tula na ito sa tekstong "Resilience is a Dirty Word" na  sinulat ng dati kong estudyanteng si Soleil David.
[2] This poem was inspired by Soleil David's piece "Resilience is a Dirty Word."
Help Support Relief Efforts for Typhoon Haiyan
Please join the De Anza community in supporting the people of the Philippines who have been impacted by the devastation from Typhoon Haiyan (Yolanda), which hit and ravaged numerous provinces in the central Philippines on November 8. Haiyan's 195 mph winds and huge storm surges killed thousands, displaced nearly 600,000 and affected 9.5 million people across the Philippines, according to the United Nations.
Nearly 4 million of those affected are thought to be children, according to international aid organization Save the Children. Officially, confirmed deaths stood at 2,357 on Thursday morning, Nov. 14, according to the Filipino government.
Make a Monetary Donation through NAFCON
The National Alliance for Fillipino Concerns (NAFCON) has provided an easy way to make a monetary donation online. Donate today.
For information about how the money will be distributed, read the Letter of Appeal from NAFCON Bayanihan Relief & Rehabilitation Program.
NAFCON has a well-respected track record in supporting disaster relief efforts since the devastation of Typhoon Ondoy in 2009 and has been widely publicized as a top option for donations. NAFCON is a national multi-issue alliance of Filipino organizations and individuals in the United States serving to protect the rights and welfare of Filipinos by fighting for social, economic, and racial justice and equality. At present, NAFCON members are active in 23 cities in the United States. Read about the relief efforts in Northern California.
Volunteer Opportunities on Campus
Also please consider volunteering time for much needed assistance. There will be upcoming events on campus in support of relief efforts. For more information about how to get involved, contact Associate Vice President of Instruction Rowena Tomaneng, a former volunteer with NAFCON USA, at tomanengrowena@deanza.edu or 408.864.8510.
Donate Support through NAFCON
Check out the website at www.kyrapparel.com or click the image
ARTWORK by Elaine Villasper-Dizon
During the week of November 18 – 22, multiple school sites within the New Haven Unified School District, in Union City, will be holding a donation drive for the survivors of Typhoon Haiyan. Spearheaded by the students of the Filipino Heritage Studies class at James Logan High School, the drive, entitled PROJECT HAIYAN, will culminate with a benefit event held on Friday, November 22 at Alvarado Elementary School from 7pm – 9pm.
The event will feature performances by local youth and artists, Filipino and mixed martial arts demonstrations, and updates about Typhoon Haiyan relief efforts. Merchandise and food will be sold with proceeds going towards NAFCON's relief and rehabilitation efforts in the Philippines.
The event is free and open to all who wish to support the effort. Monetary donations will be accepted in exchange for admission. Filipino Advocates for Justice and PYC will be hosting a booth to take in-kind donations: non-perishable food, bottled water, towels, and blankets are among the list desired items.
Alvarado Elementary School is located at 31100 Fredi St., Union City, California 94587
For more info: https://www.facebook.com/events/173229059551816/
The community partners helping to host the event are KAISAHAN, PASE, and FAJ/PYC.
Please show your support and love for the victims of Typhoon Haiyan. Mix, mingle, and have a drink for a good cause!
Event: FBANC and NAFCON Typhoon Haiyan Relief Drive
Location: Drake Bar and Lounge, 508 4th St., San Francisco, CA 94107
Date: Tuesday, November 19, 2013
Time: 6-9PM pm
*FBANC has teamed up with the National Alliance for Filipino Concerns (NAFCON) (Terry Valen) to host a fundraiser for victims of Typhoon Haiyan. All donations will go to NAFCON, a volunteer-run Filipino-American alliance in 23 US cities. Since 2009, NAFCON's Bayanihan Relief and Rehabilitation program has responded to all major typhoons and other calamities that have hit the Philippines. 100% of the proceeds collected for relief go to those most affected and devastated, on the ground in the Philippines.
Well-known community leaders will be attending, including some as guest bartenders!
We look forward to seeing you there!
Queer and allies party to raise funds for the victims of Typhoon Haiyan. THIS Saturday, Nov 16th (10pm-2am).
WE LOVE THE PHILIPPINES AND WE KNOW YOU DO TOO. TOGETHER WE CAN LINK ARMS WITH THE SURVIVORS TO RE-BUILD, FIND HOPE AND EMPOWERMENT IN THE MIDST OF SEVERE DEVASTATION & GOVERNMENT NEGLECT. 100% OF OUR DONATIONS WILL REACH THE PEOPLE. #HaiyanRelief #TaskForceHaiyan #GABRIELAUSA
1924 Franklin Street (3rd Floor), Oakland
$5- 10+ Sliding Scale @ the door.
**PLEASE RSVP – Email or FB private message us if you are attending. You will need a special passcode to get into the building.**
www.gabusa.org
Mention GABRIELA USA when you donate online. Encourage others to do the same @ www.nafconusa.org
 Excelsion #2, 2008, ink & graphite on Claybord, 24″ x 24″
Please help me raise some much needed cash for victims of typhoon Haiyan 
that has devastated the Philippines.
1. Go to my personal fundraising page through Mercy Corps: 
    and donate as little as $15. 
3. Purchase any artwork from

my studio

through November 23 and I will donate 10% of all sales to
4. Donate $5000 through my fundraising page and I will give you the painting shown above just for being
    a generous person.

Juan Alonso-Rodriguez
Artwork, Photographs & Essays by Juan Alonso-Rodriguez, Seattle, WA – Contact: juanalonsostudio@gmail.com
Please join us. Everyone is welcome!
Where: Corner of Powell and Post (Union Square)
Volunteers from the National Alliance for Filipino Concerns (NAFCON), a member of the broad formation "Bay Area Task Force Haiyan" invites you to a candle light vigil to honor the lives of our brothers and sisters in the Philippines who fell victim to Typhoon Haiyan, also known as Yolanda in the Philippines. This week vigils have taken place throughout the bay area.

We are humbled by the overwhelming support and sympathy we've received from every day people such as yourself. We would like to take this opportunity to gather together, mourn, pay our respects, and most importantly share how we can continue the long journey ahead and rebuild the lives and areas affected.
10,000 are feared dead in Leyte, and 300 more in Samar. We are still waiting for information from other provinces. Many remain missing, and it is estimated that 4 million people have been affected. We need to provide immediate relief for the families and individuals who have survived.
100% proceeds of the donation will go to the victims. For more information about NAFCON, please visit www.nafconusa.org. We will be collecting donation during the vigil.
Here is a glimpse of NAFCON at work, as we launch Task Force Haiyan.
http://sanfrancisco.cbslocal.com/video/9526222-taskforce-haiyan-launched-quickly-get-bay-area-donations-to-typhoon-victims/#.UoRtz-LJ_nY.facebook
Check out the facebook event page here > https://www.facebook.com/events/565684516842903/?ref_dashboard_filter=upcoming
D.C. (area) – Taking the P*ss – Benefit for the Philippines
Marx Cafe has generously agreed to make this a benefit for the victims of Typhoon Haiyan. Proceeds of the bar will go to GABRIELA Washington, D.C., which has partnered with the National Alliance for Filipino Concerns (NAFCON) to accept online donations via nafconusa.org.
When: Friday, November 15, 2013
Time: 10:00 pm – 3:00 am
Where: Marx Cafe 3203 Mount Pleasant St NW, Washington, District of Columbia 20010-2103
Rise Up! UCD Fil Am Typhoon Relief Efforts On November 8, the Philippines experienced the strongest storm ever to make landfall in history. With an estimated death toll of 10,000+ (in one province alone) and 10 million people directly affected by its path, Super Typhoon Yolanda/Haiyan razed communities to the ground in Central Philippines, many of these towns, cities and provinces have yet to recover from a 7.2-magnitude earthquake last month. In solidarity with the Filipino people, the UC Davis Filipino American community (or the Filamily, as we fondly call it) is coordinating a joint effort to raise money for the relief and rehabilitation of those directly affected by this tragedy.
A dollar goes a long way in the Philippines. All monetary donations will be sent through the National Alliance for Filipino Concerns or NAFCON, an organization that works closely with grassroots community organizations in the Philippines. Their Bayanihan Relief and Rehabilitation Program ensures that monetary donations go directly to the communities in need.
Our goal is currently at $1500 but we will continue to raise it to reflect the amount of support we receive. We shall also be sending our donations in increments to address both immediate and long-term needs. Everything will be documented through photos/videos and social media (follow the hashtag #UCDRiseUpPh).
We will also have a series of fundraising events in collaboration with other groups, so please keep an eye out!
This is a crucial time for our communities to come together to raise awareness of these natural disasters and mobilize relief efforts.
Your generous donations are very much appreciated!
Every penny counts

—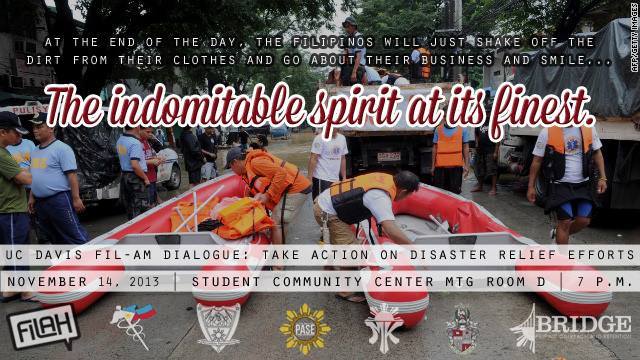 —
We are also accepting monetary and material donations at the Student Recruitment & Retention Center located in the Student Community Center.
Suggestions for material donations:
– Non-perishable food that DOES NOT require water, electricity or can openers.
– Basic medicine and first-aid kit supplies for surface wounds.- Bottled water. Currently, there is no drinkable water in affected areas.
– Candles and matches since there is no electricity. – Clothing
– Blankets.
– Any other items that may be useful.
*This will be an ongoing effort so we will continue updating this gofundme and our social media pages.*
*This is a collaboration between Project: Bulosan, BRIDGE, FAHC, FILAH, Mga Kapatid, PASE, KPE and XPO.
API club at Tennyson High School in Hayward. They did a fundraiser with the money going to Gabriela USA/NAFCON. It's actually via Jaynee Ruiz's instagram. She's from babae/Gabriela USA, and she's a teacher here at THS.
Hey Everyone,

PUSO (Pilipinos at UCSF student organization) and VSA (vietnamese student organization) will be hosting a fundraiser next THURSDAY 11/21/13 to raise money for relief efforts that have been going on for Typhoon Haiyan (please follow the link below to order). ALL PROFITS will go to NAFCON (National alliance for filipino concerns). For more information about how NAFCON is helping and about their organization please follow the link: http://nafconusa.org/

Typhoon Haiyan is considered to be the worst calamity and natural disaster that Philippines has ever faced with speeds as high as 195 mph and gust speed up to 235 mph with around 10,000 people are feared to be dead or displaced. Families affected by the storm are in drastic need of basic supplies, medical supplies, food, and clean water. Thus, Our goal is to provide support and relief.

So please come out and support our cause! Any donations are welcome and will definitely make a difference!

WAYS TO HELP:
1. Directly donate to NAFCON http://nafconusa.org/

2. Attend and donate at our fundraiser event on THURSDAY HSW Lobby 11/21/13 at :

BREAKFAST 8AM-9AM
Distributing biscotti, bagels, and tea. We are asking for recommend donations. (pre-order is not necessary)

LUNCH 12PM-1PM
Distributing BBQ pork skewers, vege lumpia, and meat lumpia.

**********PLACE YOUR ORDER HERE***********************
https://docs.google.com/forms/d/12pgvwn3hsawoFqkXvpADlUHQe0zpG7NGihapzQM6cog/viewform

WE ARE ACCEPTING ORDERS UNTIL MONDAY 11/18/13 at 9AM.

After filling out the survey, you can pick up your order for your BBQ pork skewer, vegetable lumpia, and/or meat lumpia and drop off your donation on Thursday 11/21/13.

We are asking for recommended donations but you are free to choose what ever you want to donate to the cause!

3. Donate supplies:
We are currently setting up a canned food, medical supplies, and bottled water drive. In the next few days we will have more information on how you can donate goods and where to donate the supplies to.

Thank you for your support and time. Your donations do make the difference to those out there in need.

#Support&Relief

Also if you have not heard about what is going currently in regards to the storm please follow the link: http://sanfrancisco.cbslocal.com/2013/11/11/bay-area-organizations-ramp-up-typhoon-haiyan-relief/#.UoG9aNsk4R0.facebook
In the last few months the world has seen the powerful and devastating destruction that earthquakes and typhoons caused much of the Philippines coastal areas. This effort is not just to only fundraise aid to the people of the P.I. but to also rally ourselves here in the Bay Area to causes abroad and at home. We must remember we are a part of a global community. Neither seperate or alone. But connected by life. Let us give art, support, and love to one another. Let's pass it around.- DandiggityShowcasi
ng words and songs from a variety of talent from all over the Bay Area.
Jason Bayani (Proletariat Bronze/The ReWrite)
Lorenz Dumuk (The ReWrite)
Kristen Sajonas (The ReWrite)
Astralogik
Amy DabalosHosted by: Dandiggity & Ruby VeridianoSounds by DJ Sig-O (Affinity Sounds)
$10 at the door All Ages
Thursday, November 21, 2013
Doors at 7:30pm. Show promptly at 8:30pm.
The Blackbird Tavern Annex
200 S. 1st St., San Jose, California 95112
100% of the proceeds go to nafconusa.org
BIOS
JASON BAYANI is a graduate of Saint Mary's MFA program in Creative Writing. He is a Kundiman fellow and a veteran of the National Poetry Slam scene whose work has been published in Fourteen Hills, Muzzle Magazine, Mascara Review, the National Poetry Slam anthology, Rattapallax, Write Bloody's classroom anthology–– Learn Then Burn, and other publications. As a member of 7 National Poetry Slam teams, he's been a National Poetry Slam finalist and represented Oakland at the International World Poetry Slam. He is also one of the founding members of the Filipino American Spoken Word troupe, Proletariat Bronze, and has been an organizer for the Asian and Pacific Islander Poetry and Spoken Word Summit. His first book, "Amulet" was published in 2013 through Write Bloody Press and has garnered acclaim in literary magazines such as Zyzzyva and Glint. www.jasonbayani.com
LORENZ DUMUK
KRISTEN SAJONAS
ASTRALOGIK
AMY DABALOS
DANDIGGITY
RUBY VERIDIANO is a glamour girl off to change the world. A writer, speaker, and media personality, she was born in Manila, Philippines, raised in Sacramento, and has spent time in Italy, France, Atlanta, Oakland, and New York City, shaping her global perspective as an advocate and voice for Asian American women. Ruby is passionate about creating media that bridges entertainment with messages of positive social change, and is the founder of a writing empowerment program called "The Glamourbaby Diaries".
Since 2002, Ruby has traveled throughout the United States, Europe, and Asia, presenting her writings, lectures, workshops, and media projects at hundreds of venues including Cornell University, Columbia University, Morehouse College, the United Nations, De La Salle University Manila, and the American University of Paris, France, inspiring tomorrow's leaders and visionaries. She has reached thousands of youth through her spoken word performance work with iLL-Literacy , an artist collective that she co-founded in 2002. Through her work with iLL-Literacy, she has shared the stage with the likes of Common, Mos Def, Goapele, and Saul Williams. Her movement to empower youth extends to her work with non-profit organizations such as Youthspeaks, Urban Word, LitWorld, and Book-In-A-Day. In 2008, she became a VJ for international music channel, MYX TV North America. In the same year, she published her first book, Miss Universe.
In 2010, she made it as a Top 3 Finalist for Alicia Keys' head blogger search for her women's empowerment website venture, "I Am A Superwoman" (IAAS.COM). During this time, Ruby was flown out to London to meet with Alicia Keys and attend the Black Ball, upon which she interviewed celebrities such as Christian Louboutin, Swizz Beatz, and Alicia Keys on the red carpet.
In 2011, she became the first LitCorps Ambassador for Global Literacy Organization LitWorld, where she spearheaded LitWorld's girls literacy empowerment program in her home country of the Philippines. During the same year, she founded Meeting of the Minds, an initiative to connect the global youth Filipino diaspora to galvanize social change.
Currently, Ruby travels the University circuit to tour her program, Glamourbaby Diaries, and serves as a TV Host/Correspondent for global Filipino channel ABS-CBN.
www.rubyveridiano.com
DJ SIG-O
Hello Northern San Mateo County community members,
Typhoon Haiyan/Yolanda, one of the strongest typhoons ever recorded, ravaged central Philippines this past weekend. More than 10,000 people in Leyte alone are estimated dead and thousands more elsewhere are missing. Countless are homeless and hungry throughout the archipelago and are in dire need of water, sanitation, food, and safe shelter.
On Wednesday, November 13th, Bay Area Taskforce Haiyan was launched by the National Alliance for Filipino Concerns (NAFCON) with different organizations to coordinate typhoon relief efforts in the Bay Area.
As part of this bigger network, we invite organizations and individuals to join the Northern San Mateo County Taskforce Haiyan with LAYA Migrant Youth for Change and Action, Migrante-San Mateo Organizing Committee, Westmoor High School, and NAFCON.
At this event we will discuss what Taskforce Haiyan is all about, how you or your organization can get involved in the relief efforts, and how we can further gather support from the larger community.
Event is open to all groups and individuals — teachers, youth, students, professionals, workers, church groups, unions, or any concerned resident of Northern San Mateo County, Filipino or Non-Filipino alike!
Hope to see you there!
Haiyan Relief Fundraiser
Friday, November 15, 2013
4:30 pm to 7:30 pm
Tapsilog Bistro, 819 W. Hamilton Ave., Campbell, CA 95008
*Light Appetizers hosted by the Jaurigue Law Group
Donations will be combined for the NAFCON Bayanihan Relief
JLG will donate an additional $10 for every donation received.
Filipinas for Rights and Empowerment (FiRE) is a mass-based women's organization serving New York City and its surrounding areas. We connect the Filipino diaspora to the women's struggle in the Philippines. We are women of Philippine descent, including those who are migrants, immigrants and US-born. We recognize Filipino women of mixed heritage and adoptees. FiRE is a LGBTIQ-(Lesbian, Gay, Bisexual, Transgender, Intersex and Queer/Questioning) friendly organization that is inclusive of transgender people of Philippine descent. For more information, please visit http://www.firenyc.org.
We are a proud member organization of GABRIELA-USA that is the first overseas chapter of GABRIELA Philippines. To learn more, please go to http://www.gabusa.org
FiRE is a member of BAYAN-USA, an alliance of progressive Filipino groups in the U.S. representing organizations of students, scholars, women, workers, and youth. To learn more about BAYAN, please visit http://bayanusa.org/
We, Portland Committee for Human Rights in the Philippines (PCHRP) & PSU Kaibigan Alumni Advisory Board, are keeping our hearts and minds with the Filipino people who are experiencing one of the world's strongest and most devastating typhoons this year. In times of disasters such as Typhoon Haiyan, Filipinos in Portland and all over the world are all thinking of our loved ones and the millions who will be displaced because of the calamity.
Currently, the Philippines is bracing itself for Typhoon Haiyan (locally known as Typhoon Yolanda), a category 5 super typhoon, which is expected to displace more than 25 million Filipinos. Families are packing up anything they can and are making their way to safety. The storm is expected to make landfall over Samar-Leyte area today (11/08/13) and continue until early tomorrow morning. It is expected to go through parts of the Philippines including Leyte, Northern Cebu, Capiz, and Semirara Island. Winds are expected to reach up to 195 mph, gusts of 235 mph and a diameter of 1,150 miles as it moves west over the country. This is one of the highest wind speeds ever recorded in a storm in world history.
This storm will not only affect the Philippines, but also Filipinos across the world as many OFWs (Overseas Filipino Workers) who still have families back home are watching from afar. Even right here in Portland, community members are still trying to contact family and friends back home to check on their safety.
In this state of calamity, there is an urgent call for your support and assistance. Our fellow Filipinos need your prayers and your monetary donations. In the past month, we have been working with grassroots organizations in the parts of the Philippines that will be most impacted. Your donation will be sent directly to the poor and underserved who need our donations the most through organizations such as Visayas Primary Health Care Services (VPHCS), our partner organization on the ground in the Visayan region. We hope that you can join us in supporting our kababayans back home as they go through one of the toughest storms to hit the Philippines. Donations can be made through National Alliance for Filipino Concern's (NAFCON) Paypal account at http://tinyurl.com/bayanihanreliefeffort or you can make checks payable to PCHRP and mail to PCHRP ℅ Rossella De Leon at 5250 SE 73rd Ave. Portland, OR 97206.
It is as simple as skipping your morning coffee – that same amount can feed a family of four for at least three days in the Philippines.
Please contact Rossella De Leon at portlandchrp@gmail.com or 503-915-7283 for any questions regarding this relief effort or ways to collaborate.
*** Please let us know by posting on this page if/once you make a donation through the link provided so that we can keep track of the total amount donated from Portland.
Join us as we raise funds for relief efforts in the Philippines in response to Typhoon Haiyan. All proceeds will to go to NAFCON USA where 100% of funds raised will go directly to relief to where it is needed most. NAFCON USA will assist in the direct transfer of monetary donations to Bayanihan Alay sa Sambayan or BALSA (People's Cooperation for the People), a national grassroots relief and rehabilitation organization composed of broad church-based organizations, schools, disaster response NGOs, and individuals, working with victims of disasters in the Philippines.
Come and share words and song on the mic. Share your thoughts, your grief, your anger, your inspiration, and your drive to rise up. In the midst of disaster, let's emerge together in solidarity.
For more information or to sign up on the open mic ahead of time, please contact Megumi Yoshida.
Pine United Methodist Church, San Francisco
426 33rd Ave

,

San Francisco, California 94121
Sunday, November 17, 2013
3-5pm
Kilusan Pilipino at University of the Pacific in Stockton, CA

If you are interested in donating to the Typhoon Haiyan relief fund, Kilusan Pilipino has a table outside of the DeRosa University Center. We will be here everyday from 11-2pm until December 5. Please stop by and show your support, we accept cash and card. every little bit counts! ❤️
Pictured below left to right Kevin Hernando, Rebecca Liu, Val Taylor, and Maurelle Bagus and photo credit goes to Leah Cruz

San Mateo Medical Center through Ms. Lorda Rumbaua of the Department of Resource Management  has endorsed NAFCON and Careway Health Institute to all its staff for all monetary donations.
Make sure to check out Sari Sari Underground inside Island Pacific in Union City, they are taking in monetary donations to give to NAFCON Bayanihan Relief Effort
Sari Sari Underground
4122 Dyer Street
Union City, Ca 94560
MEDIA ADVISORY
November 13, 2013
Contact: Terrence Valen, 415-203-0696
Bay Area Community and Civic Leaders Launch
TASKFORCE HAIYAN to Coordinate Urgent Disaster Relief
San Francisco Supervisors John Avalos and Jane Kim to Co-Chair Collaborative Grassroots Response
San Francisco — In response to the growing and urgent need to step up relief efforts for the victims of
Typhoon Haiyan in the Philippines, civic leaders, community organizations, businesses, and faith groups
from throughout the Bay Area launch Taskforce Haiyan, to coordinate people-to-people grassroots
response to what is being touted as one of the strongest typhoons in recorded history.  This local launch
is part of a US-wide effort led by the National Alliance for Filipino Concerns (NAFCON) to coordinate and
strengthen community-based relief efforts across the U.S.
WHO:     Supervisors John Avalos and Jane Kim
Bay Area Families of Typhoon Haiyan Victims
Filipino and Faith-based Civic Leaders
WHAT:  Launch of Bay Area Taskforce Haiyan
WHEN:  Wednesday, November 13
TIME:   10:00 am
WHERE: Bayanihan Community Center:  1010 Mission Street, San Francisco, CA 94103
BACKGROUND:
Typhoon Haiyan, slammed through the Philippines when it made landfall on November 7, 2013. The
destruction caused by the storm quickly claimed over 10,000 lives in one city alone- Tacloban City in
the province of Leyte, Eastern Visayas.  Many Bay Area families with families in affected areas are still
waiting to confirm whether their loved ones have survived.
NAFCON, a volunteer-run Filipino-American alliance in 23 US cities, calls on organizations, communities,
and residents of the Bay Area to join in the grassroots relief efforts.  Since 2009, NAFCON's Bayanihan
Relief and Rehabilitation program has responded to all major typhoons and other calamities that have hit
the Philippines. 100% of the proceeds collected for relief go to those most affected and devastated, on
the ground in the Philippines.
"These last few days have been very difficult for Filipino-Americans with loved ones back home. Haiyan is
the fourth major typhoon to hit the Philippines this year, and by far the most destructive. The devastation
of poverty-stricken communities is simply beyond our collective imagination," states Terry Valen,
NAFCON President. "There is a need to increase our efforts. That's why we are happy to join hands with
community, labor, business, and church groups across the Bay Area and the nation to form Taskforce
Haiyan, to increase and better coordinate the aid and relief to the most devastated areas in the country."
###
Anakbayan Seattle extends our deepest gratitude to everyone that supported us yesterday as we sang and played music in the heart of downtown Seattle's Westlake Center in effort to raise funds for victims of Typhoon Haiyan (Yolanda) in the Philippines. Without your help, we would not have been able to raise nearly *$500 for the National Alliance of Filipino Concerns' (NAFCON) Bayanihan Relief & Rehabilitation Program.
It was inspiring and uplifting to have been able to turn this idea around so quickly in less than 24 hours and mobilize the large group we had. A big thank you to the organizations of Filipino American Student Association of the University of Washington (UW FASA), the Pacific Islands Club of the University of Washington, and Pinay sa Seattle for joining the efforts.
Please stay tuned for  local upcoming relief effort events and opportunities in Seattle or donate now at NAFCON USA. To learn more you can visit the website Disaster by Design | How the Natural Disasters in the Philippines are Worsened.
Our Chairperson, Jenilee Policarpio, also recorded a small message to share with the community.
Please join Anakbayan Seattle in coming together as a community to send love and healing to typhoon Haiyan/Yolanda survivors in the Philippines.
***NOVEMBER 13, 2013 AT 6:00PM @ RED SQUARE***

If you are not able to physically be at the vigil, please continue to keep the Philippines in your hearts as this will be a continuous relief process.
***For more information about why these natural disasters occur/how the Philippine government contributes
to worsening the immense damage the Philippines
has to endure please visit —> http://relief.anakbayan.net/
***If you are interested in donating to fund disaster relief in the Philippines please visit: http://nafconusa.org/
***100% OF ALL FUNDS THAT ARE DONATED THROUGH NAFCON WILL GO TO DISASTER RELIEF***
Please share this event!
November 13th, 2013 is a call for International Solidarity with the victims of Super Typhoon Yolanda/Haiyan. Please join us in a candlelight vigil honoring the lives lost and the people struggling to survive in wake of Super Typhoon Yolanda/Haiyan.
Meet up at Malcolm X Plaza at 5:30pm. The vigil will being promptly at 5:45.
Folks will be collecting donations to send to NAFCON: www.nafconusa.org
Let us gather as a community in solidarity. ISULONG!
San Mateo – Careway Health Institute Taking in Monetary Donations for the NAFCON Bayanihan Relief effort
Please Contact Rico Foz
1528 South El Camino Real, Suite 308, San Mateo, CA 94402
(650) 627-4685 or info@carewayhealth.com
www.carewayhealth.com
Home Elements Supply & Consulting 200 Serra Way Ste #34 Milpitas, CA 95035
Jocelyn Deona de Leon
408-204-3840
monetary donations can be made now through 11/16 and continue from 12/3 to 12/14. call or visit for most current operating hours.
Proud to announce that proceeds of this event will go to NAFCON's Bayanihan Relief campaign to help victims of Philippine Calamities. See http://nafconusa.org/ for more info
You can check out their facebook event page here https://www.facebook.com/events/1379367855641676/?source=1
With the lack of government investment into Visayan livelihood, built environment and safety protocols, impoverished Filipino women have had to subsist at an atrocious level of poverty. Filipino women, at the helm of family structures, were not able to work and find the money to evacuate their families into safety or save up for emergencies such as these.
National Alliance for Filipino Concerns and Fellowship for Filipino Migrants had a fundraiser at Allegretti's Pizzaria. It was a successful event and we thank the owner (a family of ours) for opening their doors to have the venue at their restaurant. They also donated the food and drinks for the fundraising! Thanks to everyone who came and donated! And we are still accepting donations!
PLEASE SPREAD THE WORD
For folks in Chicago area who wants to donate:
Address cheques to: Fellowship for Filipino Migrants or FFM
Drop off cash/cheques at: Allegretti's Pizzeria, 933 E. Oakton St. Des Plaines
Mail your cheques to: 113 Washington Rd. Glenview, IL 60025
For material donations please contact:
Nerissa 2243816888
Lorena 2246781897
Monique 2246783562
For online donations go to: http://tinyurl.com/bayanihanreliefeffort
Tselogs in Daly City Supports NAFCON Relief Efforts
NAFCON thanks Tselogs for supporting our relief efforts for typhoon Haiyan victims in the Philippines!
The images of the aftermath of Typhoon Haiyan are heart wrenching.  They are the gaping wounds of a Philippines that has been beaten again and again by natural and not-so-natural disasters.  This time the world cannot turn away. It cannot deny the suffering of the Filipino people.  We are moved and compelled to open our hearts and give, but time and time again we are faced with the dilemma of which organizations or groups to support.
For me, the answer to that question is clear.  I will not give my money to giant NGOs with huge overhead costs, other foreign organizations, or militaries that swoop in on these communities for a week or a month or two and then leave.  When I look at images on my computer screen or my television, my eyes focus and linger on the faces of people who are hungry, homeless, and hurt because of these calamities.  I do not see the faces of transnational organizations or their CEOs.
My heart is with the people.  I would like my money to go there aswell.  This is why I will give my time, energy, and financial support to organizations like NAFCON (National Alliance for Filipino Concerns) in the US that donates to BALSA (Bayanihan Alay sa Sambayanan- Peoples Cooperation for the People) in the Philippines.  These relief efforts are led and conducted by all volunteer grass roots and community organizations–organizations that are committed not only to the immediate needsof the people for relief, but the much more difficult task of rebuilding,rehabilitating, and restoring these communities with dignity and compassion.  These are peoples organizations thatare built by the people in the communities in which they live.  They know the conditions, the struggles, and the aspirations of people in these communities because they are therewith them.
Participating in the International Solidarity Mission in Mindanao this summer, I was surprised to see so many people in communities devastated by Typhoon Pablo still living in tents or crumblingstructures with only a piece of tarpaulin to protect them from the elementseight months after the typhoon. It was shocking to see these tents and piecesof tarp emblazoned with the names of international relief organizations likethe Red Cross and UNICEF.  It washard to accept that with the millions of dollars donated by people all over theworld, that these organizations along with many other transnational NGOs wereonly able to erect tent cities and distribute plastic coverings for homes andcalled it "relief."  They are no longer there in these communities.  They have wiped their hands clean.  They believe they have done their jobs.  Hand in hand with the broken-ness of the Philippine government's ability to respond to the needs of the people, these organizations failed to serve the people ofthe Philippines.
Thankfully, I was able to witness peoples organizations in action.  I saw their rebuilding efforts in parts of Mindanao devastated by Typhoon Pablo.Their efforts were conducted quietly and humbly; they were ongoing eight months after the disaster.  They were there for the long haul.  One afternoon I was able to visit an evacuation center where people sought shelter because of militarization of their villages.  The center was buzzing with activity as volunteers from peoples organizations were hard at work. I did not have to stay long to see the comprehensiveness of their work–from the cooking crew to the medical team to the psychosocial team for the children.  The volunteers were tireless in their efforts to not only meet the immediate needs of the people,but to also find a way for them to return to their homes and live their lives peacefully once again.
These peoples organizations know that every child, woman, and man deserves to be fed, housed, and given medical care as soon as possible.  But the difference is that they also know that the relief work only feeds, houses, and treats a person for that day or a few weeks. Their work cannot and will not stop there.  They work for rehabilitation and rebuilding of communities.  They will take a hammer and nails and wood to create new homes, hospitals, and schools, but they will also work at building a better system–one that responds to the needs of the people, one that fights for environmental justice, one that brings hope and courage for people to fight for what they need and deserve in the face of injustice.
Our people deserve more than pieces of tarp emblazoned with the names of international relief organizations or tent cities that are supposed to replace sturdy, livable homes. They deserve more than spoiled rice after it was withheld from them by the Philippine military.  They deserve more than empty promises and poor governance.
And you–people from all over the globe with big hearts who donated for a whatever reason–maybe you have family members in Tacloban or you simply turned on the television and were moved by the images you saw, you deserve more than that, too. You deserve to know that the support you offer will be delivered to the people you so care for.  You deserve to know that you have not only given someone a chance to fill their bellies with a healthy meal and sleep under a roof, but in supporting peoples organizations, you have also given people a chance to participate in the (re)building of a better, brighter community and world and the hope that they may thrive again.
Donate to support Typhoon Haiyan victims at http://nafconusa.org and support peoples organizations working for typhoon relief!
Written by Theresa De Leon Jaranilla – Chairperson for Anakbayan Los Angeles
Anakbayan USA is helping to fundraise for NAFCON Bayanihan Relief Effort.
Link to donate http://tinyurl.com/bayanihanreliefeffort
Also check out their website, beautifully designed http://relief.anakbayan.net/
Come join Anakbayan Silicon Valley (ABSV) as we commemorate the victims of Typhoon Yolanda (international name Haiyan) this Wednesday, which has been designated as the International Day of Solidarity for Victims of Typhoon Yolanda. It was possibly the strongest storm to ever make landfall, and the estimated death count to date is over 12,000, with over 4 million families affected.
The event will take place in front of MLK Library on the corner of E San Fernando St. and 4th St. in downtown San Jose, right by City Hall and San Jose State University campus.
We will have speakers and cultural performances, and will be fundraising during the event as well. 100% of funds donated will course through the National Alliance for Filipino Concerns's Bayanihan Relief efforts. For more information, please visit http://nafconusa.org/. If you are unable to attend, but would still like to donate, please visit http://tinyurl.com/bayanihanreliefeffort.
—
ABSV is a comprehensive youth organization that seeks to unite all youth in the struggle for genuine social change and liberation of the Philippines. By educating, organizing, and mobilizing the youth in Silicon Valley, ABSV fights for the rights of Filipinos in America and advances the Philippine struggle for national democracy. ABSV is a member organization of NAFCON.
Anakbayan stands in solidarity with those affected by the typhoon. We also realize that our work does not stop with relief efforts alone. While natural disasters are inevitable for the Philippines, systemic corruption in Philippine politics has exacerbated the effects of natural disasters. We believe that in addition to raising much-needed funds for our kababayan back home, we must also link arms and fight against such injustice. For more information, please visit http://relief.anakbayan.net/.
Also check out their facebook page at https://www.facebook.com/events/219523028225100/?source=1
Taskforce Haiyan Northeast
Light a Candle with Us and Uphold the Bayanihan Spirit
When: Wednesday, November 13
Time: 6:00pm
Where: Bayanihan Community Center
40-21 69th Street
Woodside, NY 11377
NAFCON Southern California and the Filipino Migrant Center will be holding a Candlelight Vigil for Victims of Typhoon Haiyan on
Friday November 15, 2013
.  It will be held at at
7:45pm
in front of Grace United Methodist Church (2325 East 3rd St.) in Long Beach, CA.  Monetary donations will be collected for NAFCON's Bayanihan Disaster Relief campaign to aid disaster victims of the typhoon.
You can donate online at nafconusa.org (click Help Victims of Philippine Calamities Donate button), and also donate by cash or check. Please make check payable to "NAFCON" and write "5K Run for Relief" in the memo.
For any questions or comments, please email us: layayouth@gmail.com. Thank you so much for your support!
One of the biggest hip hop artists this year tweeted: "Over 10,000 people died as a result of the typhoon in the Philippians… If you want to help those affected go to nafconusa.org". He then added later, "*Philippines…Points finger at auto correct and 6th grade teacher."
Please support grassroots organizations doing work for the people. Visit http://www.nafconusa.org or make a donation at http://tinyurl.com/bayanihanreliefeffort.
NAFCON SoCal held a press conference for their fundraising efforts for the Typhoon Haiyan victims with major news stations – ABS-CBN, CBS, NBC, ABC, FOX, KCAL, KTLA, LA Times, and Press Telegram.
Please encourage your friends and family to donate to NAFCON's Bayanihan Relief at http://nafconusa.org/
Beautiful and kind hearted San Francisco tourists, visitors, employees and residents reaching out to the victims of Typhoon Yolanda and donated to Nafcon Us.
Tomorrow, Monday November 11, a group of us will be at Powell and Market 11:30am until 3pm.
We will be singing Filipino songs and sharing the current situation. If you or someone you know will be in the area please feel free to stop by and donate. A dollar goes a long way! www.nafconusa.org
PAWIS – Pilipino Association of Workers and Immigrants,  ABSV – Anakabyan Silicon Valley and PASU – Pilipino American Student Union posted up in front of the new Island Pacific in San Jose to outreach and raise funds for the NAFCON's Bayanihan Relief Effort.  We were able to take in cash donations and talk to people about the Bayanihan Relief Effort and how 100% of the donations will go to a trusted partner organizations in the Philippines.
PAWIS
PAWIS – Pilipino Association of Workers and Immigrants – http://www.pawissv.wordpress.com
ABSV – Anakbayan Silicon Valley – http://www.anakbayansv.com
PASU – Pilipino American Student Union – http://pasu.stanford.edu
Please donate to the NAFCON  Bayanihan Relief Effort at http://tinyurl.com/bayanihanreliefeffort
For Immediate Release
November 8, 2013
Contact: Terrence Valen, NAFCON President
415.333.6267, info@nafconusa.org
NAFCON Ramps Up Relief Campaign as Super Typhoon Yolanda Ravages Central Philippines
The National Alliance for Filipino Concerns (NAFCON) is appealing for increased donations for its Bayanihan Relief and Rehabilitation Campaign to assist communities in the Philippines  affected by super typhoon "Yolanda" (international name "Haiyan"). On November 8th, one of the strongest typhoons in recent history pounded over provinces in the central part of the Philippines resulting in massive devastation of crops and homes and loss of electricity and communication lines. Around 10 million people who live in the central Philippine islands were most at risk of a direct hit of the super typhoon. Yolanda also lashed communities in Cebu and Bohol, two cities that have yet to recover from a 7.2-magnitude earthquake last month.
"I was just in the Philippines this summer when another storm hit and caused a lot of damage and I'm really not sure if my family was prepared for something even stronger and more destructive. We are hoping that they are okay, but we haven't heard from them since electricity and phone posts were toppled by typhoon winds and powerful stormwater surges," says Julian Jaravata of Anakbayan Silicon Valley, member organization of NAFCON. Julian has relatives in Romblon, one of the islands in central Philippines hit by super typhoon Yolanda.
NAFCON is collecting monetary donations, ensuring the fastest way of getting aid to the Philippines for what is needed most. Donations can be made through NAFCON's Paypal account at http://tinyurl.com/bayanihanreliefeffort. Checks can be made payable to "St. George Fontana," and on the memo line, write: "NAFCON Bayanihan Relief" to clearly allocate it for this purpose.
NAFCON Bayanihan Disaster Relief Regional Coordinators can collect your donations or mail it to our local nonprofit partner, c/o Naida Castro at 17895 San Bernardino Avenue, Fontana, CA 92335-6155. Please, include your return address with your donation. For qualifying tax- deductible donations, please, email trea@nafconusa.org for the necessary documentation. "Every year, NAFCON stays alert and ready to respond, knowing that calamities frequently threaten the livelihood of our kababayans (countrymen). The alliance knows overseas community support is important to relief efforts due to the Philippine government's consistent inability to effectively assist victims and its culpability in contributing to the environmental injustices plaguing our country," said Terrence Valen, NAFCON President.
For more information on regional collection centers and fundraising activities in your area, please contact NAFCON Bayanihan Disaster Relief and Rehabilitation regional coordinators nearest you or go to our website at www.nafconusa.org.
Northwest: Freedom Siyam; nw@nafconusa.org; (206) 659–1896
Northeast: Michelle Saulon ne@nafconusa.org (650) 808-5043
Midwest: Nerissa Allegretti mw@nafconusa.org (224) 381-6888
Norcal: Ryan Leano nc@nafconusa.org (626) 534-4971
Socal: Alex Montances sc@nafconusa.org (253) 381-7444
FOR IMMEDIATE RELEASE
March 06, 2012
Contact: Terrence Valen, NAFCON President
415.333.6267, info@nafconusa.org
Typhoon Pablo Survivors Deserve Relief, Not Repression
Filipinos Demands Justice in response to recent killing of Cristina Morales Jose
The National Alliance for Filipino Concerns (NAFCON) demands for immediate investigation and subsequent prosecution of those responsible for the murder of Cristina Morales Jose, leader of a Typhoon Pablo survivors group Barug Katawhan, a councilor in her local town Baganga, and also a member of the progressive partylist Bayan Muna.
Jose was killed on March 4 in Davao Oriental, Philippines. According to human rights organization Karapatan in Southern Mindanao, she was killed by a motorcycle riding assassin as she was on her way home from a Barangay Council session.
According to Jose's text message to fellow Barug Katawhan leaders, military and other local state forces threatened residents who joined the barricade that they will not be rationed food. The typhoon survivors were subjected to threat and intimidation by members of the Philippine Army. Before she was killed, Jose intended to travel to Davao City to file a complaint about the blacklisting of those who joined the protest and barricade of typhoon survivors.
"The Philippine government and its military is again the prime suspect in the gross violation of human rights. Typhoon Pablo survivors deserve compassion and support as they rebuild their livelihood not repression," states NAFCON Midwest Coordinator Nerissa Allegretti, who visited Pablo-stricken communities early this year. "The demands of Barug Katawhan are legitimate. They have the right to food, shelter, and humanitarian aid. We condemn the repression of the typhoon survivors as they fight for these basic rights."
In January, Jose was among those who exposed the food blockade and militarization of relief efforts by members of the Philippine Army in her town. In February, she joined more than 4,000 typhoon survivors in a 3-day barricade of the regional office of the Department of Social Welfare and Development (DSWD) and demanded the release of 10,000 sacks of rice that was earlier promised to typhoon survivors. DSWD Secretary Dinky Soliman threatened to press legal charges against leaders of various organizations involved in the barricade.
Since Typhoon Pablo hit Mindanao in December last year, NAFCON has coordinated relief in the United States to support our fellow sisters and brothers in Pablo-ravaged areas, raising relief donations and educating our local communities.
"We are not only disgusted by the Philippine government's ineptness in preparing for these disasters and failure to distribute much-needed relief goods to affected communities. We are equally outraged that this spate of extra-judicial killings has intensified and directed not only towards the typhoon survivors but also progressive Party List members who exposed the government's criminal neglect of its own people," declares NAFCON President Terrence Valen.
"The hard-earned money we send back home must not be used for human rights violations, especially against those who are merely defending their basic right to land and life. We call on the Philippine government to immediately provide much-needed relief to typhoon survivors, pull out the military forces from the affected communities and stop large-scale mining by foreign and large corporations which aggravates the effects of environmental disasters," ends Valen.###
Press Statement
January 11, 2015
Contact: Melanie Dulfo, NAFCON Northeast Coordinator
Email: ne@nafconusa.org
NAFCON Condemns ICE Raids on Migrant Families and Children
The National Alliance for Filipino Concerns (NAFCON) strongly condemns the Obama administration for its recent raids that have targeted Central American families who fled violence in their home countries. Implementing the Priority Enforcement Program (PEP) established in November 2014, the Department of Homeland Security (DHS) through its Immigration and Customs Enforcement (ICE) officials have reportedly detained over 120 individuals for deportation as of January 4th. As a member of the International Migrants Alliance, and along with many other immigrant advocates, legislators, and community organizations across the US, NAFCON demands that ICE and DHS cease the raids and deportations.
Inhumane raids and deportations will not stop parents and children from desperately leaving horrific conditions in underdeveloped countries. Migrants and refugees are forced to leave due to poverty, violence, and joblessness in their home countries so these are the issues that must be addressed. These underdeveloped nations have had their economies ravaged by unequal trade policies, such as the North American Free Trade Agreement (NAFTA), and now, with policies such as the Trans-Pacific Partnership (TPP) led by the US that target the Asia Pacific region. It is only with building a sustainable economy that meets people's basic needs and allows them to live with dignity, free from plunder and displacement by multinational corporations and the unequal trade agreements imposed by more powerful countries, that forced migration from underdeveloped countries will cease.
The exploitation of im/migrant workers is a pattern throughout the history of the US, from the time Mexican laborers were brought to the US via the Bracero program to the current labor trafficking of Filipino workers. While conservatives have painted im/migrants as a horde invading the United States, taking away jobs and using up benefits, NAFCON believes that it has been im/migrants who are victimized many times over. The resources of their home countries are used for corporate profits and not for the needs of the people. Their labor is then exploited in host countries as "cheap labor", and then they face discrimination and criminalization just for wanting to provide for their families and to live a life with dignity. The true culprit of forced migration has been corporate greed, collaborating with elitist and oppressive state governments.
Statements that rejoice in the violation of human rights, such as the one that Donald Trump has made regarding the raids, are unconscionable. It is a human right to work, to have an adequate standard of living, physical and mental health, and safety and security. To promote a personal political agenda in this election year by trivializing the collective trauma of thousands of mothers and children fleeing violence is not just irresponsible. It's contemptible.
It has only been through the hopeful perseverance of community organizing that im/migrants have been able to win victories, from the time of the failed anti-immigrant Sensenbrenner Bill in 2006, to the present momentum that moved President Obama to take decisive action in the 2012 executive action that gave some undocumented immigrants temporary reprieve from deportations and allowed them to work.
As a member of the grassroots migrant movement under the banner of the International Migrants Alliance, NAFCON calls on the Filipino community to stand in solidarity with other immigrant and refugee communities. We demand that the Obama administration ends its Priority Enforcement Program and stops the raids and deportation of Central American families.
End the Raids! End Criminalization of Migrants!
Stop the Deportations! Keep Families Together!
Justice and Dignity for Migrants! Legalization for All!
Defend the Rights of Filipino Migrants Amidst Worsening Exploitation
More than six thousand Filipinos are forced to leave the Philippines every day to search for work abroad to support themselves and their families. This number is a 50% increase from four years ago. Filipinos spend several thousand dollars for airfare, government fees, and placement fees to recruitment agencies who promise to provide assistance in finding work, training and obtaining the appropriate legal documentation.
Those who leave the Philippines and arrive in the U.S. consider themselves lucky to have the opportunity to achieve the "American Dream." Yet stories of Filipinos encountering terrifying experiences chasing this "American Dream" surface, highlighting the exploitation faced by migrants.
One example is the story of the 11 L'Amande Filipino Bakery workers.  In 2012, Ana and Goncal Moitinho de Almeida, the former owners of L'Amande French Bakeries, recruited and hired 11 Filipino immigrant workers from the Philippines to work in their bakery shops in Beverly Hills and Torrance, California.  The Almeidas forced the Filipino workers to work 17-hour days with few rest breaks, paid them below minimum wage (about $2-3 per hour), and gave no overtime pay.  For a time, the workers were made to sleep on the laundry room floor of the owners' house and clean and paint their rental properties, a violation of the workers' contracts.  It wasn't until a 2013 investigation by the CA Department of Labor Standards and Enforcement that the conditions of the 11 workers was uncovered and the Almeidas were charged with labor exploitation, human trafficking, and retaliation.  Today, the 11 Filipino Bakery workers seek justice from their traffickers and are supported by their legal team and numerous community organizations like Migrante Southern California, NAFCON Socal, and the Filipino Migrant Center.  
This past year, the case of drug trafficking victim Mary Jane Veloso is also a prime example of how Filipino workers endure being away from families just to face discrimination, abuse, and lack of protection from its own government.  We also remember Julieta Yang, another Filipina domestic worker who filed a complaint against her employers, top executives of tech companies Uber and Airbnb, for alleged wage theft and sexual harassment. As long as Filipino migrants are abused but remain neglected, NAFCON will wage campaigns and activities to stand with them and seek justice. We will continue to mobilize our community to defend the rights and welfare of fellow Filipinos.
Address the Root Causes of Forced Migration of Filipinos
We also know we have to make the Philippines a place where Filipinos can live decently and prosper.
At the root of the problem is the Philippine government's failure to create sustainable jobs and provide basic services for its people. Instead, it continues its Labor Export Program (LEP), encouraging Filipinos to use their skills and education to work abroad. Even the Philippine Overseas Employment Administration (POEA), a department under the Philippine government, has a track record of allowing recruitment agencies to actively participate in trafficking Filipinos.
For example, many of the agencies and traffickers of the cases that NAFCON has worked on throughout the years were government-registered and authorized recruitment entities. There are the cases of the hundreds of trafficked teachers in the Washington DC area as well the trafficked oil rig workers employed by the Grand Isle Shipyard in Louisiana. One obvious motive for government officials to look the other way or act in collusion is of course the profitability and payback of providing low cost and easily exploitable labor to U.S. based businesses.  Other Philippine government scandals have arisen in the past year including inspection and increased taxation of "Balikbayan" boxes and the "Tanim Bala" issue wherein bullets are planted in the luggages of Filipino workers and travelers for extortion by customs and government officials and crime syndicates.  
With the over $25 billion of annual remittances sent back by Filipinos worldwide to the Philippines, migrants should have a say in how the Philippines is run. Filipino migrants around the world are fed up with a Philippine government that benefits from their migration but offers little in terms of protection or support during times of need.  This is why in the upcoming 2016 national elections, Filipinos in the US will be supporting Migrante Partylist to bring the migrants voice in the Philippine Congress.
In addition to our call for a clean and honest elections, we support Migrante Partylist's platform that aims to scrap the Labor Export Policy (LEP) and instead focus on creating jobs at home through land reform and national industrialization by harnessing the vast abundance of natural resources of the Philippines. Together with Migrante Partylist, we will work for a Philippines that has a government that truly serves the interests of the common people.
Strengthen Solidarity Among All Migrants and Refugees
NAFCON also stands in solidarity with all migrants of the world who face discrimination and criminalization and have been forced out of their country due to worsening economic conditions, war and state aggression.
In the United States, there have been numerous attacks on immigrants and migrants including illegal detentions and unjust deportations of women, children, and other refugees from Central and Latin America and Southeast Asia, the sexual assault and abuse of Undocumented Transgender and LGBT folks in detention centers, and the labeling of Mexican migrants, Muslim Americans, and other immigrants as criminals, drug dealers, or "Terrorists."  
Meanwhile, conservative state judges and legislatures are implementing anti-immigrant policies nationwide such as blocking DACA/DAPA programs and refusing to welcome Syrian refugees. Most of these attacks have been fueled by GOP candidates, right wing conservatives, and even armed hate-groups whose racist, xenophobic, homophobic/transphobic, and Islamophobic rhetoric are reminiscent of Japanese internment during World War II and Islamophobia after 9/11 which harmed thousands of innocent people.  
The U.S. should stop investing its efforts in breaking up families and criminalizing migrants. Instead it should focus its attention on stopping the real criminals, both in migrant sending countries and in the U.S., who participate in human trafficking and workers exploitation.
On the global stage, leaders of the Asia Pacific Economic Cooperation (APEC), an organization of 21 countries that control 50% of world trade and produce 60% of the world's GDP, met just last November in the Philippines with the theme of "Building Inclusive Economies, Building A Better World." For im/migrants, this only connotes planning and coordination in utilizing the material and human resources of the planet for bigger profits for corporations. The policies of APEC has privatized social services, deregulated prices of goods, and opened up the economies of countries for exploitation, which has only exacerbated the export of migrant workers, worsened anti-im/migrant policies and laws, and decreased government protection and social services. Left undocumented, unemployed, indebted and desperately seeking ways to support their families back home,  migrants end up suffocating more as exploitation runs wild like an open fire. The "trade in human labor" has become a lucrative business transaction between the sending and host countries.
Migrants are not just standing by. We are rising up. At the same time as the APEC meeting, over 100 delegates of migrants organizations from around the world were also in the Philippines for the Assembly of the International Migrants Alliance (IMA), with the theme "Strengthen Solidarity and Advance our Struggles! Resist Neoliberal Attacks on Migrants and Peoples of the World!" We shared and discussed not only stories of the worsening conditions of exploitation and abuse, but also strategies to strengthening a migrants movement worldwide that will truly change the system that breeds forced migration, poverty, and oppression. We will remain united.
As a member of IMA, NAFCON vows to strengthen its relationships with other migrant groups in the US, be at the forefront of migrant rights struggles, and build international solidarity. We affirm our commitment to struggle with all migrants in building a world where no families will be torn apart just for the need to survive and to escape wars and violence.
For more information on NAFCON please go to www.nafconusa.org, email info@nafconusa.org, or call 415.333.6267.
Days before the 21st Conference of Parties (COP 21) of the United Nations Framework Convention on Climate Change was to start in Paris, Filipinos in the Northern California representing the National Alliance for Filipino Concerns joined the NorCal Climate mobilization  "DEFEND THE EARTH: Stand Up Show Up" as part of the Global Climate March to call for genuine environmental justice.
NAFCON Northern California asserted that environmental justice cannot be achieved without addressing the root causes of people's suffering, like poverty, landlessness, government corruption, and state repression.
For example, in recent years the Philippines has repeatedly faced some of the deadliest and most destructive typhoons in its history. Yet the government has not only failed to take proactive action to protect its people, it has knowingly taken actions against them.
After Super Typhoon Haiyan hit the Philippines two years ago, the president lied about how many people died to make it seem as if the government were more prepared than it actually was. Politicians pocketed money set aside for disaster preparedness. Even up to now, two years after the disaster, only 500 permanent housing units have been built by the national government.
The greed of multinational corporations and the richest few in the Philippines and powerful nations like the U.S. have increased the frequency of disasters and exacerbated their effects. The cutting down of vast tracts of forest by logging corporations decimates natural barriers to typhoons, and massive extractive mining weakens the soil, leading to landslides. The Philippine military and paramilitaries continue to abduct, torture, and kill environmental activists and indigenous community leaders resisting land grabbing and displacement.
Just a few weeks ago, the Philippines hosted the summit of APEC, Asia-Pacific Economic Cooperation, which has paved the way for more multinational corporations to enter third-world countries and exploit their natural resources. The U.S. and other countries with interests in the Asia-Pacific have been negotiating the Trans-Pacific Partnership Agreement, which–aside from facilitating the further exploitation of poor countries' labor and natural resources–would give corporations the extraordinary ability to sue local governments that enact health and environmental regulations if it threatens those corporations' bottom lines.
But NAFCON remains steadfast in our mission to build a brighter future. After the Super Typhoon, NAFCON raised over $1 million through grassroots fundraising. NAFCON continues to lead solidarity missions to disaster-stricken areas of the Philippines and is working to build a sustainable water system for an indigenous school and community. We work with typhoon survivors typhoon who have organized themselves to demand sufficient response from the government, and an end to corporate land grabbing and the incursion of mining corporations.
NAFCON stands with all peoples in calling for system change instead of climate change! We must take a stand against the greed of multinational corporations and their counterparts in the Philippines. We must stand against the Trans-Pacific Partnership Agreement. Together, we must fight for a world in which the rights of indigenous peoples, women, peasants, workers, and migrants are respected; a world in which military and police are not used as tools to repress the people in their calls for social and environmental justice; and a world in which all people have access to decent livelihoods, food, and clean air and water.
To support the building of a sustainable water system for an indigenous community in Southern Philippines facing militarization and displacement from their ancestral lands by multinational mining corporations, please consider donating to the Adopt A Community Program.
Haiyan a natural and man-made calamity
Two years ago on November 8, Typhoon Haiyan completely devastated the central Philippines. On the second anniversary of this calamity, NAFCON encourages the community to remember this massive tragedy and pay our respects to the innumerable victims who deserved a better chance at survival.
Dr. Efleda Bautista, Chairperson of People Surge, an organization of thousands of Haiyan survivors, remembered her experience in the aftermath of the calamity, "1.2 million houses were destroyed… [there were] dead bodies everywhere. They were together, cadavers of human beings, of children, dogs, and cats scattered in the streets. It took weeks for them to be taken out. The stink of Tacloban was sticking to your body and inside your lungs, you can smell the stink of dead bodies."
Speaking at the International Peoples' Tribunal, Dr. Bautista testified on the criminal negligence of the Aquino government in relation to the Typhoon Haiyan tragedy. (A video of her testimony is available on Youtube.) One of her most shocking points illustrated the complete void of government preparedness in response to Haiyan. She explained how the residents of her city treated Haiyan as just a normal storm. No one expected the deluge. She explained many people looked forward to the day after, where offices are closed and time could be spent with the family.

Asked what the government could had done better, Dr. Bautista replied, "Had the government warned the people…there would have not been that much casualties. You have a national government with battalions, with armored cars, and all these trucks, they could have come before, and they could have rescued during…But where was the president? He came later with the cameras and said 'You should be happy you are alive.' That is the president that we remember when he came to Tacloban City." Dr. Bautista points clearly at President Aquino for the lack of not only public readiness but also awareness because the Philippine government provided absolutely no warning.
For the 2nd anniversary of Typhoon Haiyan, NAFCON asks the community to honor the at least 6,700 lives lost and the millions impacted by the catastrophe.  We encourage people to do this by remembering and renewing our commitment to the families and communities affected by the tragedy. NAFCON asks us to serve as their sounding board and amplify the call for true government accountability in this natural occurrence turned man-made disaster.
A wake up call for collective action and accountability
Terrence Valen, NAFCON President shares on this anniversary, "Haiyan is a wake up call. For decades the staple of corruption and neglect in the Philippine government, from local mayors all the way up to the President has been so widely accepted as just the way things are in the country. Typhoon Haiyan marks a time in history where things have gone too far and we have to do something."
In the months after Haiyan, millions of people throughout the world answered the wake up call. Individuals, organizations, businesses, schools, and governments began sending aid in a truly amazing response to the calamity. For those who donated to NAFCON and even for those who supported through other channels, so many wanted to ensure their donations did not go to the government. During this time where countless survivors were reaching out for help, people woke up, not only to the need for assistance, but also the reality that the government could not be a part of the solution because it was a big part of the problem. NAFCON, one of the government's loudest critics in the U.S.,  gathered more than $1 million from 49 states in the U.S. and over 30 countries worldwide. Our alliance is proud to share a video report of our efforts effect available here in HD.
Father Arsie Almodiel, an individual member of NAFCON and of the Philippine Independent Church commented, "Yolanda's incident reveals how we are towards one another. A revelation of the true spirit of being Filipino: solidarity, helping hand and unity for a common purpose and for each other. It is also a revelation of an evolving culture different from the Filipino spirit. The slow response and intervention to the victims, the deceased and those who have lost their homes while discourse over big amounts of money and the pork barrel scandal are happening at the same time. The misuse of big sums of money donated by other nations and the spoilage of food that has not been properly distributed to those who needed to receive it."
Fr. Arsie who serves as a leader in the workers movement in Las Vegas continued, "The new culture of greed, self-centered, with no consideration for other people. Numbness and oppression, with no consideration, no spirit of unity for a common good purpose for those oppressed are not Filipino qualities who are pro-people and fears the Lord."
Continuing the spirit of unity
Today, NAFCON encourages our community to combat the new culture of greed mentioned by Fr. Arsie and continue the spirit of unity and support sparked in the wake of Haiyan. The alliance asks the public to renew its commitment to the survivors of the storm. Two years later we hope people will act with a similar sense of urgency and join us in NAFCON's Adopt A Community Program. The program, developed in response to Haiyan, is currently working to build  a sustainable water system for an indigenous school and community in Davao Del Norte, Mindanao. The program also includes projects in several other regions of the Philippines. (Those interested in more information on the Adopt A Community Program please go to nafconusa.org/ADOPT.)
Jun Cruz, NAFCON's Communications Officer and enthusiastic advocate for the program shared his thoughts, "Adopt A Community is about more than a water system in the same way that Haiyan is about more than typhoons. It is about planting seeds amidst so much destruction, strengthening our ties to Filipinos thousands of miles away, and working to build a better Philippines one community at a time."
The Adopt A Community program is currently working with members of the Manobo tribe in the Talaingod area of Davao Del Norte, Mindanao. Together NAFCON and its partner organizations on the ground are not only helping develop a water system but also assisting in strengthening their capacity for addressing environmental problems highlighted by Haiyan such as lack of decent infrastructure and the effects of the long-standing neglect of the government."
The Great Tragedy After the Storm
Two years after Haiyan, one of the greatest tragedies that Dr. Bautista helps us realize is that the Philippine does have billions in dollars, tanks, battalions, and trucks and yet it did not prioritize it for the preservation of innocent life. Rather it continually spends it on corruption and on suppressing the voices of leaders who are fighting against that corruption.  
NAFCON Southern California Regional Coordinator Alex Montances who recently spent some time in the Philippines with members of the Manobo community shared, "One of the biggest issues in the Philippines is government suppression of those who speak out and work for justice and peace in the Philippines. In September 2015, a few weeks after I came back from visiting Manobo tribes in Mindanao- dozens of indigenous school teachers and tribal leaders were killed, harassed, or displaced by Philippine military and paramilitary.  All because they are resisting and defending their ancestral land from the Philippine government who want to sell it to big logging, mining, and agribusinesses!"  
Alex who has been appearing at various events throughout Southern California sharing his experiences continued "I was also able to visit the Pulangihon Manobo Tribe of Bukidnon, Northern Mindanao.  These indigenous people have been living on and caring for their ancestral land for generations.  In recent years they have been forcibly and violently displaced by big ranchers and affiliates of agribusiness like Del Monte Pineapple. These powerful businesses and governments are destroying the forested land and converting it into big plantations and grazing lands.  Mindanao is one of the last forested and green areas left in the Philippines."
Stop Lumad Killings
Although NAFCON started the Adopt A Community Program gathering funds for the proposed water system, its Executive Board recently added a goal to assist in responding to the recent spate of Lumad killings. Lumad is a broader term that encompasses 18 indigenous groups throughout Mindanao. The Manobos who NAFCON is partnering with through the Adopt A Community Program are 1 of these 18 groups. Currently there is an international effort to Stop Lumad Killings because these indigenous groups of Mindanao have suffered a recent surge in violent activity at the hands of the Philippine military through the government's counter-insurgency operations.
Cruz, who currently resides in Cerritos, Ca explained, "My parents raised me to believe that in the Philippines it doesn't matter what is right and what is wrong, if you speak loud enough, and if enough people hear you, then someone from the government might get you and for many, that price is too much to pay, even for what's right. However, when I visited the country a few years ago I met so many people living in extreme poverty, similar to the millions affected by Haiyan, who reached a point where they had nothing to lose. It did not matter that they had to risk being harassed, kidnapped, tortured, or even killed because something had to be done, someone had to stand up to make things right. It is these kind of people, everyday Filipinos, who fell to desperation, like the many I met and the many who have disappeared or been killed that are the real targets of the government's counterinsurgency program."  
NAFCON affirms too many innocent people, including Manabos, Lumads, and decent Filipinos throughout the country have disappeared or been killed by Oplan Bayanihan the name for the Philippine government's current counterinsurgency program. We ask the community to support the Adopt A Community Program by taking a stand to Stop Lumad Killings. We ask you to participate in the International Coalition for Human Rights (ICHRP) coordinated action against Oplan Bayanihan. More information on ICHRP and what you can do to participate in the Stop Lumad Killings effort is available here.
NAFCON also asks for you to donate to the Adopt A Community Program which can be done for as simple as $2.00. Right now the public can DOWNLOAD and share the "River Song" by Diskarte Namin which highlights the struggles of indigenous communities to survive in the face of governmental and corporate land grabbing such as the Manobo and Lumad peoples.
For more information on NAFCON go to www.nafconusa.org. If you would like to reach out to members of our alliance or share a comment you can email us at info@nafconusa.org or call us at our main office 415.333.6267.
###
October 18, 2015
Press Statement
AV David, Secretary of Alliance, alliancesec@nafconusa.org, 650-491-4561
NAFCON Calls for Donations for Typhoon Koppu Victims 
As Typhoon Koppu (local name Lando) lashes through the northern Philippines, NAFCON calls for donations for affected communities through our ongoing Bayanihan Relief and Rehabilitation program.
In provinces where Typhoon Koppu has made landfall, flash floods, toppled posts causing loss of electricity, torn roofs, overflowing rivers and submerged villages were reported. Although latest reports state that Typhoon Koppu has slightly weakened, it will take a few more days to completely pass through the northern island of Luzon, which could result to even greater floods, storm surges, and landslides. Over 20,000 people have been displaced as several provinces are still placed on storm alert and heavy rains are expected until Wednesday.
Given the history of inadequate response to disasters from the Philippine government, it is important that we act in this time of need and that we donate to organizations with a proven, trusted, and positive track record of genuinely helping disaster-affected communities.  NAFCON is one of those organizations.  We raised over $1 million in response to Super Typhoon Haiyan that hit the Philippines in November 2013 and reported how 100% of the proceeds went towards helping survivors. Our relief efforts is part of our Environmental Justice for the Philippines (EJ for PH) campaign, and we have been consistent in delivering timely monetary relief to victims of Haiyan, Hagupit, and now Koppu.
NAFCON is collecting exclusively monetary relief (not material goods) and we ensure that your donations will go quickly and directly to the communities adversely affected by the typhoon. Donations will be coursed through Sagip Migrante, a relief project of our partner organization Migrante Partylist whose members are on the ground in Nueva Ecija and Pampanga.
More information on how to donate can be found at http://nafconusa.org/typhoon-relief-info/.
August 25, 2015
Press Statement
Aurora Victoria David, NAFCON Alliance Secretary
Filipinos in the United States vow to remain vigilant against any actions of the Philippine Bureau of Customs (BOC) to open Balikbayan boxes sent by overseas Filipinos for inspection and taxation in an attempt to fulfill a P600-million target revenue from balikbayan boxes set by the Philippine government. The recent retraction of BOC of its original proposal to mandatorily open Balikbayan boxes is due to the outrage expressed by Filipinos worldwide and our families.
However, the BOC still plans to increase clearing fees for all containers entering Philippines ports to as much as P100,000 to P120,000, which would translate to an additional $7 per balikbayan box. According to Migrante Partylist, the first increase of P40,000 per container was imposed last July 27, while another wave of increase is reportedly scheduled to take effect on October 1. Filipino workers abroad, freight forwarders, and stakeholders were not consulted in this process.
Given the government's long history of raising fees paid by Filipino migrants who then receive no services or support in return, NAFCON considers all of these actions to be money-making schemes intent on milking Filipino workers abroad of their hard-earned money for the personal interests of government officials.
Not only is this issue insulting to migrant workers abroad who try to fill these boxes with items worth months of wages to express their love and fulfill their longing for their families back home, but at the same time it is also infuriating that our tears and sweat are being translated into money for corrupt government officials and agencies.
Initially defending the BOC, President Aquino himself stated that the BOC was just "doing its job." Is that the same reasoning the President uses when he maintains his agencies' budgets for his P1 trillion worth of pork barrel funds? Were Aquino's agencies also "doing their job" when they neglected Mary Jane Veloso and countless victims of human trafficking abroad?   By "doing its job," does Aquino refer to his administration's labor export policy that continues to force more than 6,000 Filipinos abroad daily in search of livelihood?
The statements of Aquino and his cohorts in the BOC reflect their ignorance and callousness to the plight of Filipinos worldwide. But the latest outrage on and off social media from various parts of the world has also reminded this government that organized, Filipino immigrants and migrants are powerful. We are 15 million strong, with almost half of the Philippine population being remittance-receiving families. The resounding demand of Filipinos is clear: Protect migrant workers instead of squeezing more money from us! Aquino can start by finding and jailing trafficker Isidro Rodriguez for tricking hundreds of Filipino teachers, coming to the aid of workers who are victims of wage theft and labor trafficking such as the Filipino bakery workers in LA, and re-investigating the death of Romina Ignacio in Kansas which was deemed suicide despite autopsy results in the Philippines revealing stab wounds. He should also ensure the retraction of the P600-million target revenue from Balikbayan boxes.
For the 4 million of Filipinos here in the US, let us unite with others worldwide to make sure our concerns are addressed and our rights protected, our hard-earned money goes to our families and not to corrupt politicians, and our home country is led by a government that does not turn our love for family into a profit-making business.
We enjoin Filipinos worldwide to participate in Zero Remittance Day on August 28 to call on the Aquino administration to retract the P600-million target revenue from balikbayan boxes.
###
For Immediate Release
August 17, 2015
For reference: Alex Montances, Southern California Regional Coordinator, NAFCON
Ryan Leano, Southern California Staff Member, (415) 779-5994, sc@nafconusa.org
Website: nafconusa.org
National Alliance for Filipino Concerns – Southern California Region
JUSTICE FOR L'AMANDE 11!
WORKERS RIGHTS ARE HUMAN RIGHTS!
The National Alliance for Filipino Concerns – Southern California Region (NAFCON Southern CA) expresses its staunch support for the L'Amande 11 bakery workers who are courageously standing up for their rights as workers and victims of labor trafficking and wage theft, as they continue to seek justice through an ongoing lawsuit against L'Amande Bakery owners.
The L'Amande 11 Bakery Workers' battle began in 2012 when the 11 workers migrated from the Philippines to California in search of economic opportunity to provide for their families back home. They were hired by Analiza and Goncal Moitinho de Almeida, owners of L'Amande Bakery who abused the E-2 visa process by bringing the workers to the United States to work for substandard wages and working conditions. The E-2 visa allows for wealthy foreign nationals who have invested a substantial amount of capital in a U.S. business to bring foreign workers to the U.S. because they will be engaged in duties of an executive or supervisory character or because the possess "specialized" skills that are "essential" to the company's operation. However, due to the lack of accountability of both the Philippines and the United States, there is no way to ensure that these foreign companies are in compliance with these particular visa requirements. Thus, workers become vulnerable to abuses such as wage theft, exploitation, and retaliation.
Hopes, dreams, and opportunities were crushed as Ana and Goncal Moitinho de Almeida presented nothing but broken promises when the workers arrived. Under the E-2 visa, these workers were expected to be hired and make around $2,000 a month, but instead they were paid as low as $360 a month on top of working long hours without breaks, without overtime, and without days off. When workers complained about this abusive treatment, the owners of L'Amande Bakery responded by telling the workers they had no choice but to continue working, or else the workers would have to pay the Almeidas an unaffordable monetary penalty.
In addition to being victims of wage theft, the L'Amande 11 also became victims of labor trafficking. They were forced to become the domestic servants for the Almedas and to maintain their $2.375 million dollar apartment complex including, cleaning, painting, yard work, landscaping, flooring, repair, and construction work. Ana Almeida blackmailed the workers when they complained about the working conditions by telling them that each and everyone of them would have to pay $11,000 for all their visa and airfare expenses. She also stated that she would forgive these expenses if they worked for her for 3 more years, forcing the bakery workers to think that staying there would be the only way to break free from the abusive treatment.
Last week, Ana and Goncal Moitinho de Almeida suddenly shut down their two bakery locations in Torrance and Beverly Hills, along with firing the rest of its workers in a frantic effort to avoid responsibility of their crimes committed against the L'Amande 11. There have been direct threats to the workers' family members in the Philippines as well as several instances of online harassment on Facebook portraying the workers in a negative light.
NAFCON Southern CA recognizes the stories of the L'Amande 11 bakery workers, because it is connected to the stories of over 6,000 Filipinos who leave their families everyday in search for opportunities abroad to meet the basic needs of their loved ones. The lack of economic stability in the Philippines have created deplorable living conditions that many citizens seek opportunity everywhere else but within their own country. The aspirations for many of the L'Amande 11 when deciding to come to the United States was to be able provide their children with the opportunity to obtain an education and leaving was one of the most viable options. The L'Amande 11, also share the experiences of the 8 out of 10 workers across Los Angeles County that experience wage theft every week. According a report by the UCLA Labor Center, workers in Los Angeles County lose $26.2 million dollars every week because of wage theft violations, while owners like the Almeidas continue to make profit under such exploitative conditions.
NAFCON Southern CA stands with the L'Amande 11 in advocating and defending their rights as workers. NAFCON believes in the dignity and respect of all workers and will advocate alongside the L'Amande 11 until justice is served.
###
POST AN EVENT that you are planning to our Facebook!
SIGN OUR NEWS LIST to find out what's happening in your area!
 ***
Press Release
July 26, 2015
Contact: info@nafconusa.org
Today, in the Philippines, President Noynoy Aquino gives the final State of the Nation Address (SONA) of his six-year term where he will once again present to Congress and the world the accomplishments and challenges under his administration.
However, Aquino, like most presidents before him, will mainly highlight his so-called accomplishments versus the reality of increasing poverty, corruption, and repression in the country. He will identify and likely concoct various examples that demonstrate the state of the nation is improving, when in fact conditions continue to worsen for the poor majority.
Sadly, any picture Aquino presents to show the nation is better off under his leadership is a lie. During his term as president, Aquino in numerous instances acted with clear neglect if not outright criminality during some of the most critical moments of his six-year regime. Examples of these moments include the Pork Barrel Scandal, Typhoon Haiyan (Yolanda), the US-led Mamasapano fiasco, the Kentex Factory fire, and many more. (See more in "Aquino's 10 Crimes" by NAFCON)
NAFCON does what Aquino will not — state the truth and work for the welfare of the majority. We do this to hold the leaders of the country accountable. We highlight the conditions of the ordinary people as a reminder that there is a lot of work left to do to better the Philippines and our communities forced abroad. The country needs a government that serves the interests of the majority at its core.
"The first step to solving a problem is acknowledging that it even exists. Aquino throughout his administration has continually denied or remained silent on his own role in contributing to the major challenges our country faces such as the growing number of human rights violations at the hands of Philippine state agents," says Terrence Valen, NAFCON President from San Francisco, who recently returned from the International Peoples' Tribunal (IPT) held in Washington D.C.  NAFCON returned to the capitol for the IPT after a previous trip with NEFFCON successfully lobbied for the withholding of US military aid to the Philippines contingent on improved human rights conditions in the country.
Hundreds of leaders from all over the world attended the IPT to hear testimony from numerous victims of human rights violations (HRVs) in the Philippines and try Aquino for his crimes against the people . The three-day assembly culminated with the first verdict proclaiming Aquino "GUILTY of gross human rights violations involving the civil and political rights of the Filipino people, for committing extrajudicial killings, disappearances, massacres, torture, arbitrary arrests and detentions as well as other vicious, brutal and systematic abuses and attacks on the basic democratic rights of the people."
Anne Beryl Corotan Naguit, NAFCON Vice President from New York, who also attended the IPT explains the reasoning behind the numerous HRVs, "The human rights violations are tactics that aim to pacify and silence the people and sow fear, to prevent us from holding accountable those who have committed crimes against the people such as President Aquino."
In recent months numerous cases of harassment and intimidation of leaders of progressive organizations by suspected state agents in the Philippines have been documented. Targets of these horrendous acts include public sector unionists, human rights advocates, and even faith-based and migrant group leaders with whom NAFCON has directly coordinated on the issue of trafficking of Filipinos to the US.
Many HRV victims served marginalized communities and regularly speak out against programs of the Philippine government that fail to uplift the lives of the poor. Like many NAFCON members in the US, they assert the basic human rights of the people and advocate for lasting peace in the Philippines.
"Despite these tactics we are not afraid. Our strength is our fearless unities. We will continue to strengthen our unity and forge solidarity to achieve a just, peaceful, and humane society. We demand respect for our fundamental freedoms in compliance with all the provisions of the United Nations' Universal Declaration of Human Rights. We demand an end to the threats, discrimination, harassment, and intimidation of human rights advocates in the Philippines," continues Naguit.
AV David, NAFCON Alliance Secretary, also declares, "NAFCON stands with Filipinos worldwide in demanding an end to this political repression.  Freedom of expression and association are civil rights that activists do not lose when we choose to defend the rights and uphold the dignity of our communities. We call on the Filipino community in the U.S. to sign petitions and take action to pressure the Philippine government to stop its repressive acts."
In addition to the worsening human rights situation, environmental degradation that has led to unnecessary loss of lives during typhoons and other disasters is also among the many crimes under Aquino that NAFCON brings to attention. In the coming months, NAFCON will emphasize the need for environmental justice as it carries out its Adopt A Community program. This effort supports poor communities in their efforts to protect their natural resources and live humanely in the face of environmental devastation through various projects such as building water systems, educating community members on climate change, and others.
As we work together to support our community in the Philippines, we encourage our kababayan to engage with us. Support the movement to hold Aquino accountable, join our "Adopt a Community" Program and our environmental justice campaign, and strengthen our work to protect immigrants here in the U.S. Also, please feel free to join NAFCON in conversation by posting on our Facebook page or sending us a comment at info@nafconusa.org. For more information on NAFCON go to www.nafconusa.org. ###
For Immediate Release
June 27, 2015
On this celebratory and victorious Pride weekend, the National Alliance for Filipino Concerns (NAFCON) stands in solidarity and applauds the LGBTQ (Lesbian, Gay, Bisexual, Two Spirit, Trans, Queer), gender non-conforming community and allies who have been hard at work to see this day finally become a reality.
Same-sex marriage is now legal across the United States after a historic Supreme Court ruling that declared unconstitutional the attempts by conservative states to ban them. The ruling, in which Justice Anthony Kennedy cast the deciding vote, means the number of states where gay marriage is legal will rise from 37 to 50.
"When I heard the announcement yesterday morning, my heart beat shot up!" says Annie Sayo, NAFCON Treasurer and longtime queer activist. She continues, "I was so happy, and goosebumps overwhelmed me. My first thought was now some of my friends and family can petition their partners to the U.S. But I know for many more people the equality factor that impacts many of our families and communities is not over. Deportation of LBGTQ immigrants still continues, so the fight is far from over for many of us."
Today also reminds us of other, significant historical laws passed that preceded and impacted the struggle for LGBTQ rights in this country like anti-miscegenation laws, which institutionalized racial segregation at the level of marriage and relationships and sometimes even prohibiting sex between members of different races by making these practices criminal.
Although anti-miscegenation, Jim Crow, and other anti-immigrant laws have been overcome, remnants of racism, anti-im/migrant sentiment, and homophobia have continued decades and even centuries later. This reminder was clearly demonstrated by President Barack Obama's response to undocumented trans activist, Jennicet Gutierrez, who bravely spoke out at the White House for the abuse of undocumented trans women in immigration detention centers. On this immigrant//LGBTQ issue, progress is far from sight. LGBTQ, im/migrant, people of color, and working class communities still need to continue the struggle for human rights beyond marriage equality.
Last October 2014 Filipina trans woman Jennifer Laude was allegedly murdered by US Navyman Joseph Pemberton while US soldiers were in Olongapo, Philippines for military exercises. To this day Laude's family continues to seek justice as Pemberton is tried in Philippine court. "While we celebrate the legalization of same-sex marriage in the US, NAFCON remains committed to working for a society that fully recognizes the dignity of the trans community and does not target them with violence, deportation, harassment, and workplace discrimination. Today's victory will be a source of inspiration for even stronger and more vibrant community organizing towards social justice in the US and worldwide," adds Sayo.
We stand in solidarity with all of the people who made today a reality. We stand for all the LGBTQ activists who came before us and paved our way – Audre Lorde, StacyAnn Chin, Lourdes Ashley Hunter, Janet Mock, Angelica Ross, Harvey Milk, Monica Roberts, Imani Evans, Silvya Rivera, Shirley Tan, Jay Mercado, and many more, named and unnamed. We also would like to remember all who stood up during the Stonewall rebellion of 1969 and the countless victims who passed away due to violent homophobic and racist crimes. It was their lives that shed a brighter light on these issues so that the rest of us could struggle in unity together, celebrate our victories, and reach this step further in our journey to an even brighter future.
Download Aquino's 10 Crime's (Printable Version)
Under the Aquino administration there has been blatant disregard for people's welfare. Throughout his term, we see consistent examples of negligence–from his failed response to Typhoon Haiyan, Pork Barrel Scandal and the Mamasapano fiasco cover-ups, as well as an absence of meaningful action during the imminent execution of Mary Jane Veloso and the Kentex Factory Fire.
Sadly, 5,000 Filipinos still leave the Philippines everyday with no support from Aquino's government. Each year we see many instances of Filipinos all over the world crying for justice from exploitation and human trafficking. Even here in the U.S. we see these struggles including the Grand Isle Shipyard workers, the Florida 15, and others.
Aquino's failures should not go unnoticed or covered up by his image as the son of Cory. As a Filipino community comprised of many backgrounds and experiences we should all take great concern for Aquino's role in worsening the situation of families and communities wrought in poverty and struggling to make it.
Below you can click 10 links to deeper examples of Aquino's 10 Crimes Against the People. Please click each one to learn more about the challenges of his administration and find out how together we can be a part of creating solutions.
1.
Neglecting Typhoon Victims! Guilty!
2.
Withholding Truth on Mamasapano. Guilty!
3.
Destroying the Environment of the Philippines. Guilty!
4.
Failing to Support Filipino Workers and their Families! Guilty!
5.
Modeling Corruption and Continuing the Pork Barrel System! Guilty!
6.
Failing to Provide Good Education and Health Services! Guilty!
7.
Perpetuating Human Trafficking and the Labor Export Policy. Guilty!
8.
Continuing GMA's Legacy of Human Rights Violations and Impunity. Guilty!
9.
Taking land and using brutal force against the farmworkers of Hacienda Luisita. Guilty!
10.
Jeopardizing the Peace Process by harassing and imprisoning Negotiators of the National Democratic Front of the Philippines . Guilty!
We Demand Truth! We Demand Accountability! We Demand Justice!
Join us at the
International Peoples Tribunal
***
For Immediate Release
May 21, 2015
Last week the Philippines suffered another major tragedy. On May 13th, at least 72 Filipino workers (as of May 18th) died in the worst factory fire in the nation's history. The fire, which lasted 7 hours, took place at the Kentex slipper factory in Valenzuela, Metro Manila.
The National Alliance for Filipino Concerns (NAFCON), along with its more than 30 member organizations throughout the United States, mourns with the families and communities of the Kentex factory workers who died in the fire.
Alongside our mourning, we are also appalled and saddened that 72 lives were lost due to negligence by the Kentex factory owners. In an independent fact-finding mission conducted shortly after the fire, it was discovered that the company violated many safety regulations: There were no fire exits from the building and no fire drills conducted. All windows had permanent steel bars. Highly flammable chemicals were stored unsafely and were not marked properly.
These safety regulation violations left the 72 workers inside the factory trapped with no way to get out. Once the fire started, the only two exits in the building were blocked by the fire. 69 of the workers went to the second floor to try to escape, but the steel bars prevented them from exiting. The inappropriate storage of flammable chemicals may have fueled the fire, if not serve as the source.
Equally disturbing is that the Kentex factory passed a Philippine Department of Labor and Employment's (DOLE) occupational health and safety inspection in September 2014. In addition, the Bureau of Fire Protection reportedly also gave the factory a fire safety inspection certification.
NAFCON, along with millions around the world, is calling for support for the Kentex factory workers. We are asking our community here in the U.S. to express its sympathy for the families of the workers as well as its outrage toward the factory owners for their negligence and the unsafe working conditions. We ask that we demand criminal prosecution of the factory owners in our blogs, social media posts, and addresses during public activities.
NAFCON also highlights the government's role in this tragedy. Although we are disturbed, we are unfortunately not surprised that a factory that was clearly not safe for workers would pass two government safety inspections.
Under the Aquino administration, as with previous Philippine presidents, there has been blatant disregard for people's welfare. Throughout Aquino's term, we have consistently seen examples of his negligence–from his failed response to Typhoon Haiyan, to his cover-ups during the Pork Barrel Scandal and the Mamasapano massacre, to his absence of meaningful action during the imminent execution of Mary Jane Veloso.
In addition to NAFCON's commitment to support the Kentex Factory workers, we are equally committed to holding President Aquino accountable for his failures. We realize that the tragedy in Valenzuela, Metro Manila is only a symptom of a much larger system of neglect for the rights and welfare of Filipinos in the Philippines and around the world. As with Haiyan, Pork Barrel, Mamasapano, and Mary Jane Veloso, in each instance it was the vibrant movement and action of our international united community that has uplifted the voices and hopes of those suffering under Aquino.
We ask all those who value a better future for the Philippines and our world to not only mourn together, but also call and work for justice together. In a simple way, we can show our support by liking the Justice for Kentex Factory Workers Facebook page or using the hashtag #JusticeforKentexWorkers.
We can also join the movement to hold President Aquino accountable by attending or supporting the International Peoples' Tribunal (IPT) to be held in Washington D.C. July 16 – 18. This gathering will raise awareness about the grave human rights situation in the Philippines today and strengthen the movement to bring justice to the Filipino people.
For more information on NAFCON or the IPT, go to www.nafconusa.org, email info@nafconusa.org, or call (415) 333-6267.
###
Seventy-two (72) workers, many of whom were women, were burned to death and 20 more are still missing in the biggest factory fire that hit the Philippines – the fire that gutted the factory of Kentex Manufacturing Incorporated last May 13, 2015. The company, located along Tatalon Street in Barangay Ugong in Valenzuela City, manufactures rubber slippers for sale and distribution in various parts of the Philippines.
Labor Secretary Rosalinda Baldoz claimed that the factory passed an inspection on compliance with general labor standards and occupational health and safety standards that was conducted by the Department of Labor and Employment (DOLE) on September 2014.  The Bureau of Fire Protection reportedly also gave the factory a fire safety inspection certification.
However, the fact-finding team which was composed of labor NGOs namely, the Center for Trade Union and Human Rights (CTUHR), the Ecumenical Institute for Labor Education and Research (EILER), and the Institute for Occupational Health and Safety Development (IOHSAD), and the national labor center of Kilusang Mayo Uno, which visited the area on May 14, found glaring violations of standards pertaining to general labor conditions and to occupational health and safety. It is most likely that these violations caused the tragic and massive loss of lives in the recent fire.
These violations include:
Mishandling of the chemical Super Seal, which is used as a rubber emulsifier. Survivors of the fire whom the Team interviewed said that the fire started on the ground floor of the two-storey building when the welding spatter from roll up door being repaired by an outside contractor reacted with the chemical that was unsafely placed on the factory's floor and was not kept in a separate and safe stockroom.
This clearly violates Rule 1943.07 on storage of the  Occupational Safety and Health Standards of 1989. The Rule provides that "(1) Significant quantities of commodities with fire hazards greater than ordinary combustible commodities shall be separated from the main bulk by fire walls."
Absence of proper labeling and awareness of the nature of the said chemical. Workers, including the welder who was fixing the gate of the factory compound, were not aware that the chemical is highly flammable as it was not properly labeled. Survivors also said that when smoke started to rise from the sacks of the chemical where the welding spatter fell, there were workers who poured water, which only caused the fire to become bigger. The fire was already huge when the workers attempted to put it off by using the fire extinguisher. Immediately after using the fire extinguisher, they were immediately engulfed by black smoke.
Absence of proper labeling violates Rule 1093.04 on Marking of Containers which requires "All containers with hazardous substances shall be properly labelled. No employer … shall accept any container of hazardous substances for use, handling or storage unless such containers are labelled."
Absence of proper smoke and fire alarm and apparent absence of fire and safety drill among the workers. Survivors also noted that even when the ground floor was already filled with smoke, workers in the assembly line and the office staff at the second floor still continued working. They said the fire spread so quickly that they were trapped inside and there was no other way for them to go out except through the main door. They also recounted that they heard no fire alarm. They also claimed that workers in the second floor of the building were trapped as it was impossible for them to go through the door with such a strong fire coming from the building entrance. Workers who had been working for years in Kentex have not experienced any fire and safety drill conducted by the management. When asked about the Safety Officer, workers interviewed did not know if there was one.
These are clear violations of Rules on alarm and fire drills. Rule 1948.01 states that "(1) All buildings having two or more stories in height shall be equipped with fire alarm system and signals of distinctive quality and pitch clearly audible to all persons inside the building." Rule on 1948.03 requires that "(1) Fire-exit drills shall be conducted at least twice a year  to maintain an orderly evacuation of buildings, unless the local fire department requires a higher frequency of fire drills."
Absence of fire exits. The factory compound had NO fire exits and there were only two gates, one is for people and the other is for delivery trucks. The factory windows are covered with steel grills and chicken wire which could not easily be destroyed even during emergencies. Witnesses said that workers at the second floor attempted to break the windows open until they could no longer be seen from the outside. Workers who were able to escape the compound even had to climb the walls at the back as the gate for delivery trucks was locked. Out of the more than 70 workers on the second floor, only four workers escaped by squeezing themselves through an opening and jumping out of the building.
Rule 1943.03 requires "(1)  At least two exits shall be provided in every floor and basement of every workplace capable of clearing the work area in five (5) minutes," and "(6) On every floor, except the ground floor, one of the exits shall lead to an inside stairway or a smokeproof tower, while the other exits shall lead to inside stairways, smoke-proof towers or horizontal exits."
With all these glaring and clear OHS violations of Kentex Manufacturing, how did the Department of Labor and Employment release an OHS compliance certificate to Kentex in year 2014? How can the lack of fire exits inside the workplace premise pass the evaluation conducted by DOLE inspectors? If these were pointed out during that inspection, corrective measures could have been implemented to ensure occupational safety of workers in Kentex and evade the loss of lives. The issuance of DOLE to Kentex Manufacturing, an OHS standards violator, as complying to OHS standards, makes DOLE primarily accountable to the deaths of the 72 workers in this tragedy. DOLE failed its role in ensuring that workers are protected and their lives are safe and secure inside the workplace.
Working conditions
Kentex Manufacturing Corporation is owned by Mr. Ang and Mr. Ong King Guan.   Apart from the clear violations of occupational health and safety standards, worker survivors in Kentex also reported violations of general labor standards, contrary to the claims made by the Labor Department.
Only workers who served for 20-25 years in the company are considered "regular" workers, while those who have been working for an average of 10 years are considered "casual" workers. These regular and casual workers comprise a minority of the workforce and receive only the minimum wage despite having worked for the company for many years. Workers say that the union is a "company union" with around 30 members.
There are more than 100 workers out of the less than 200 workers who were hired by the CGC agency and were receiving only a daily wage of P202 plus P187 to P220 daily allowance, depending on the number of years of service. Agency workers also complain that they discovered that the CGC agency did not remit their SSS, Philhealth and PAG-IBIG contributions and that whenever they complain, the agency would only return their contributions instead of enrolling them in the said mandatory social benefits.
Workers also complain that they have to bear the heat inside the factory during work hours as there is no proper ventilation in the factory. They claim that they get tired of work not because of the heavy workload but because of the heat inside the factory premises.
Apart from the daily-paid casual workers who were hired by the manpower agency, there were also workers who were hired on "pakyawan" or piece-rate basis. These workers work for 12 hours a day without formal contract. Mary Ann Tenis, 30 years old and a single parent of three children, was one of the victims. Her youngest was just nine-month old, according to a friend who was waiting for news about her friend. Tenis had worked for Kentex for five months and was hired as a piece-rate worker.
Almost an entire family was burned to death, with both parents working for Kentex and their three high-school children taking a summer job in the factory. The tragedy orphaned a child enrolled in primary school.
The victims' families say that they lost their loved ones and their bread winners in the fire. They are pained by their relatives' death and they are pained by the difficulty in identifying the bodies of their loved ones and giving them a proper burial. They are anxious about what the future holds, thinking of how they can support family members who were left behind.
Call for justice, criminalization of violations that result in deaths
We mourn the death of scores of workers in Kentex and we express our deepest condolences to their families, friends and co-workers. We connect their unjust death with the tragedies that also claimed the lives of 11 construction workers in Bulacan, 8 female workers of AsiaTech in Pasay, 10 construction workers in Eton Towers, and 17 women workers at Novo in Butuan. Many had died but no one had been prosecuted or held criminally liable, constituting impunity in industrial safety.
Successive occupational accidents leading to deaths of workers only prove that existing policies and rules on occupational health and safety standards continue to fail in protecting workers and avoiding tragic accidents. Even the joint assessment and tripartite monitoring system mandated by DOLE Order No. 131-13 that superseded DO 57-04 – which was much-criticized as for promoting companies' "self-assessment" with regard to occupational health and safety standards – apparently fall short in ensuring that factories and workplaces comply with occupational health and safety standards.
Workers' safety and health cannot be left to the mercy of companies' self-regulation or voluntary compliance. Workers' basic rights to occupational health and safety should not be hinged on companies' voluntarism but rather on strict enforcement by the government. From this perspective, it is justifiable to claim that DO 131-13 is in essence the same as DO 57-04, except that it uses the rhetoric of tripartism. It still still about the government's abnegation of its regulatory responsibility. With the lack of genuine workers' representation through a legitimate and independent union, and with the government working in cahoots with employers, tripartism from this end is nothing but hollow mechanism that masks employers' sole power in the workplace.
Let not the tragedies in Kentex, Novo Jeans, Eton, among others happen again and claim the lives of more workers. Thus, we demand:
(1) Hold the DOLE and the Bureau of Fire Protection who gave the company compliance certification accountable for the factory fire and deaths of almost a hundred workers and employees. Investigate the process of inspection for the issuance of compliance certification of Kentex. Impose criminal and administrative penalties/charges to key DOLE officials in-charge of the issuance of the compliance certificate.
(2) The imposition of criminal and administrative penalties on Mr. Ang et al., owner of Kentex, and all owners of companies who have clearly violated occupational health and safety standards that resulted in the death of workers.
(3) Just compensation for the families of victims, proper benefits for workers who lost their jobs after the fire, and long-term support for orphaned children.
(4) Repeal of DO 131-13 and immediate passage House Bill 4635 or Workers' SHIELD  (Safety and Health Inspection and Employers' Liability Decree) that will make violations of occupational health and safety standards both criminal and administrative offenses, while providing victims avenues for justice.
We call on the families of victims of Kentex accident to rise up and demand justice for their loved ones. We also call on the people to demand justice for Kentex workers and all other victims of occupational accidents by joining the national day of mourning on Monday, 18 May 2015.
Justice for Kentex workers and other victims of OHS Standards violations!
Strict Enforcement of Occupational Health and Safety Standards, not Joint Assessment or Self-Regulations!
Hold DOLE accountable for the Kentex Tragedy!
Penalize and criminalize the violators of Occupational Health and Safety Standards!
End impunity of OHS violations in the Philippines!
Repeal DO 131-13! Pass Workers SHIELD!
Struggle against Contractualization! Workers fight for Wages, Jobs and Rights!
Institute for Occupational Health and Safety Development
Center for Trade Union and Human Rights
Ecumenical Institute for Labor Education and Research

Kilusang Mayo Uno
March 25, 2015
Dear President Obama:
We are people who put food on America's tables, who nurse America's sick, who manage American businesses, who teach America's children, who care for America's elderly. Some of us were born here. Some of us recently arrived. Some of us call this country home. Some of us left our hearts and families on distant shores.
All of us contribute to powering the engine that makes America run.
We are Filipinos in this country. We are four million strong. And we are writing to express our outrage, our disappointment, and our commitment to rectify a terrible wrong done to our homeland, the Philippines, by our current home, the United States.
On January 25 this year, at least 66 Filipinos, including civilians, were killed in a botched police operation called Operation Exodus in Mamasapano in southern Philippines that aimed to neutralize suspected terrorists on the FBI most-wanted list.
Official reports by the Philippine Senate, the Board of Inquiry of the Philippine National Police, and independent fact-finding missions by grassroots organizations confirm the involvement of Americans in Operation Exodus. In addition to sightings of American drones flying in the area for the week leading up to the operation and PNP personnel turning over Marwan's finger directly to the FBI following the operation, the BOI report in particular cites the presence of six U.S. government personnel at the operation's Tactical Command Post. However, the official statement by the U.S. Embassy denied any U.S. involvement in the botched operation except for "retrieval" of the dead.
Such statements make us question the integrity and intentions of U.S. representatives in our homeland.
But, it is your silence and inaction that alarms us even more.
Considered a strong ally of the U.S., the Philippines has just experienced one of the worst tragedies in recent history, and all evidence points to the involvement of U.S. military and intelligence agencies in instigating, designing, funding, directing and implementing the operation. In fact, the U.S. seems to have been involved in all aspects of Operation Exodus thus far except one: repairing the damage which was done.
The time for surface-level statements of condolence is over. We demand an investigation into U.S. involvement in Operation Exodus. We demand truth about the involvement of the U.S. at all levels. We demand that the U.S. accept accountability for its part in the deaths of Filipinos at Mamasapano. We demand that the U.S. stop using our tax dollars to conduct counter-terrorism operations that result in killing members of our community and fostering global insecurity. We demand that the U.S. stop violating the sovereignty of the Philippines.
The time for silence and inaction is over.
As people who believe that peace is achievable when there is justice, and that being a good global citizen requires respecting the freedom and sovereignty of all nations, we are demanding an end to U.S. intervention not only in our homeland, but also in Iraq, Venezuela, and other countries.
As people whose roots stretch from the Philippines and sink into U.S. soil, we will follow up on this letter by visiting our elected representatives, who also bear responsibility for ensuring the U.S. takes responsibility for its actions in Mamasapano by pulling out current, and suspending the deployment of new, military and intelligence personnel and contractors in the Philippines which allow for similar operations that kill innocent Filipinos.
As Filipinos in the U.S., we demand and deserve no less than truth and accountability from you.
Signed,
Terrence Valen
President, National Alliance for Filipino Concerns
—
Download a PDF copy of this letter here: NAFCON Open Letter to Obama on Mamasapano.
March 20, 2015
President Aquino,

My name is Melissa Roxas. In 2009, while conducting a medical survey in La Paz, Tarlac, I was abducted, illegally detained, and tortured for 6 days by the Philippine military. While I was eventually released, and have testified my case in the Philippine Courts, I have yet to see justice for myself and for countless other victims of human rights abuses by the Philippine military.
I am deeply concerned and disturbed over the continuing and vicious attacks on human rights activists.  Your administration's counter-insurgency policy, Oplan Bayanihan, deliberately associates human rights defenders, activists and civilians as members or supporters of the revolutionary armed group New Peoples Army (NPA) and branded as "enemies of the State" or "terrorists."  Your administration uses this as justification for illegal arrests based on trumped up charges, even extrajudicial killings, enforced disappearances, and torture.
My friend Brandon Lee and his fellow advocates for indigenous rights with Ifugao Peasant Movement and the Cordillera Peoples Alliance are currently targets of a ruthless political vilification campaign branding them as members of the NPA simply because they advocate for the rights of the poor.  They are being intensely surveilled and harassed by local elements of the Philippine military on a regular basis and because of this, fear for their lives.
I understand this situation far too well. I understand exactly how Brandon feels when he tells me he cannot sleep at night for fear of an attack on him and his family. This type of vilification is how your administration silences the people most critical of its policies and those working to improve the conditions of the most marginalized in the country.
Your administration should uphold and implement the Universal Declaration of Human Rights, the UN Declaration on the Rights of Indigenous Peoples (UNDRIP), and various human rights treaties and instruments to which the Philippine government is a party and signatory.
I write this letter from the United States, where Brandon and I are from. I write this letter with our supporters around the world who stand with Brandon, and demand this vilification stop immediately.  We demand an end to the human rights violations.
For peace, justice, and human rights,
Melissa Roxas
Los Angeles, California
***
On March 17, 1995, Flor Contemplacion was executed.
There are many things that you can find out about Flor: That she had three children. That she was born in Laguna. That she was a domestic worker in Singapore. But what most everyone will remember is that she was executed. And the action that came from the Philippine government was not sufficient and too late.
Identifying with the experiences of Flor, Filipino overseas workers responded with force and launched protest actions internationally. At the time, there were an estimated 798,000 overseas Filipino workers, roughly about 1% of the total population. But the amount of remittances that the overseas Filipino workers had brought into the country after the 1997 economic crisis amounted to $7 billion.
Since the 1980s, Overseas Filipino Workers (OFWs) have brought so much money into the Philippines that they have come to be known as bagong bayani, or new heroes.
But these new heroes who leave the Philippines out of desperation, with poverty and unemployment stalking their families, so often face oppression–from discrimination and wage theft to rape and execution–in their destination countries. Like Flor Contemplacion, they receive little to no help from the Philippine government.
The best that these new heroes can hope for is to die alone, with no family by their side.
Meet Lorna Sun. On March 20, 2014, she died of cardiac arrest. She was 65 years old and the lone breadwinner of her family back in the Philippines. For 16 years, she worked in New York City for 24 hours, 7 days a week, earning only $900 per week. It amounted to earning $6.08 per hour. Was it any surprise that she should die of a heart attack?
Only her fellow Filipino migrant workers could stand in for the family that was separated from her and take care of her remains. When her friend went to the Philippine Consulate to ask for help, as Ate Lorna had no money at the time of her death, the Philippine government unsympathetically responded that it would be too expensive to ship her body back home and that it was best to get her body cremated.
Nineteen years after the execution of Flor Contemplacion, the Philippine government still failed to protect Filipino migrants. There had been no change in the living and working conditions of migrant workers since the time of Flor Contemplacion.
No change can be expected because the roots of the issue have not been addressed. If anything, the untenable situation of migrants continues to worsen; now, heads of state have blatantly encouraged the export of Filipino workers rather than provide jobs, land, and social services in the Philippines. Filipino migrants are still being sold as cheap and vastly profitable labor across the world. The Philippine government has so perfected its labor export policy that other states have become interested in its model of "migration for development" and are attempting to re-create it. As for OFWs, well, the unfortunate fact is that virtually nothing has changed in the Philippines, and they will starve if they do not go abroad. So they face the same problems: discrimination, wage theft, labor exploitation, lonely deaths, and even unjust imprisonment and execution.
Meet Mary Azano. She was brought to the US by her employer. While she had been promised to be paid hourly for 40 hours per week, all she got was $300 monthly. It amounted to $1.87 per hour. Her documents, even her passport, were taken, and when the family went home to the Philippines, she was sent to her employer's family friend in Seattle, where she was still paid $300 per month. And now, she was asked to do work even on the weekends. Sometimes she would be asked to clean her new employer's sister's home for $25 for the day. She worked so much that she started to become sick.
She left that employer and went back to California, eventually working at different care homes. But there, she experienced physical abuse. Her patient kicked her in the face, and a co-worker slapped her so hard that it left a bruise on her face. When she reported this incident to her employer, her employer said that Mary could not do anything because she was undocumented.
Well, why would Mary's employer not hesitate to say this? The Philippine state is interested not in the welfare of overseas Filipino workers, but in the growing remittances from Filipino migrants ($25 billion in 2013). And the U.S. government is interested not in protecting undocumented workers' rights, but in maintaining a pool of cheap, disposable labor.   We should not be surprised that Mary's employer would have the audacity to deny her her labor rights.
But in 2009, after meeting with Filipino Advocates for Justice and PAWIS East Bay and learning about her rights as a worker, Mary filed a wage theft claim and succeeded in winning her case, proving that she could, in fact, do something.
Mary is not the only migrant worker to prove this. In 2014, in New York, after Lorna's friend received a cold reception from the Philippine Consulate, Filipinos held a vigil, together with representatives from Philippine Forum, GABRIELA-NY, AnakBayan NY, AnakBayan NJ, BAYAN-USA, NAFCON-NE, Migrante NY/NJ, and Florida 15 Trafficked Survivors in front of the Philippine Consulate to demand financial assistance for Ate Lorna and her family. The following day, the consulate called Lorna's friend and said that a check was ready for pick-up.
There had been only specious and vague promises until Lorna's fellow Filipino migrants through Kabalikat Domestic Worker's Network of Philippine Forum in New York fought for justice–in the same way that Flor's fellow Filipino migrants made their voices heard and called international attention to the plight of OFWs back in 1995.
In 2015, under President Noynoy Aquino's administration, there are 6,092 Filipinos leaving the country every day (Source: IBON Foundation). The remittances they bring in are about 10% of the total Gross Domestic Product of the Philippines. The Philippine government makes huge money off migrants, from the schools they set up so they can go abroad, to the fees that they pay at every step of the way to get to their destination countries, to the taxes that come out of their remittances.
Flor Contemplacion was one name. So is Lorna Sun. So is Mary Azana. And there are so many more.
There are many stories of migrants who have been trafficked, migrants who have faced racism, migrants who are awaiting death sentences in foreign jails because they have no representation and no help from their own government. But there are just as many stories of migrants resisting being just goods, being just cheap labor, without any rights of their own.
Just as there as many stories of exploitation and rape, there are as many stories of migrants fighting back and standing up–not only to hold the Philippine state accountable to the protection and rights due to them as workers supporting the Philippine economy, but also to fight the roots of the problem: an unsustainable Philippine economy, policies that favor and protect the interests of foreign and multinational companies, landlessness, and the Philippine government's complete and utter lack of interest in the well-being of the Filipino people.
Ate Mary tells us: "I want my story to be told. I want to tell everybody that it's very hard to stay here in the US if you don't have a job and you have no family here. It's so hard here. People back home think it's so easy here, they think it's just so easy to get the money. But it's so hard here, with the abuse we experience because we are undocumented. Still, we have to fight, we have to stand up for our rights, and we have to be patient because justice can take a long time. I also want to open the eyes of the employers too—we have rights and they need to know it…"
People called Flor, Lorna, and Mary the "new heroes." But they are not heroes for having made money for the Philippines. They are our heroes because they stood up and fought back.
***
The National Alliance for Filipino Concerns (NAFCON) is an alliance of over 30 organizations that advocate for the rights of Filipinos in the United States, carrying out campaigns to stop deportations of immigrants, end the trafficking of Filipino workers, and bring about change in the Philippines so that Filipinos are not forced to leave for livelihoods abroad. Join the alliance on May 1st for International Workers Day and in July for the International People's Tribunal. Visit www.nafconusa.org for more information.
JOIN THE WEBINAR
READ NAFCON's Frequently Asked Questions
FIND OUT:
WHY the Mamasapano incident is a burning issue.
HOW it is relevant to us here in the United States.
WHAT we can do to promote lasting peace in the Philippines.
Monday, February 23​, 2015​
6:30 pm PST / 8:30 pm Central /  9:30 pm EST
Speakers:
- Garry Martinez, Migrante International Chairperson
- Terrence Valen, National Alliance for Filipino Concerns President​
- Potri Ranka Manis, a Maranao Bai Labi, NAFCON Northeast
REGISTER NOW for the webinar at: http://www.anymeeting.com/PIID=EB55D780814F3B
DOWNLOAD NAFCON's FAQ!
*
Upcoming Mamasapano issue-related events nationwide:
Southern California
DAY OF ACTION
Tuesday February 24, 11:30AM
Philippine Consulate Los Angeles
3600 Wilshire Blvd Los Angeles, CA
Northern California
Hold the US & Aquino Accountable for the Bloodbath of Mamasapano!
Feb. 24, 2015
March and Candlelight Vigil
5:30 Meet up at Powell bart Station/Cable Cars
6pm March to Philippine Consulate
https://www.facebook.com/events/783484035034736/
Memorial and Press Conference for Mamasapano
Feb 25, 2015
10:00 am-12:00 pm
Holy Child and St. Martin Episcopal Church
777 Southgate Ave, Daly City, CA 94015
https://www.facebook.com/events/1596152947263015/
Midwest
Protest and Candle Lighting on the Mamasapano Incident
Feb 24, 2015
12:30 pm CST
122 S Michigan Ave #1600, Chicago, IL 60603
https://www.facebook.com/events/1624841851069993
Northeast
Community forum on Mamasapano Incident
Feb 24, Tuesday
6:30-9pm
NYSNA, 131 W 33 St New York, NY
https://www.facebook.com/events/1017417744953635/
For Immediate Release
February 12, 2015
Contact: Jun Cruz, NAFCON Communications Secretary
U.S. Filipinos Join Call for Aquino's Accountability in Mamasapano Fiasco
The National Alliance for Filipino Concerns (NAFCON) stands in solidarity with the families of the victims and joins the worldwide call for truth, justice and Aquino's accountability in response to the Philippine National Police (PNP) operation in the southern Philippines that cost the lives of over 60 Filipinos, including ordinary civilians, members of the PNP, Moro Islamic Liberation Front (MILF), and Bangsamoro Islamic Freedom Fighters (BIFF).
The negligently implemented operation named Operation Exodus, which was carried out by the PNP Special Action Force (SAF) but funded, trained and orchestrated with U.S. officials, resulted in the single largest loss of lives of PNP forces in history. The main targets were two U.S. FBI "most-wanted" persons, including Zulkifli bin Hir aka "Marwan," who together carried a $7 million bounty for their capture or death.
Operation Exodus occurred in Mamasapano, Maguindanao, a territory of the MILF, with whom the Philippine Government signed a cease-fire and peace treaty in March 2014. For months prior to the incident, PNP-SAF involved US military personnel in the planning but intentionally did not coordinate with the Armed Forces of the Philippines and the MILF, resulting in the deadly 12-hour clash.
Mamasapano investigation exposes Aquino's lies and crimes
The Philippine Senate interrogation of PNP-SAF Director Getulio Pascua Napenas revealed that the botched operation was directed by suspended Police Director General Alan Purisima. Napenas narrated that on January 9, 2015, he met with Purisima and President Aquino in the presidential residence in Malacanang to brief the President on "Oplan Exodus."  The Officer-in-Charge of the PNP Leonardo Espina, who was the acting director over Purisima's suspension, and Local Government Secretary Mar Roxas were not present in this meeting.
"There is a long list of violations the President committed in this entire fiasco. He violated the suspension order by allowing Purisima to be in charge of the operation. He also violated the chain of command by placing the leadership with Purisima and not informing Espina or Roxas. He violated the ceasefire agreement with the MILF by failing to inform the government peace panel. We demand accountability," says Terrence Valen, NAFCON President.
Between the contradicting statements of the PNP and the AFP, facts around the incident are being unraveled by the public. "There is still neither basic transparency nor full declaration of facts from the Commander-in-Chief, President Aquino. The people are angry and are questioning Aquino's cover-up of the truth and suspicious denial of responsibility," declares Anne Beryl Naguit, NAFCON Vice President.
Evidence of US involvement surfaces
Potri Ranka Manis, a Maranao Bai Labi and a founding member of Kinding Sindaw, an indigenous-based member organization of NAFCON, states, "The divide and rule tactics using north against south, Christians vs Muslims, is an old scheme that has been used to divide Filipinos. How can the Philippine government who signed a ceasefire agreement send its own police forces to be sacrificial lambs? The scripted violation of the peace process shows who controls the Philippine government officials; this is a mere act to reinforce the rationale for foreign military to continue staying in the Philippines to train and protect its citizens, when in reality the U.S. military is there to protect the interests of the American elite. It's time to unite and to assert our rights for self-determination."
News reports have shown that the United States government and particularly the FBI were directly involved in the planning and execution of Operation Exodus. An article in the Philippine Daily Inquirer elaborated on the use of a drone or an unmanned aircraft that is believed to be from US forces in the country. A source told PDI that the US "had fully funded and provided the training for the Mamasapano operation… [and that] the whole operation had been planned in a secret facility inside La Vista del Mar Resort in Zamboanga, where Americans reportedly operated a facility and where members of the 84th SAF company were trained for the operation against Marwan."[1]
American soldiers even participated in evacuating the dead bodies of the SAF, but the Philippine government has denied U.S. involvement.
"The direct U.S. intervention in Philippine affairs and the blatant trampling of the sovereignty of the Filipino people are both unacceptable. The Aquino administration is sacrificing the lives and dignity of Filipinos to fulfill the wishes of the U.S government in its so-called 'War on Terror.' The truth is that the presence of U.S. troops and drones in our country is what's bringing real terror to militarized communities throughout the Philippines — just ask the family of Jennifer Laude, a trans-woman killed late last year by a U.S. serviceman," says Valen.
Filipinos call for truth, justice and accountability
NAFCON calls on our members and all peace-loving people to remain vigilant. "It is our U.S. tax dollars that are being used to fund these operations that lead to violent and senseless deaths of our fellow kababayan (countrymen) in the Philippines, and we must not let this continue. The U.S. government should focus on the issues of its own people such as the nationwide epidemic of poverty and the almost daily killing of black and trans people by police and security forces, private citizens and vigilantes, instead of instigating conflicts overseas and meddling in other countries' internal affairs," adds Valen.
"We shall not let up in our quest for justice for all those who died.  We will organize various fora, activities, and protest actions, to expose these injustices and demand accountability at the highest levels, all the way up to the resignation of Aquino and the termination of one-sided US-Philippines military agreements. Most importantly, we will strive to unite all people for genuine peace by sowing the seeds of justice planted in the soil of comprehensive social and economic reforms that truly meet  the needs of the people," Valen ends.
[1] http://newsinfo.inquirer.net/671237/us-drone-watched-mamasapano-debacle
###
Dear NAFCON Northeast,
Please be advised that there is a blizzard alert in our area. Speculated one to two feet of snow may be coming our way.  It is important that we continue to monitor the forecast and try to stay in as much as possible.
You can CHECK HERE for weather updates.
For more information you can contact:

Mel dulfo – (646) 7 1 5 . 6  3 9 1
Zara vinola – (646) 5 2 6 . 8 9  5 2
Anne Naguit – (516) 9 0 1 . 1 8  3 2
Stay safe and please forward this message to family and friends.
Thank you.
NAFCON
***
For Immediate Release
January 20, 2014
NAFCON Hopeful to Work with Pope Francis
Last weekend marked a major moment in Philippine history, as Pope Francis became the fourth pontiff to visit the country and the first in 20 years. The papal visit was of major significance to the Philippines, a nation where 80% of the population of over one hundred million identify as Catholic.
The Pope, arrived Thursday night, visited Manila then traveled to Tacloban, Leyte on Saturday. Tacloban became the focus of the world in November of 2013 as it was recognized as one of the most devastated areas in over 121 provinces affected by Typhoon Haiyan. The most powerful typhoon to ever hit land, Haiyan resulted in a death toll of at least 6,340 according to government reports or as high as 15,000 as reported by various organizations on the ground.
"We hope the Pope's visit to Typhoon Haiyan-affected areas will bring attention back to the severely neglected victims abandoned by the Philippine government.  His visit should also raise more awareness about the environmental injustices that worsen the situation for communities trying to recover from the calamities that hit the country every year," said Terrence Valen, National Alliance for Filipino Concerns (NAFCON) President. In response to Typhoon Haiyan, NAFCON had raised more than $1 million to support the relief and rebuilding effort.
The Pope, while traveling from Sri Lanka, affirmed NAFCON's hope saying, "The central nut of the message will be the poor, the poor who want to go forward, the poor who suffered from Typhoon Haiyan and are continuing to suffer the consequences," as reported by BBC News. [i]
The message of focusing on the poor is of particular significance to the Philippines, which has a population that is overwhelmingly impoverished with more than 70% relying on basic farming as their main source of livelihood.
"Filipinos should be inspired by Pope Francis to take action and challenge the pervasive acceptance of "profit-over-people" politics and policies. Pope Francis has drawn world-wide attention for his fearless efforts to address the concerns of the poor, the most oppressed, and the many suffering from social, economic, and environmental injustices, and we should join in the fight along side him," continued Valen.
Last October, during a visit in Latin America, the Pope was quoted as saying, "The monopolising of lands, deforestation, the appropriation of water, inadequate agro-toxics are some of the evils that tear man from the land of his birth. Climate change, the loss of biodiversity, and deforestation are already showing their devastating effects in the great cataclysms we witness," as reported by the Guardian.[ii]
NAFCON welcomes the Pope's commitment to justice for the poor and is encouraged by the head of the Catholic Church's direction. "The role of the Catholic Church in influencing social change in the Philippines is unquestionable. Some of the major moments that made People Power I and II successful in ousting extremely corrupt Presidents included high-ranking church leaders joining the wave of organized mass protest. We hope Pope Francis can influence current Church leaders to speak out against the corruption of the current Aquino administration as proven by his blatant neglect for Haiyan victims and the numerous scandals including the pork barrel under his leadership," added Valen.
For Filipinos and the general community in the U.S., NAFCON looks forward to working alongside the Pope to address poverty, climate change and environmental degradation. After the Philippine visit, Pope Francis is expected to make an official announcement encouraging all Catholics to join the fight against climate change.[iii]
NAFCON is currently engaged in its Environmental Justice for the Philippines (EJ4PH) Campaign which like the Pope's vision seeks to prioritize the land and resources of the nation's 7,000 islands for the Filipino people. Through the EJ4PH campaign, NAFCON and its supporters are challenging the many foreign corporations and government policies which plunder Philippine resources harming the welfare and livelihood of millions of poor Filipinos who need the land and environment to survive.
Pope Francis has also recently publicly condemned human trafficking, which he described as "a crime against humanity" that "constitutes a serious violation of human rights and is an affront to (victims') dignity as well as a loss for the world community." [iv] In the past decade, NAFCON has worked with numerous Filipino victims of human trafficking in the United States, from teachers in Washington DC to oil rig workers in Louisiana, from food servers in Mississippi to health workers in New York. "We are glad that the Pope has made a strong stance against human trafficking and for the dignity of migrant workers.  We hope that the Philippine government follows suit and finds the political will to protect overseas Filipinos and punish the perpetrators of human trafficking," said Valen.
Among the many issues the Pope has tackled, he has often shared his support for the millions of workers throughout world who are forced to leave their loved ones at home in search of decent work. Pope Francis has often mentioned his concern for the many Filipino workers at the vatican who left their families for job overseas. The Labor Export Program (LEP) of the Philippines, which NAFCON says is a complete failure, sends almost 5,000 Filipinos abroad every day to often very poor working conditions with little to no support from the Philippine government.
NAFCON is hopeful to work along side the Pope and the millions of Catholics in the U.S. and around the world in continuing to support victims of Haiyan and environmental injustice through its EJ4PH campaign. The alliance also hopes Pope Francis' progressive leadership over the Catholic Church will further unite our community to tackle other major challenges that Filipinos face including human trafficking and the inability of the Philippine government to support its own people.
For more information on NAFCON go to www. nafconusa.org, email info@nafconusa.org, or call us at 415.333.6267.###
—
[i] BBC news story available at: http://www.bbc.com/news/world-asia-30809472
[ii]The Guradian news story available at:  http://www.theguardian.com/world/2014/dec/27/pope-francis-edict-climate-change-us-rightwing
[iii] The Guradian news story available at: http://www.theguardian.com/world/2014/dec/27/pope-francis-edict-climate-change-us-rightwing
[iv] Catholic Herals story available at: http://www.catholicherald.co.uk/news/2013/12/12/pope-francis-speaks-out-on-human-trafficking/